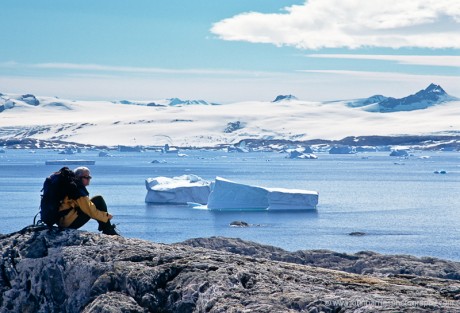 When John wrote the first post in this series back in 2007, we were planning a trip to Greenland for 2009. Well, for various reasons—including boat refit leftovers, a repower, and moving to Canada—we never made it to Greenland in 2009 and we never continued with the series.
But here we are again—7th time for John, 4th for me—planning a trip to Greenland for the summer of 2011. And in between all the myriad details of planning such an expedition, our thoughts are turning north and to the reasons we keep going back.
Sometimes Good Things Come In Big Packages
If you've ever asked us what Greenland is like, I'm sure we replied "big": big mountains, big bergs, big glaciers, big sky. And the combination of light—which John wrote about in the first post in this series—with that big scenery, is indescribably beautiful. Though it can be intimidating when viewed from the deck of a small sailboat, which feels smaller and smaller as the scenery gets bigger!
The good news it that you don't have to go all the way to Greenland for high latitude scenery: Visit Newfoundland, Labrador, or Norway and chances are you'll get bitten by the high latitude bug!
See our photograph galleries for more images of the north.