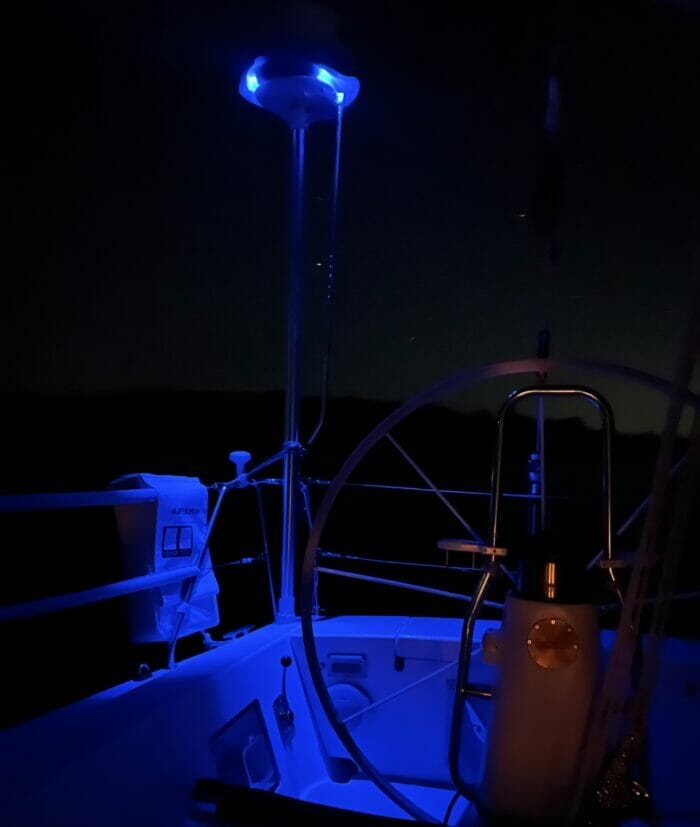 Some years ago Phyllis and I found out the hard way, when another yacht hit us, that sometimes boaters don't look up and see anchor lights at the top of masts.
After that accident, we fitted a supplemental all-around white light on top of the radar on our McCurdy and Rhodes 56, as is allowed under COLREGS. Definitely the best solution.
I was just thinking about doing the same on our new-to-us J/109 when I remembered that our new B&G radar can display a blue light.
I have to confess that when I first saw that in the installation manual I thought "well, that's the silliest feature I have ever seen on marine electronics, and that's saying something".
But now I have tried it, I take it back. And having the radar on standby with the light on medium intensity only uses 0.2 A at 12 volts.
And since it's blue, a colour that is not used for any lights prescribed by the COLREGS, I'm pretty sure it's perfectly legal under Rule 30.