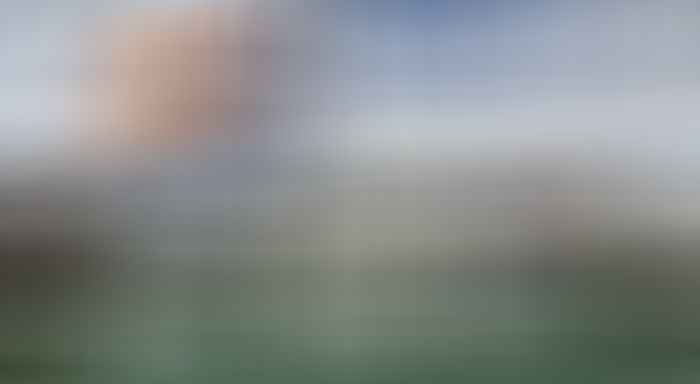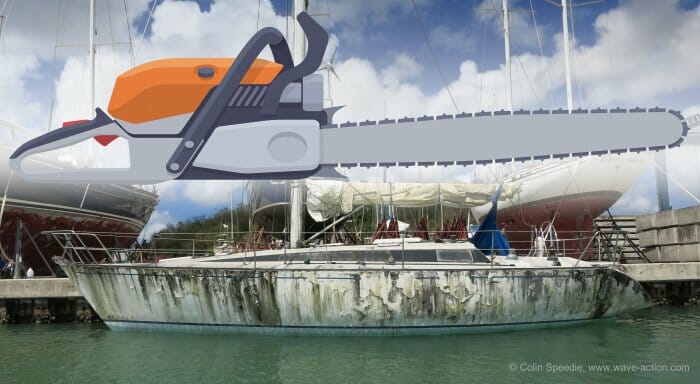 I just heard about a sad situation.
An experienced cruising couple with serious miles, including one of the toughest and nastiest ocean crossings in the world, own a European production boat built in the middle eighties.
The boat has a lot of miles on her, many of them hard, as well as at least one grounding, and has started to show ominous signs of structural problems, including visible flexing around bulkheads and structural members, accompanied by rhythmic cracking sounds every time she goes over a wave.
The couple plan to embark on another extended cruise, including many trans-ocean passages, but want to fix the boat right before they do, like you would.
A project that's complicated by the internal liner that makes it impossible to see much of the suspected problem areas, and cabinetry that was, I'm guessing, glued together out of veneered ply, that will be pretty much destroyed by the process of removal.
They have already written to the designer and the builder, both of whom are still in business, but both have studiously ignored their communications. That sounds terrible, I know, but, on the other hand, there is no win for either company in getting involved in this, particularly from afar.
Be that as it may, the owners, after not getting anywhere with the builder and designer, wrote to a surveying and structural expert who advised them to hire a competent boatyard with real shipwrights with fibreglass repair experience—not Bubba who slathers a bit of polyester resin around from time to time—to investigate and advise on the needed repairs.
Eminently sensible. And I was about to agree when I got a better idea...which I will share in a moment. But first, let's do some analysis:
Value Of This Boat:
I checked on Yacht World and sister ships to the boat in question are listed for about US$65,000.
A few months ago, I would have guessed that the actual selling price would be in the $50,000 range.
But in COVID times, and probably for years to come, what will they really fetch? $40,000? $30,000? Who knows, but not a lot more.
And with these structural issues, which any surveyor worth their salt will find, never mind the moral implications of selling her without disclosure, what's this boat worth now? Not much.
Cost Of Yard Repair
So what will she cost to repair? Well, I have seen such a repair done in a professional yard that went over $100,000, mainly because of the costs of removing and replacing all the cabinetry and liners to get at the problems and then putting it all back. Will repairing this boat cost that much? Who knows, but let's hope not.
But here's the key takeaway: No one will know what the yard bill will be until the job is done. Yeah, I know, get a quote. Good luck with that, and even if one could, the yard will want to get paid for all the disassembly required to assess the damage before quoting.
So let's say the pre-quote work takes US$5,000—that's just 50 to 75 hours at many yards, and remember we need top class people on this—and the quote comes in at $35,000 more to fix and reassemble, the owners now have the boat pulled apart and no choice but to fix her for more than she is worth, plus the risk of cost overruns—based on bitter experience, I'm betting that during the project that "quote" will get elastic as more stuff is found.
This situation is sucking more and more, the more I think about it.
DIY Repair
OK, I know what you are thinking. "Not a problem, John, just fix her DIY". OK, fine, you fix her DIY. I have fixed a fibreglass boat with structural problems, been there and done that, and I can tell you it sucks, big time, and can take years out of your life...and probably off it, too.
This is not fun, interesting, and satisfying refit work like rigging, wiring, installing cool gear, or replacing an engine. It's grinding fibreglass and subjecting yourself to hours of exposure to poisonous chemicals—Colin calls this shit "prison work".
Defining The Fix
And, anyway, how the hell are the owners to know what the fix should be? It will take full-on engineering to be sure of doing it right since the boat's problems sound deeply structural to me.
And the penalty for getting it wrong could be another Cheekie Rafiki tragedy—remember, there were "professional" attempts at assessing and fixing that boat, too.
But assuming they can figure it all out right and want to spend say a six months doing it—remember all that cabinetry that will be destroyed and need rebuilding—what will they have at the end?
You got it, a 35-year-old boat that was built cheap in the first place and probably needs a new rudder and a bunch of other stuff to be really seaworthy—given the grounding and nature of the problems the keel should probably come off, too.
And even if all that work is done, it's still a boat that's been used hard for a long time. What else will need replacing and/or rebuilding? Only time will tell.
A Common But Strange Assumption
Now here's the interesting thing in all of this and the point of this article:
Everyone involved in this, the owners, the structural expert they wrote to, and me, started from the assumption that the boat would be fixed.
And that is the default position throughout the boating industry. Heck, we even have a magazine dedicated to the idea that every old boat can be restored.
But is that sensible? Let's take a look:
To continue reading:
Or
Or