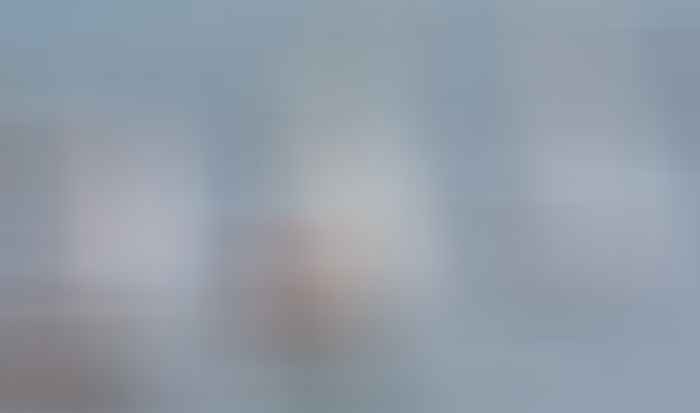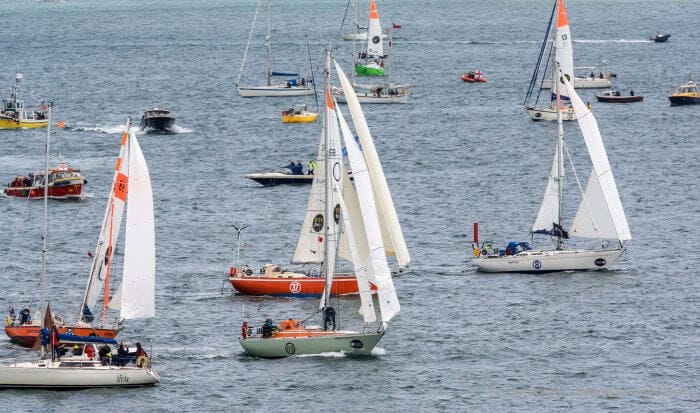 Looking out at the little fleet gathered at Falmouth's Yacht Haven, it seemed an awful long time since I attended the Race Entrants Conference in London back in 2015.
Since then there has been much water under the bridge and the Golden Globe Race (GGR) has seen many changes, from the start and finish venue to the entrants list, so I'm sure that all concerned were glad to hear the starting cannon as the boats finally got under way.
Albeit that this was only the feeder race down to the 'new' official start venue of Les Sables D'Olonne in west France, there were some interesting pointers as to how the main event might shape up.
And it was instructive to view this fleet of older designs and see how the teams have prepared the boats for such an arduous race, taking in as it does the vast wastes of the Southern Ocean.
How Does The Fleet Shape Up?
At the time of the 2015 Conference the entry list (maximum 30 boats) was almost full and there was already a waiting list for the last few places available. Since then there has been a considerable reduction in the entry list and 17 of the entered boats crossed the line off Pendennis Point to head for the official race start at Les Sables, with one boat being transported there by truck as she was still not ready at the time of the feeder race.
Of course, there may be many reasons for this rate of attrition: cost (see my previous post), injury (in the case of 'my' entrant Fabrizio Ladi Bucciolini), and I've no doubt some of the would-be entrants drew a long, sharp breath after the abandonment of the Tradewind 35 Mushka on the way to the race.
This is a race that has the potential to bite back and this was a stark reminder of that fact.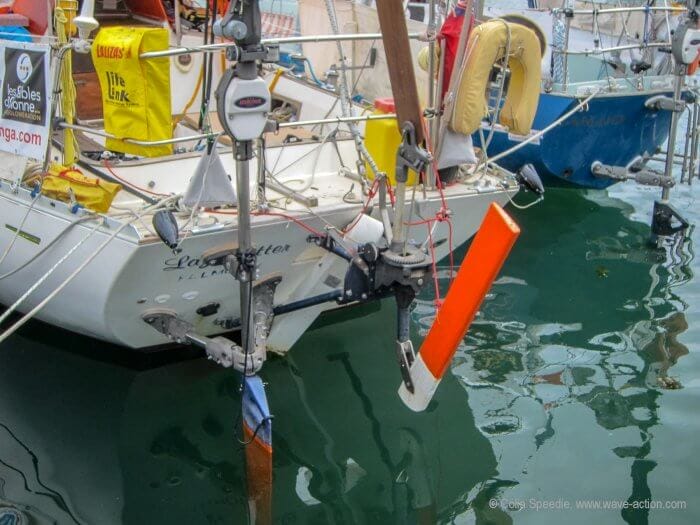 There was plenty of evidence, though, that this message has got through loud and clear, looking at the well-prepared fleet on display at the Falmouth Yacht Haven.
Autopilots are out in this most 'retro' of races, so windvanes of every persuasion were on display on all of the yachts.
Many had sensibly opted to construct hard dodgers with reinforced companionway hatches, and one entrant had even done away with the coachroof windows altogether!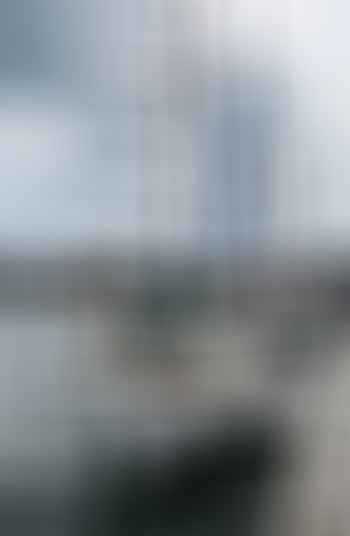 It was interesting to see the boat that started the whole single-handed ball game off, Suhaili alongside with the modern fleet.
Sir Robin Knox-Johnson had sailed her down to start the feeder race, fifty years after his successful return as the only finisher (and therefore winner) of the inaugural Golden Globe Race, and he was on hand throughout, dispensing good cheer and great anecdotes.
Suhaili is little changed from her original trim, still looking tough and purposeful and ready to go again, if required.
Just down the dock from her was Abhilash Tomy's Thuriya, a modern take on Suhaili, also built in India like her sister, but this time in lightweight wood/epoxy as opposed to heavy teak construction. Very nicely finished and looking totally ready to go, it will be fascinating to see how she performs.
Nearly a third of the fleet are Rustler 36s, chosen by several of the more fancied entrants, such as Jean-Luc Van Den Heede (Matmut), Susie Goodall (DHL Starlight), Phillippe Peche (PRB) and Mark Slats (Ohpen Maverick). These boats are perhaps the closest to what might be termed a cruiser-racer and quite a lot of them were built, so maybe that's unsurprising.
Real heavy displacement boats like the Endurance 35 (3) and the Tradewind 35 (2) were also well represented by such experienced skippers as Istvan Kopar (Puffin) and should face up to the rough stuff well, as should the three Falmouth-built Biscay 36 ketches, with Antoine Cousot's smart green example Metier Interim looking particularly well fettled.
The remainder of the fleet fell somewhere between the two extremes, which may prove a sensible choice: a good blend of heavy weather ability and light airs speed. Mark Sinclair's Lello 34 Coconut made a good start to show what these boats can do.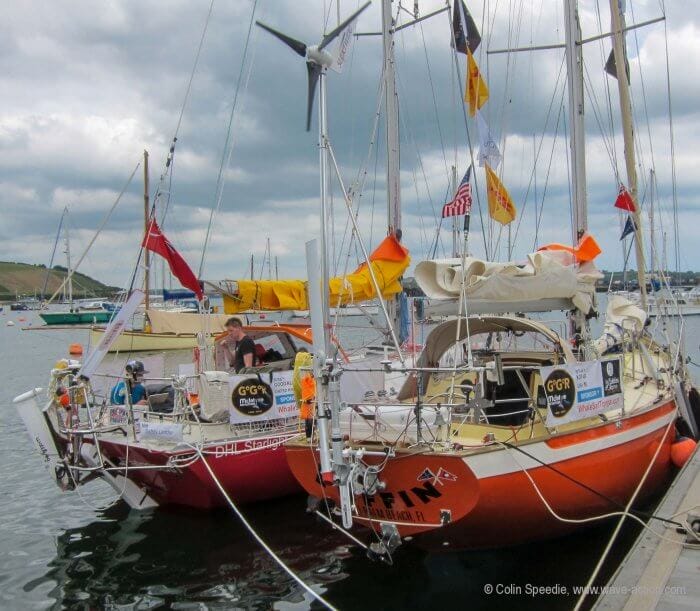 On Their Way
Sir Robin on Suhaili fired the starting cannon and the fleet got away to an offwind start down towards the Lizard and out into the Channel.
Mark Slats, just back from winning and breaking the singlehanded class record in a Transatlantic rowing race, was first away, followed by Jean-Luc Van Den Heede.
Are Wiig was the only one brave enough to get the spinnaker up and went charging away, although there were a few hairy moments in the fresh breeze when that looked like it might not have been the brightest idea of the day.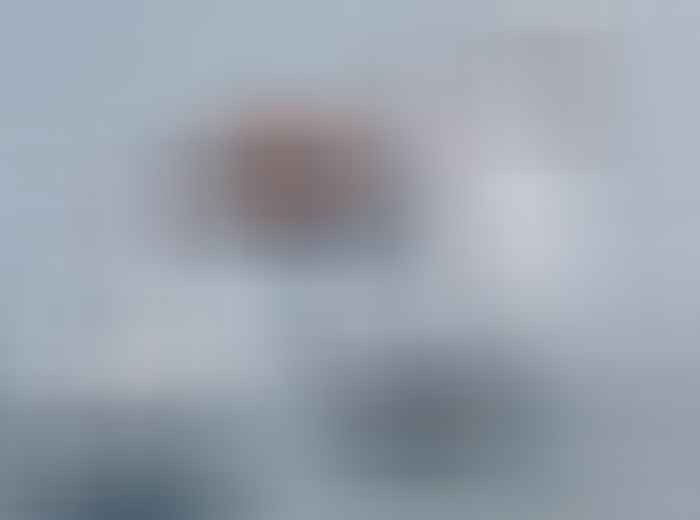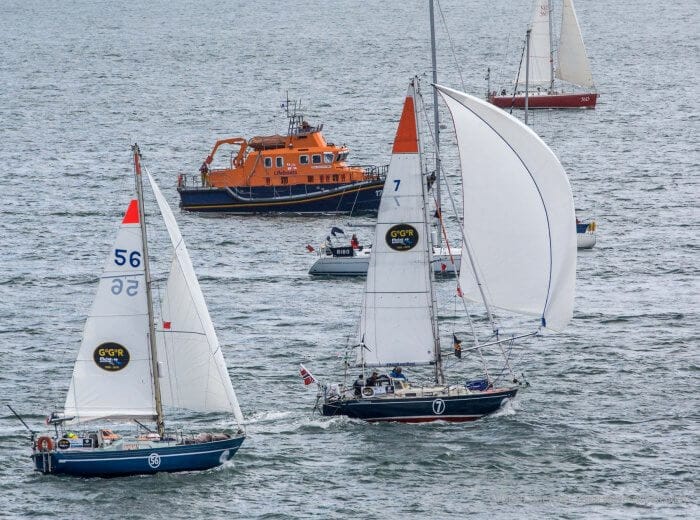 The yachts are all equipped with a transponder system that can only be seen by the likes of us racing vicariously at our screens—the individual competitors can't see this, so can't keep track of each other.
The fleet spread out as they approached the French coast and had to make the call whether they were in time to catch the tide down through the Raz de Sein or not—one of those tidal gates that can make your day or break your heart. Get it right and you are on a magic carpet ride; get it wrong and you'll be parked for hours looking at the Phare Eckmuhl on the Pointe de Penmarc'h.
Mark Slats and Jean-Luc Van Den Heede were first through, which put them in good shape for the run down the French coast, whilst others too late to make the gate took the long route outside the Ile de Sein.
At the finish it was these two first home with Istvan Kopar in third position.  Phillippe Peche and Susie Goodall were both well up, too, so the Rustlers look like a good bet so far, although I wouldn't read too much into it as this was only a short coastal dash with extra crew on board for this feeder race only.
You don't have to be mad to work here, but….
Lou and I enjoyed an excellent evening with the skippers down at the Royal Cornwall Yacht Club the night before the race start. There was none of the testosterone-driven chest beating on display that puts many people off yacht racing (and yacht racers), which was a welcome change, so mingling with the skippers (from 13 countries) was a great pleasure.
None of them seemed remotely mad, which was reassuring, in tune with the ever-ebullient Sir Robin, who, when examined by a psychiatrist before his departure from Falmouth fifty years ago was declared "distressingly normal". And maybe that's what they need to be. This will be a really tough event.
As I write this, the fleet are well on their way, having left Les Sables D'Olonne on July 1st, with the leaders down towards Cape St Vincent. The lead has changed several times between Philippe Peche, Jean-Luc Van Den Heede and Mark Slats, with Uku Randmaa and Susie Goodall chasing hard—all in Rustler 36s. At this stage it's looking like a split fleet of racers versus cruisers but, as Suhaili proved in the original race, anything can happen.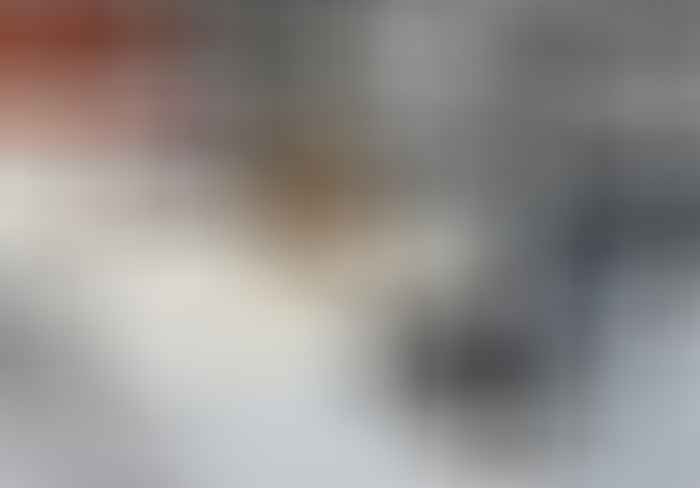 Further Reading