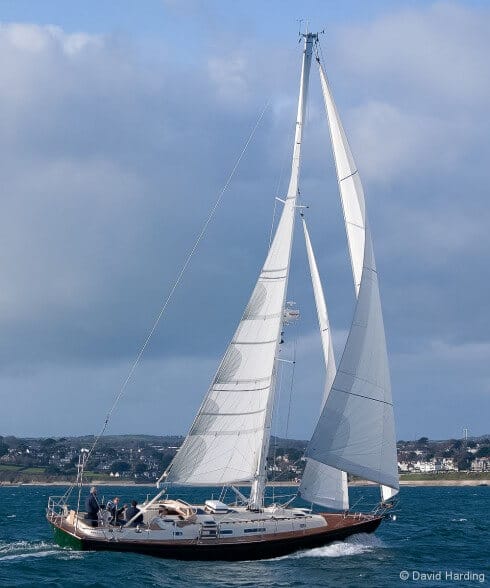 In my last piece I remarked on the current state of production boat building, and wondered where the builders (and the market) for honest, well-built cruising GRP (fiberglass) yachts had gone. In a world of identikit models destined for the charter market, built to a price, are there yards out there that have been successfully bucking the trend?
To find at least one answer to that question, I didn't need to look too far: just down the hill from our home in the Cornish port of Falmouth, where Rustler Yachts have for some years been building a range of attractive cruising yachts that embody most of the qualities that seem to have fallen by the wayside elsewhere.
With a steady stream of faithful customers, they have obviously developed their own niche, where others have failed. So how have they achieved that, and how do they plan to develop in these challenging times?
The Early Days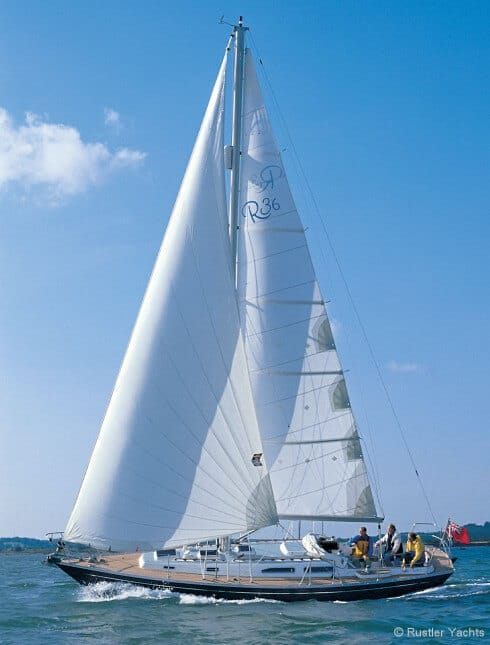 The Rustler name had been around for many years, coming from a range of traditional long-keeled designs from the revered design team of Holman & Pye. The 31 and a 36 were basically a GRP update of their wooden designs of the 1960s, with narrow beam, deep wine glass hull sections and a transom hung rudder.
Like most of the boats of that style, they weren't the fastest boats, but were tough, had great seakeeping qualities and a well-earned reputation for looking after their crews. Originally built up-country, in the 1980s the moulds were bought by Orion Marine and production moved to Falmouth.
Concentrating on the 36, Orion began to move the design upmarket, with more teak, a high quality finish and a range of options unseen on the earlier boats, such as wheel steering.
Although the design appeared somewhat dated in comparison with the offerings from nearly every other yard in the business, the boats sold well and it was clear that there was still a strong demand for a solid yacht of high build quality, even if it came with a substantial price tag.
The Big Jump
There comes a crucial moment for every boat builder when the decision has to be made to build a bigger boat, or remain within the current size range. Orion Marine decided quite sensibly that to ignore the demand from owners wanting to trade up to a larger yacht would be a mistake, and so bravely decided to develop a new 42-ft design.
Wanting to retain their traditional values but within a higher volume, more modern framework, they selected design wizard Stephen Jones to draw a yacht with classic style, moderate freeboard and an attractive sheer. With a long fin keel and skeg hung rudder, she would be faster and more nimble than her long keeled predecessor, and with a more roomy canoe body would have far more internal space to make her comfortable to live aboard for extended periods.
Freed from the constraints of an inherited design like the 36, which had many of the design limitations of her era, the 42 was designed to be well balanced, and to that end had the engine installed beneath the saloon table, no doubt influenced by Stephen Jones' successful racing designs. This also had the welcome effect of making the engine highly accessible, making servicing and maintenance of the engine as straightforward as possible, another positive benefit for the long-term live aboard owner.
The yacht remained true to tradition in other ways in the interior, not least through staying with an island galley with the sinks close to the waterline, still the best arrangement for a safe, ocean ready galley in many people's view.
Cutter rigged, with a simple, robust spar, owners confirm that the 42 is a fast, stable, safe and well balanced yacht in all weather conditions.
A New Beginning
Unfortunately, the usual difficulties in developing and building a new design—moulds, tooling, the inevitable extra time required to finesse a new and complex yacht—brought Orion close to the brink, and in 2000 they were merged with another great name in British boatbuilding, Rival Bowman, to become the current company, Rustler Yachts.
At that time Rival Bowman had been building the excellent Chuck Paine designed Bowman range, and also the spritely Starlight. Slowly the emphasis moved away from those designs towards the Rustler 42, representing as it did a new direction, and in 2005 the company moved to the current production facility at Ponsharden on the shores of the Pernyn River.
This new facility not only had far more internal space to enable production to be scaled up, but also a much larger external storage area, enabling the yard to take on more extensive re-fit and maintenance work, particularly of the Bowman range, helping to consolidate their position and diversify from yacht construction.
New Directions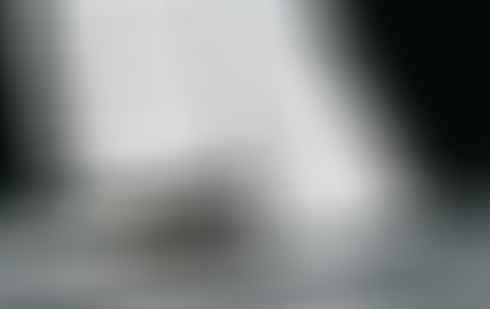 To many people's surprise, the next 'new' Rustler was a 24-ft open dayboat. This pretty little craft represented a drive towards further diversification, Rustler being determined to have options beyond their cruiser range.
It was also perhaps the first indication that the company wanted to develop a family of boats bearing their name, to encourage owners to steadily trade up to bigger Rustlers as time and affluence would allow. This move has gained further traction with the launch of the more recent 33, a much more performance oriented daysailer, once again from the board of Stephen Jones. That this has been a successful strategy is beyond doubt with 45 of the former built so far, and 10 of the Rustler 33 model on the water already.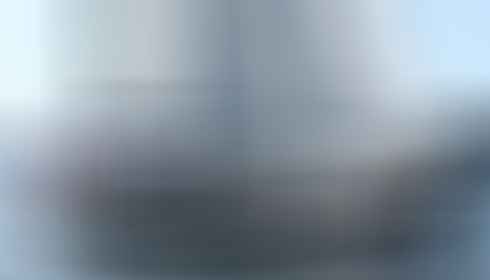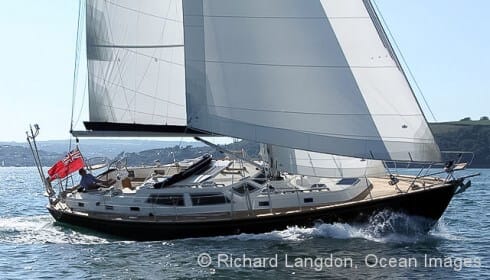 Rustler don't come up with new designs every five minutes, preferring to concentrate on talking to their existing ownership and getting feedback on what they would like to see as future boats. A case in point is the 44, a deck saloon, extended version of the 42 hull with a much enlarged aft cabin, to suit owners who require a more palatial interior.
In every case, they have resisted any changes that they feel would take them away from their established values, such as increasing freeboard to gain internal volume at the expense of ease of boarding and additional windage.
With this same process of developing new models through evolution rather than revolution, the yard have two new designs on the boards for the cruising range, at 53 and 63-ft.
Both will be built in aluminum, Rustler believing that the cost/weight equation turns favourably towards that material in yachts over 50-ft, and which also, of course, avoids the costly moulds and tooling that a low volume GRP yacht would entail.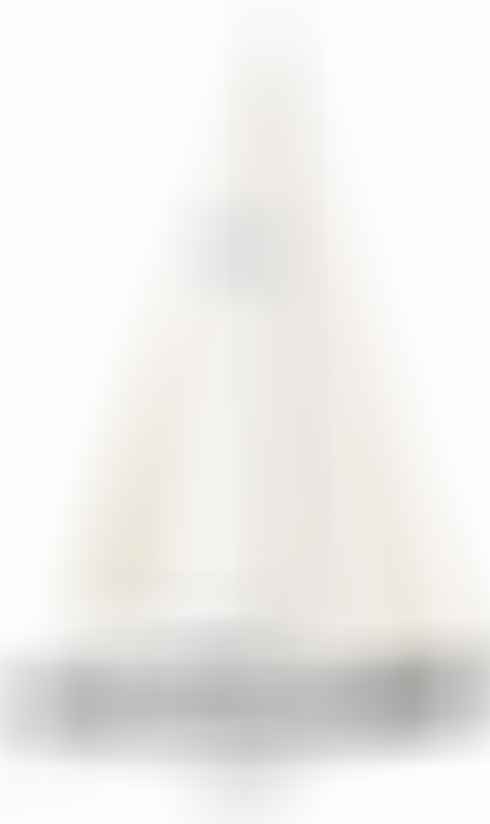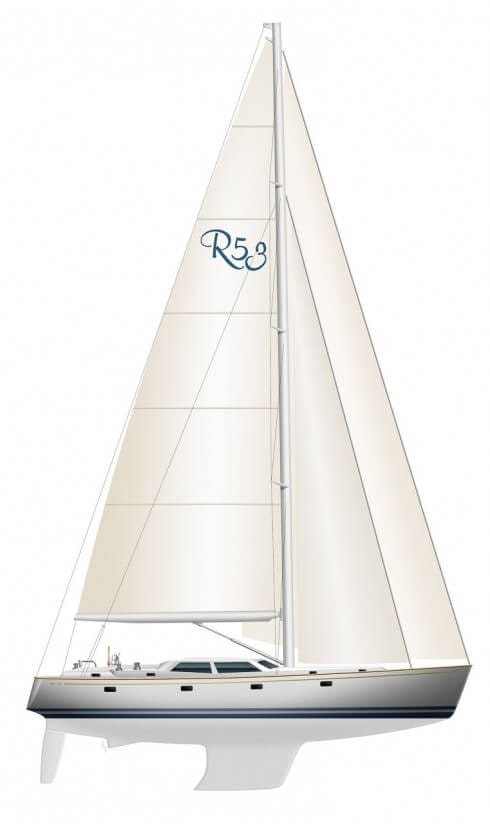 Rustler have selected a Dutch yard to carry out the fabrication. The completed structures will then be shipped to Falmouth for fitting out by their own highly skilled workforce to ensure prestigious yachts that will identifiably be from Rustler.
The Current Focus
Rustler Yachts have steadily broadened their range of cruising yachts to develop a family of boats designed with family crews in mind, and especially for those who have long distance ambitions.
Diversification into the dayboat and daysailer market is allowing them to develop a new layer of ownership, which together with their commitment to re-fit and rebuild work, should help the yard weather storms in the market for any aspect of their portfolio.
Commendably, they are also determined to maintain a design in the mid-size range. The old 36 can still be built to special order, but the totally new 37 that has just been launched undoubtedly represents the future. It's good to see a yard of this type maintaining a presence in that market, and who knows but it may make good marketing sense in the years to come.
Far from being a high volume builder of average yachts, Rustler has chosen to concentrate on building low volume, high quality yachts. True to known values that work at sea, their new range encompasses the best use of traditional design and materials in a modern idiom, to create a range of yachts that are finding a dedicated and loyal audience.
Part 2
Join me next week in Part II to see how they do this, and to meet the new 37.
Disclosure
Neither Colin or Attainable Adventure Cruising Ltd have received any benefit from Rustler Yachts in money or in kind.