Tao, a French Alliage 42, was abandoned last Thursday some 1200 miles southeast of Cape Cod. Thanks to Gwenael for bringing this to our attention in the comments.
Before we go any further, please take two minutes to watch the video above, I promise it will be worth your time (link to original).
Gwenael did some research and came up with the following information from a French forum:
The boat was returned [capsized] by a very big wave. The man at the helm was thrown into the boat with his harness. The mast was torn and the boat remained upside down for 5 minutes. It was during this time that it filled with water. Then he returned to the place. There was too much water to be pumped and it continued to fill with water. They started their EPIRB , they were geolocated by Coastguards . They deployed the life raft , but it  filled with water and the rope broke, they saw the raft going away from the boat. The helicopter [was actually a Hercules aircraft] was able to launch another life raft and a VHF radio, a man from the sailboat dove to catch the radio in water. The crew is younger than the Coastguards say. The boat is a 44 Alloy with centreboard. During a storm it is better to be in an enclosed wheelhouse or a dog house with a watertight door .
Now first off, I should state that we have not verified any of this information and obviously there is a lot more to know. But for the purposes of this post I don't think that really matters for three reasons:
This forum account is both a plausible and sadly common reason for a yacht loss.
Colin, who is incredibly perceptive about these things, deduced the same from the video.
Even if some of the details turn out to be wrong, this is such a common yacht loss scenario that learning from it, as related here, is still useful.
One other thing. Nothing that follows should be taken as criticism of the skipper and crew of Tao. All I'm trying to do here is learn from what happened in order to make you, our readers (and Phyllis and I), safer when we go to sea. (This kind of analysis of a scenario, real or imagined, is a lot of what made our High Latitude Voyaging course go as well as it did.)
With all that covering-my-ass out of the way, here are my thoughts.
It All Starts With Capsize
Most yacht losses at sea start with a capsize.
Yachts, no matter how well found, are often (usually?) damaged by capsize to the point that they are no longer seaworthy and need assistance.
Crews are often injured too.
Prevention Is Better Than Cure
While I hear Gwenael and agree on the desirability of enclosed wheelhouses and watertight doors, to me this loss once again confirms that:
Given the above, prevention of capsize is the vital place in which to put energy and money, not trying to make a boat less likely to be damaged in a capsize as is often advocated. (Of course, given unlimited money and time, both would be best.)
Gear and techniques do exist to prevent capsize in even the worst conditions, but sadly, as far as I can see, few yachts are so equipped and even fewer have practised with the gear.
Every yacht venturing offshore should carry and have tested said gear to prevent capsize.
Steering Should Not Be Required
Rescue by Ship is a Last Resort
The video shows, once again, how dangerous being rescued by a ship in heavy weather is.
Lifting Keel
As Jean-François points out in this comment, we really need to know if the lifting keel was up or down when the (assumed) capsize took place. The reason being that French lifting keel boats like Tao have an enviable track record of surviving very heavy weather without capsize, but that ability does depend to a great extent on having the keel up so the boat can skid sideways at the bottom of a wave face, rather than tripping over the keel and broaching. (Note that JF uses "capsize" for mast in the water but not completely over and "roll completely over" and I use "capsize" for going completely upside-down and "knock down" for mast in the water.)
This brings up an interesting point: Do these lifting keel boats need to carry capsize prevention systems like the Jordan Series Drogue? I really don't know, having only sailed on this type of boat in benign conditions and for a few hours.
Having said that, it is interesting to read Jimmy Cornell's comments on sailing an Ovni in heavy weather. The key take away for me is that during his circumnavigation and high latitude voyages he relied heavily on keeping the boat sailing, by either hand steering, or relying on an autopilot. Given my beliefs about going passive, and the fact that Phyllis and I usually sail short-handed, I would, if I owned a lifting keel boat, equip her with a Jordan Series Drogue.
A Nasty Storm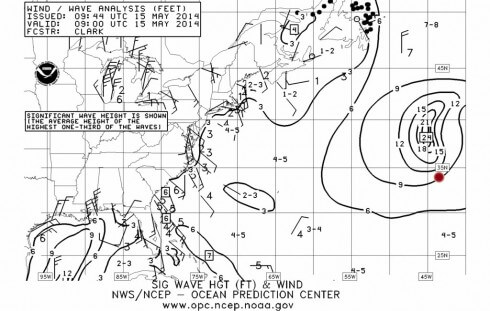 I took a look at the weather in the area of Tao's position when the crew were taken off (red dot) and it is clear that it was a nasty blow from a low that formed very quickly and then rapidly intensified. The lesson for me here is that if we cross oceans no amount of weather routing can keep us out of a blow like this every time. If we go to sea for long enough we will get nailed eventually. Therefore we must be prepared as I discussed earlier in the post.
In a Nasty Place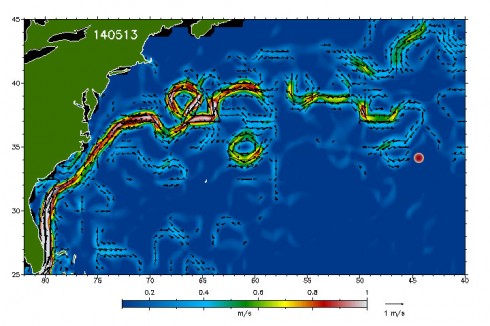 Having said that, Tao looks like a well found boat and, as I say above, the type have a great track record in conditions as bad and worse than those experienced by Tao. So I became suspicious that there might have been another factor at work here. Sure enough, a surface current map from two days before the abandonment shows a cold core eddy from the Gulf Stream close to the rescue position. We will probably never know for sure, but I think that it is extremely likely that this contributed to the loss.
Once again I need to beat a drum that I have just about worn out. The combination of currents and high winds doesn't end well for yachts. Offshore, even a current of as little as half a knot against storm force winds can produce truly horrendous breaking waves and therefore it is vital to avoid these areas when any winds over about 25 knots are forecast. Of course, that can be easier said than done, so that means that we should carry gear to survive in these conditions.
Rogue Waves
Almost every time something like the loss of Tao happens, sooner or later someone will blame it on a rogue wave and add the implication that the boat was just in the wrong place at the wrong time–bad luck. I think this is absolute rubbish, and a dangerous misconception to boot.
Rather than using this cop-out, we need to understand that any time strong winds occur there will be waves around that are nearly twice the height of the significant wave height, which is itself the average of the highest one third of the waves. And there is a distinct possibility of a few waves even higher than that. Add in an ocean current against the wind, a situation that is not always avoidable, and those waves will get higher, closer together and will break.
Once we understand and accept that, we can equip our boats and sail them to deal with the ocean the way it really is.