Writing the article we just published on the Adventure 40 steering system, including rudder and self-steering options, got me thinking about the true cost of autopilots and how they compare to vane gears.
Let's take a look, since this is a subject that's relevant to all of us, regardless of whether or not we are thinking of buying an Adventure 40, and particularly to those with the end goal of offshore live-aboard sailing, while trying to stay under US$100,000 for the entire project.
Benefits Comparison Overview
But before we get into money, a quick overview.
When compared to autopilots, vane gears:
Are simpler.
Are relatively easy to repair, even at sea, with basic tools and a few spares.

I have done this several times, including while on a challenging single-handed passage against the Christmas Winds from St. Maarten to Barbados—what was I thinking?…Well, there was a woman involved…

Do not use electricity—more on how big a win that is in a minute.
May, depending on design, be able to act as a backup rudder.
But autopilots:
Are easier to use and require less skill, since vane gears, at least if we want them to steer well, require a good understanding of sail trim to balance the boat properly.
Will work both motoring and sailing.
Are less vulnerable to damage than a vane gear hanging on the stern.
Note: this is a summary, see Further Reading for much more on self-steering options.
Cost Of Purchase
With that out of the way, let's look at comparative costs, starting with the cost of purchase:
Sure, it's possible to buy an autopilot for less, and/or cut corners on the deck controls, but we are specifying for offshore, often shorthanded sailing where the autopilot is vital, so cheaping out would be a bad idea.
In fact, I would call the above a middle-of-the-road option in terms of cost. Add in a higher-quality and smarter brain¹, as well as say a satellite compass¹ to improve steering, and we can easily spend US$15,000 or even US$20,000.
¹ These links are for cost comparison purposes only, not an endorsement. Selecting the right vane gear and/or autopilot is a complex endeavour depending on the usage profile of each of us, and beyond the scope of this article.
On the other hand, we can also spend more than listed above for a vane gear, particularly if we add a backup rudder option. But then I would argue that's not relevant to this cost comparison since it solves a problem that autopilots can't.
Anyway, on the surface of it, an autopilot is about 1.5 times more expensive than a vane.
Installation
We then need to add in installation. Having installed both autopilots and vane gears on a couple of boats, I would estimate the DIY installation costs as about the same. Say around US$1000 for parts and fabrication, although that's highly variable depending on boat type.
So that's a wash when comparing the two.
Hidden Costs
But wait, once we get either option installed we are not done spending money or installing stuff, at least on a boat that's going offshore:
Autopilot
Electrical System Upgrades
A powerful under-deck autopilot on say a 40-foot boat will require at least 100 Ah at 12 volts (1.2 KWh) for each 24 hours at sea, and often more than that—some combinations of boat and sea state will double that estimate.
I know that sounds high, but don't be fooled by the electrical usage of your autopilot when coastal cruising. Once offshore, particularly with the wind aft of the beam in big tradewind swells (where we cruisers all want to be), hourly autopilot electrical usage will double, or even treble, from that in relatively smooth water.
At this point a lot of people will tell you that this is no longer a problem because we can feed even the hungriest autopilot with renewables. Sure that's true (with caveats), but at what cost?
We will need:
A larger battery bank to carry the loads through the twilight and dark hours, when there is no charging from the solar panels, and for cloudy days.
To substantially increase the size of the solar array and maybe add a wind generator to keep up with the demand, over and above that required to keep up with other loads.
In some cases, to fit a generator (or run the main engine) to charge at least twice a day.
And doing the first two right is harder than it sounds:
Wind generators put out almost nothing under about 10 knots apparent wind speed, so once off the wind (even in 18 knots of true wind), where we need them most to feed the autopilot, they do little.

If the wind generator shades the solar panels, as it often will, it can actually constitute a net loss of generating capacity.
Given this, and the advent of more efficient and less costly solar panels, I recommend dropping wind from the energy plan for many usage profiles.

Solar panels installed in places other than an arch aft, tend to suffer from rig shading to the point that the actual daily output ends up being half to one third of those on the arch. The point being that the more solar we add, the less efficient and cost effective it gets.
All of this can, and often will, add un-seamanlike clutter that will make it difficult to properly access the sails—more here.
Arches, wind generators, biminis and dodgers, studded with solar panels, have a surprising amount of windage, which can severely impact the boat's upwind performance, to the point of making the difference between clawing off a lee shore, and not…
…Whoops, my well-known hate of deck clutter is showing, so let's just assume for the purposes of this article that we can add enough additional renewables and batteries to feed the autopilot without screwing the boat up.
Call it at least US$6000 to do that (including some money for installation) over and above the renewables we would need with a vane gear.
…Wait, I can't help myself:
Actually, since I hate clutter and drag, I would solve this problem the same way that most singlehanded racers and AAC contributor Andy Schell do: a Watt and Sea hydrogenerator.
That is, as long as the boat is fast enough to make that work—think average daily runs of over 160 miles.
That option is in the six-grand range, too, so no cost savings.
Of course, there is a third alternative to feed an autopilot, with no added capital cost for solar, but still requiring a larger battery bank, and with increased fuel and maintenance costs, and that's to run the engine to charge at least once and likely twice a day. But these days most of us are trying to avoid, or at least minimize, that.
Spares
Autopilots are intrinsically complex and also not at all fault tolerant, since a failure in any component (brain, compass, drive, ram, controls, or rudder feedback unit) will bring the whole system down, and almost certainly in a way that will be impossible to fix at sea.
So, if we are going to go to sea shorthanded and so be totally reliant on an autopilot, there's a strong argument that we should also be carrying a complete spare unit. Yup, that's another US$6000.
To bring some real-world experience to this, we have, over the years, used our spare:
compass,
rudder feedback,
and ram
in situations which would have resulted in having no functioning autopilot for weeks if we had not carried the parts.
That said, we never carried a spare autopilot brain, but, on the other hand, we had a vane gear.
Vane Gear
But let's make this fair. Vane gears have hidden costs, too:
Backup Autopilot
They don't generally steer well in very light air, and not at all when motoring, so we need to include a good-quality tiller pilot in the vane gear estimate, for say US$1000, or a cheap above-deck belt-driven wheel pilot for around US$1500.
And it's also nice to have one of these electronic options when coastal cruising in the shifty winds that prevail inshore and which make using a vane gear a pain in the neck.
Spares
Vane gears are generally DIY fixable, even at sea, but it's still a good idea to carry some spares, including the immersed paddle and the wind vane. Call that $US800.
The good news, even with minimal parts, is that if the thing does break in a way that's unrepairable at sea, the light-duty pilot we added above will, with care (heave-to when it gets nasty), get us to land where we can sort things out.
Big Wins For Vane Gears
OK, clearly the hidden costs for an autopilot are way higher, but there are even big wins for the vane gear on boats that have an under-deck autopilot as their primary system.
No Increased Electrical Capacity Required
We will not need to spend the added bucks on the electrical system, or at least nowhere near as much, to feed the autopilot because we can use the vane gear while the renewables catch up and power other loads.
Less Spares
Another big win for having a vane gear as well, is that it removes the need for all those spares for the autopilot—yes, we may want some spares, but it's perfectly sensible to cut back on them, like Phyllis and I did.
Conclusion
Wow, this is is getting complicated. Here's a spreadsheet that will clarify things: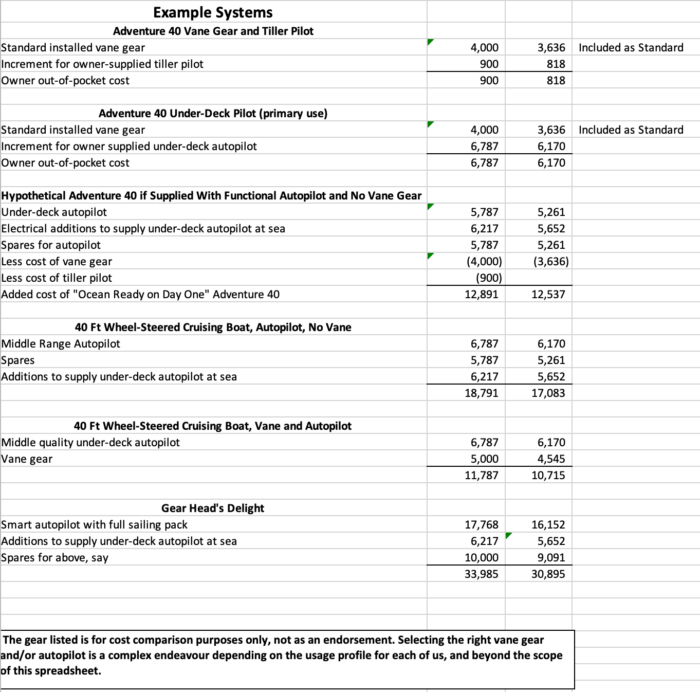 So, to answer the question I postulated in the title, and assuming DIY installation:
Vane gears are way cheaper than autopilots, once we look at a full system for multi-day offshore voyaging use.
Even if we want a full-on under-deck autopilot, also installing a vane gear makes a lot of sense, since we can then pay for it out of the savings of not having so many parts for the autopilot, and we have a completely independent backup that does not require electricity.
And if we are willing to use the vane gear, rather than the autopilot, whenever we are at sea and we are sailing, we can also delete the cost and clutter of the added renewables and batteries.
The Adventure 40, with an under-deck autopilot and no vane gear, would cost about US$13,000 more to "Be Ocean Ready on Day One" because of the costs of added electrical capacity and spare parts.
Full on all-singing, all-dancing, high end autopilot systems cost a lot of money.
Don't get me wrong, I'm not trying to sell you on not buying and installing an under-deck autopilot. After all, I have had one on all of my boats.
But I do think that the math, plus the advantage of a simple backup, makes a very strong case that all shorthanded offshore cruising boats should have a vane gear, regardless of whether or not the budget will run to a powerful autopilot.
You also now know why I have always insisted on the Adventure 40 having a vane gear as standard equipment.
Being Realistic
If you think I'm full of…err…misguided with my estimates of the autopilot electrical usage and associated costs, it's important to realistically calculate the true electrical usage once offshore, and, further, not to overestimate the daily charge we will get from solar and wind, which is typically about one half of what people estimate.
To that end:
The Spreadsheet
Obviously there are a whole bunch of ways to slice and dice these calculations, so if you want to experiment with different variables, here's my spreadsheet for download.
I would also appreciate if you check it for errors, thanks.
Further Reading