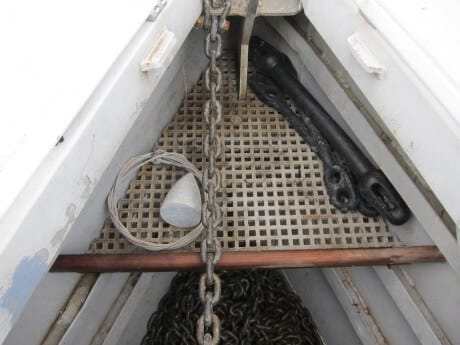 It's all very well to have so much internal volume, but if all of it is taken up with berths and shower units, then where does all the 'stuff' go? On the charter boat we hired, for example, the forward double had a water tank beneath it, a few shelves with nothing to secure gear above the bunk on one side, and one good sized hanging locker. Nothing like enough space for two people to liveaboard for two weeks in such a northern latitude, let alone full time. You inevitably end up with people living out of their sailing bags, a situation I cordially dislike.
And how 'stuff' accumulates. The area under our huge double bunk forward on Pèlerin is now just about completely filled with spares, camping gear, an inflatable kayak, dive gear and all of the 'essential' paraphernalia of life aboard. Fortunately we have lots of locker space built in for all of our clothes for all latitudes (for us to return to work), otherwise we'd have to move out!
Too Many Cabins?
Many boats have too many cabins, in my view. It's all very well to have four cabins, but will you sail with eight people aboard regularly? Really? If yes, then well and good, but if not, then why not convert at least one cabin to stowage, using boxes instead. On a new build this is far more simple, but even with an existing boat it can be straightforward enough, and if carried out with forethought it should be possible to change it back to a sleeping cabin before re-sale. If you do this, it's important to start by planning how you'll go about breaking up the space to store all of those essential items that you can't leave behind.
Many hardware stores sell 'storage' boxes, and these look tempting, but in my experience are nowhere near robust enough and never last long in a boat. A good alternative I've found are fish boxes, which are not only incredibly tough, but allow ventilation, and can have straps attached to them to keep them in place. Great for wet gear in external lockers, fine for stores in the dry. They can be stacked, and strong nylon netting (we use it everywhere) used to secure their contents. In deep external lockers where you can get in and stand, a good way to avoid slipping and keep gear off the internal structure is to fit fibreglass decking (as seen in many marinas) which can be cut with a jigsaw to fit even the most awkward spaces. Light, cheap, rotproof and virtually unbreakable, it is also useful to keep gear out of the inevitable small quantities of water that can gather in cockpit lockers, or to make draining shelving in the anchor locker.
Not Enough Tankage?
Finding space for adequate fuel and water tanks can be another problem where so much space is given over to in-harbour life, especially as most modern boats have very shallow bilges that already limit available space. Not having adequate supplies of either is not just a nuisance, but can compromise safety and autonomy, so it makes sense to find ways to make those deficiencies good.
For me, having enough water to have (at least) an occasional shower is the ultimate luxury, a legacy of so many years aboard charter boats full of guests, who naturally had first call on the limited quantities we could carry. So we installed a watermaker to make that possible, our one concession to complexity, but obviously involving more expense and maintenance so it's not for everyone. For many people, a simple awning or rain catching device will suffice, and is a sensible thing to carry in any case, and obviously with spare cans for general or emergency use.
Install Extra Tanks
But I've yet to find a boat that didn't have space somewhere where an additional tank or two couldn't be installed for either fuel or water. Installing extra tanks can make a big contribution to overall range, and can take up less space than jerrycans. On my last boat we had flexi water tanks that gave absolutely no problem for over 17 years, with no more maintenance than installed tanks. The only critical factor with these tanks is that any space for them must be free of any sharp edges where they can be abraded. They do move around, especially when less than full, and finding really effective ways to strap them down can be a challenge. Moulded HDPE tanks are now a good option for fuel and water, especially as many of the makers like Tek-Tanks can build custom designs to fit awkward spaces, with internal baffles (a big advantage) almost always fitted. These can be a good option for updating an existing boat that has no holding tank, too.
Building a boat to your own liveabord specification is rewarding, but costly. For many people, converting an existing boat will be a far more realistic option. But time spent in getting this right will pay dividends down the line, making better use of the available space and leaving you with a far more practical, comfortable home.