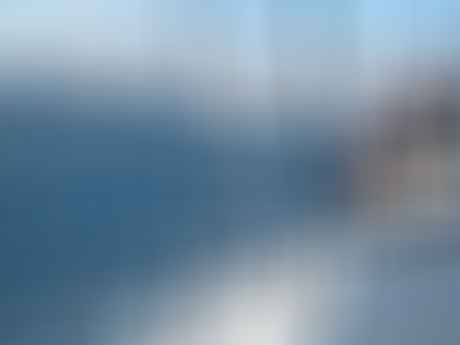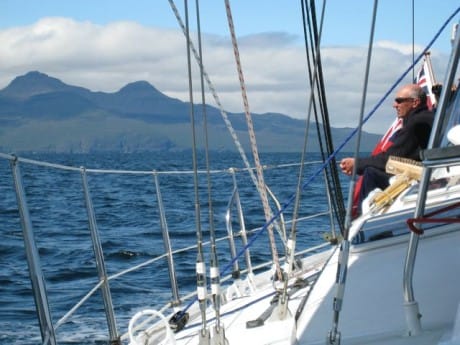 I mentioned in my last posting that we had recently chartered a relatively up to date 40 footer for our basking shark survey in Scotland. As most of my sailing over the years has been aboard my own boats, either Pèlerin (built to go anywhere) or our old Frers cutter (tough eighties cruiser-racer), I thought that two weeks on the water and sailing on a daily basis would be a good introduction to where boat production has been going in recent times. And so it was.
A Good Example
The boat in many ways epitomized the average charter boat—huge accommodation, four cabins (three doubles), two heads and showers, linear galley and dinette arrangement in the saloon. Externally, she had a big cockpit, lots of freeboard, shallow canoe body and modest draught (1.55 m). The rig was conservative with heavily swept spreaders, but she had a nice fully battened main and roller genoa, and overall she sailed well in the conditions we had. Under power a good sized Yanmar engine that was smooth and quiet (despite plenty of hours) drove her along well.
She did everything we wanted, and was comfortable and roomy to live aboard, much more so than many older designs I've sailed. She felt solid, and there were no signs of flimsy construction, even after a good few years in a charter fleet in the Hebrides. Wear and tear, yes, but everything functioned more or less OK. For the job she had obviously been designed for—holidaying aboard for a couple of weeks at a time, in less than demanding conditions, with a full crew—she was a great boat, and entirely fit for the purpose.
Fine For Charter—But For Cruising?
But there were elements of the boat's design that ranged between annoying and unworkable if she were taken outside her design brief and taken long distance cruising, in my opinion. Not that it couldn't be done, with some modification, at least one eye on the weather and a capable crew, but things that simply annoy on a two week holiday or for general weekending would take on a whole new significance when lived with full time. But I'm not blaming the boat—she was designed for a specific market, and she fitted that design brief very well indeed. What worries me is that I keep seeing the same design features that are tolerable in a 'holiday' boat turning up on new models from some well established cruising boat builders, where I don't think they belong—what's going on?
What's Needed
In my view, a cruising boat designed for offshore passage making should possess (at least) the following attributes as a minimum standard.
Under Sail:
Be easy to handle, with the ability to reef all sails quickly and efficiently. Be able to stand up to her canvas up to at least gale force. Have a comfortable motion, to avoid tiring the crew. Have a balanced hull form so she is not prone to rounding up, and is easy on the autopilot.
On Deck:
An anchor handling system and all ancillaries that is built to cope with really severe conditions. Sufficient winch power for all crew members to work the boat. Good shelter for the crew in rough seas. Be safe to move around on deck in all conditions.
Down Below:
Have sufficient locker space for the crew's gear to be safely stowed when on passage. Have proper, safe, secure sea berths so that the crew can rest even in bad weather. A workable galley, so that hot food (not just snacks) can be prepared in rough seas. Be safe to move around in rough conditions.
Structurally:
Be durable enough to withstand a less than extreme grounding without structural damage. Have a simple, strong rig with failsafe capability. Have a robust, reliable steering system (including the rudder) with viable back-up in an emergency.
Time For A Review
Much of what I've outlined is by no means impossible to achieve, and is entirely in keeping with John and Phyllis's mantra of What Really Matters.
Over the next couple of months I'm going to return to each of these points, enlarge upon them and look at ways in which I think we're heading in the wrong direction. I'll offer alternative ideas or ways in which improvements can be made, from my own experience and advice from others. And I hope you'll be part of that, too, given the wealth of real experience that's out there with AAC readers. So please contribute your thoughts, and hopefully a bigger, better-focussed picture will emerge.
Maybe we can come up with some timely reminders for designers and builders that the sea doesn't change, offshore requirements are very different, and that fashion belongs in the high street—not in boat design.