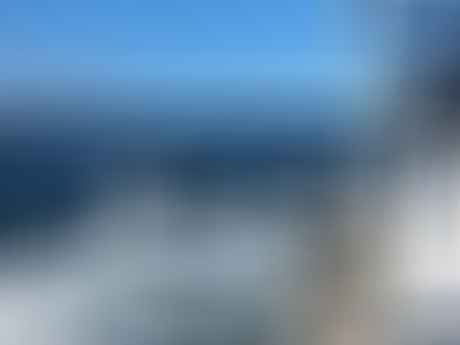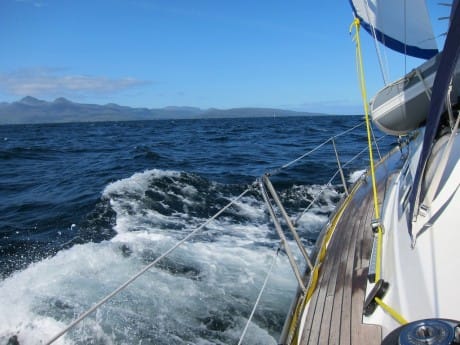 The first thing you notice about some of the latest generation yachts is freeboard—and plenty of it. This is especially true of sub-40 footers, but once again, it's creeping up the size ladder. And it's all about maximising headroom and internal volume, making the interior as habitable as possible for in-harbour living.
It's also a reflection of the very shallow canoe body of the more recent boats, which, with their almost flat bilges have very little actual boat below the waterline. So in order to compensate, and to achieve standing headroom (throughout, if possible), the only way to go is up. And in the very latest boats, the coachroof is also spreading, leading to boats with narrow side decks, which are a pain in the neck to negotiate.
The boat we had was cavernous inside, with enormous space for people to move around, as a result of her high freeboard, wide coachroof, and beam drawn well aft. Fine for two weeks with six people living aboard and stopping off each night, but what are the implications for sailing performance and general boat handling?
Out On The Water
Well, when we left the mooring, we had the bottom end of F6 on the beam, for a quick scoot to a sheltered loch for the night. And it was quick, the boat going well, and not too much weather helm, but that was no surprise as we had three reefs in the main, and only half the genoa out. Another few knots and we'd have been deciding whether to drop the main or roll up the genoa. There was no question that we were running out of options in not an awful lot of wind, and I've no doubt that the high freeboard played a major part, allied to a shoal draft keel and shallow underbody.
At anchor that night we were in a sheltered but open roadstead where there was no sea running, but the wind (c. 20 knots) could still get to us. And so we encountered the next dubious benefit of high freeboard, as the boat hunted around constantly in the wind, like a dog looking for a lamppost, even though we were lying to a good piece of chain. I'm sure we've all noticed this in busy anchorages, where it can be a real nuisance, with boats swinging around in an entirely chaotic manner, with the usual bumps and arguments that go with it. But in a small, secure spot offering shelter but little room to swing it would be really worrying.
What Can Be Done?
Now I've seen various ways to try and reduce this—lying to two anchors being one of them, but that's not always the best idea if everyone else around you is lying to one. You don't swing so much, but they still do, and sooner or later they'll make contact. Another idea is to hoist a storm jib up the backstay and sheet it home amidships. I watched a couple try this in Spain recently and the thing flogged away like mad—maybe they had it wrong, but it looked to me like it made matters worse. A few years ago a very experienced guy called Keith Stanley kindly showed me his custom made riding sail and sent me the dimensions of this simple V form sail. Having seen some video of him riding out a really stiff blow using it with very little sheering around, maybe it's all in the execution (it usually is!). And someone recently told me about the idea of attaching a small drogue to the anchor chain where it would at all times be below surface level, and claimed it worked really well for them. We have a drogue of about the right size to try this, but so far we haven't had enough wind to really give it a fair trial, but as and when we do we'll let you know how we get on.
What About The Crew?
We didn't have much opportunity to sail the boat in more than F5 for the rest of our time aboard, but on the one occasion we had a stiff beat, she did OK, although with some slamming against her flat bilges and a very lively motion it was hard to keep her in the groove. And with her wide stern lifting the rudder as she heeled hard in the gusts, the helmsman needed to be alert to keep her on her feet. Hard work for the crew over time, and not what you'd want on a long passage. And again I was left wondering 'what next?' if the wind got up. A friend who has delivered a lot of these boats shrugged and said 'start the engine'.
High freeboard, light weight and a shallow underbody doesn't necessarily make life easier under power, either, especially in crosswinds in today's space constrained marinas, and it's not uncommon to see even fairly small boats having bow thrusters installed these days—at great expense and additional complexity. And maybe marina living also affects modern design in that weekend cruisers want big volume in a short package owing to the extortionate cost of berthing (and its lack of availability) in many of the world's busiest sailing areas.
Once again, none of this mattered that much for what 'our' boat was designed for, and she met her design brief very well. But the 'boat on steroids' look is appearing across the spectrum of yacht design, including in boats sold as ocean cruisers, and I'm not at all sure that's the direction we should be heading in, for many of the reasons I've outlined above. And that's just the exterior…