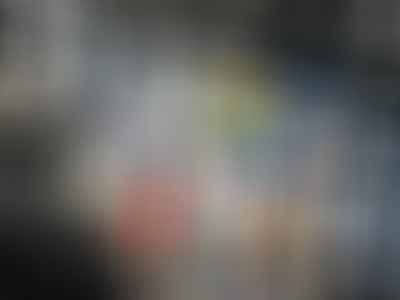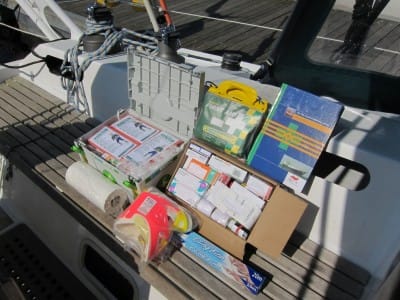 As our planned departure date looms we're as busy as ever finishing off the final touches, and putting aboard the last of the kit for the long haul. And one of the things we have left until the very last minute has been our medical pack, largely because we want all of our medicines and bandages to be as in date as possible. And here it is in all its glory, just waiting for us to make enough room stow it all away.
We've always carried a full First Aid kit, and supplemented that for commercial with the help of our local doctor, but as we now intend to make longer offshore passages to remote areas, we've really had to upgrade to a far more comprehensive level to cope with any emergencies along the way. Both of us have had to attend regular First Aid at sea courses over the years, and some years ago I attended the week long Ship Captains Medical Course, but we're planning to attend a 'bush doctor' course before long to bring us bang up to date.
Equipping a boat with all that might be needed can be a daunting task, but help can be found in a number of places in the UK. Our Maritime and Coastguard Agency produce a document called the Ship's Medical Stores that sets out the minimum requirements for medical equipment for UK ships. There is also an excellent book, The Ship Captain's Medical Guide, of which a doctor friend once said 'if this was more generally available it could put me out of business.' As a simple, practical, diagnostic and treatment guide it takes some beating.
Three years ago we met the well-known First Aid Pharmacist Ian Hardy at the London Boat Show. He listened patiently to our plans, and gave us valuable advice at the time. Since then we have gone back to him on several occasions with updates as we have modified our proposed route, and at all times he has been ready to spare time to keep us on the right track.
Ian has developed a range of standard packs that are driven by the distance from land and duration of passage and likely level of support available in the event of injury. For the last three years we have been carrying one of his waterproof First Aid Kits rated for 180 minutes from help, which can go in the dinghy with us for longer visits ashore. Ian suggests this is the time that most minor injuries occur, and that makes sense to us.
This has now been supplanted with a 'custom' kit for extended voyaging, with his help. The ocean going kits are available loose if stowage is a problem, or in robust purpose designed boxes if space is not an issue, and we have a mix of the two. Following the guidelines laid down in the MCA list, all of the medicines required have been supplied in the name of the boat for specific use on board.
Such a comprehensive kit doesn't come cheap, but what is 'cheap' in terms of health? Like many other sailors, one of the things I fear most would be a serious illness or injury when far from help to one of us, or one of our friends or family who may join us. Seen from that perspective, the fact that we have done our utmost to be prepared is money well spent. We hope we'll never have to use our training or equipment for anything other than minor emergencies, but if the worst should happen then at least we are prepared for it, and will be able to do our best.