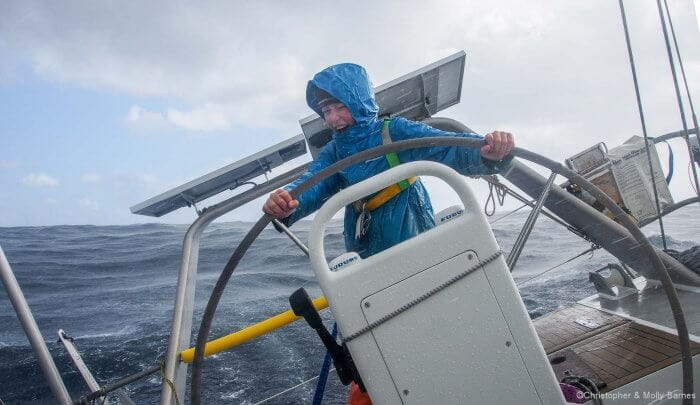 For the last three years I have lived on Sila, a Boréal 47, with my family.
My parents wrote a while ago about living with kids on a boat from a parent's perspective. I am going to write from a kid's perspective, with tips both for other kids and for parents.
As I am twelve years old, there are lots of small things that, put together, contribute largely to my overall happiness. This is a collection of ten tips that I have found make living on a boat even more enjoyable.
#1 School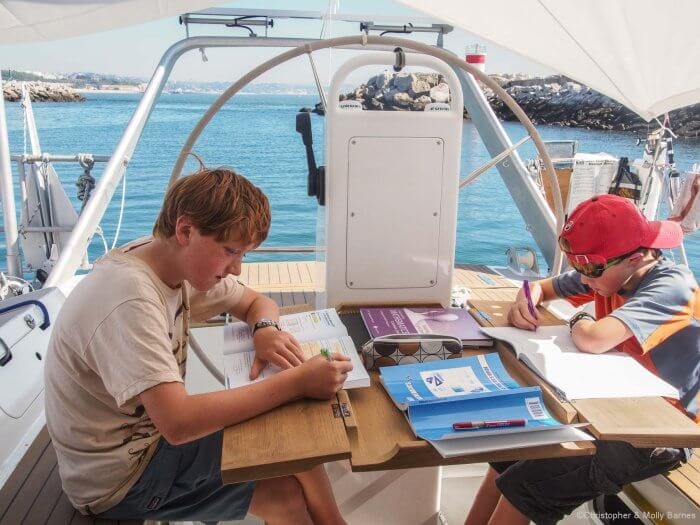 Having a flexible school schedule allows you to take advantage of an interesting place and its learning opportunities.
Each day of school consists of three to five short classes. Math, writing and reading are good examples, which happen almost every day. The nice thing about a whole bunch of short classes is the flexibility. When there is a really cool thing to do onshore, we postpone or even skip a piece of school, and it's no big deal. When there is nothing special to do, I get ahead of school. I think flexibility is key.
On passage you should do no school, then lots of it. For the first few days of an ocean journey, my brother and I are prone to being seasick. For the first few days, do no school until everyone has their sea legs. Passage sometimes is slow and repetitive so, after you have sea legs, do lots of school while there is not much else to do. Later, when there are interesting things on shore, the school work is already done.
#2 Entertainment
Bring only your favourite and multi-use toys and games.
My brother and I have a small cabinet of things that entertain us for hours. A deck of cards is a great example. From Go Fish to Hearts, Solitaire to magic tricks, cards have a lot of uses for such a small box. Also, portable versions of games are good because of the minimal space they take up.
Having fewer toys and games than at home has inspired us to use our imagination more and to engage with our surroundings. While computer games are fun, I think I have benefited more from using my imagination and socializing with my family.
#3 Snacks
I think that being hungry evolves into being grumpy, so I suggest having easy access to snacks at any time of day.
We have the Snack Cabinet, a cabinet full of granola bars, peanuts, raisins, and crackers. The thing that makes it special is the fact that at any time, and without asking, I can eat what I want without disrupting my mother's careful food filing system. This way I am rarely hungry and always happy.
#4 Books
You should have an e-Reader.
My family, and my brother in particular, likes to read a lot. On a boat there is limited room for books. Instead of trying to make room for all our books, we have four Kindles. They can hold thousands of stories and novels, all in the size of one. I love my Kindle and it contributes to making reading fun and easy.
#5 Downtime
You should have a system for getting personal space.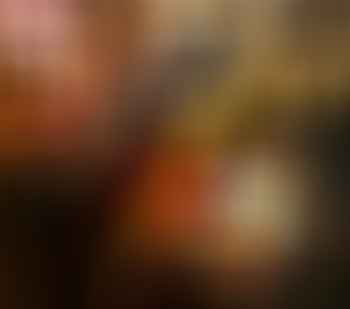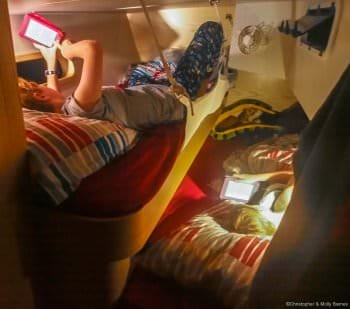 On a boat, time away from people is a prized commodity. Getting enough of it can sometimes be hard because a boat is so small and confined. Rather than physically getting away from each other, I suggest mentally isolating yourself. My brother will read and I will put on headphones so, even though we are a few feet from each other, we feel separate. Living within a confined space can be difficult and life greatly improves when everyone can be by themselves for a while.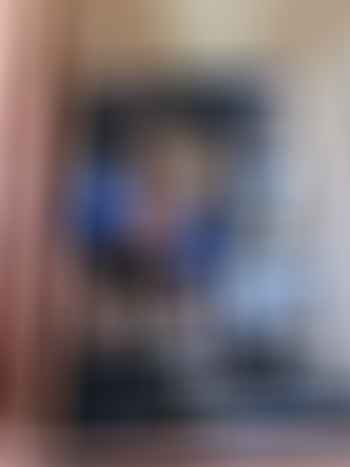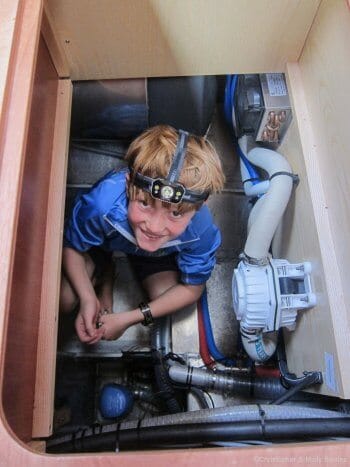 #6 Keep It Fun
I like being crew and having the responsibility of helping make life on the boat work. Now I do lots of things, including washing the dishes every other night, making dinner one night each week, and standing four hours of watch each day on passage.
Three years ago I did much less in terms of sailing, anchoring and helping out. Back then so much work would have been hard and no fun. My parents eased the responsibility on us, for which I am grateful.
#7 Share Responsibility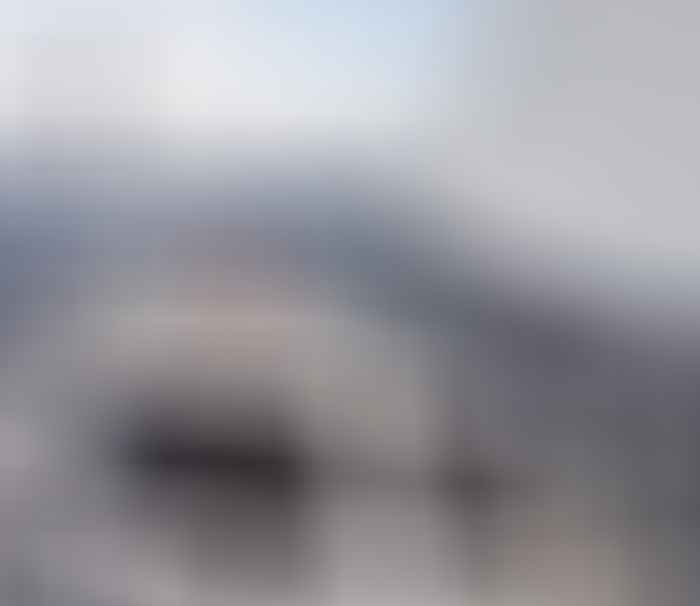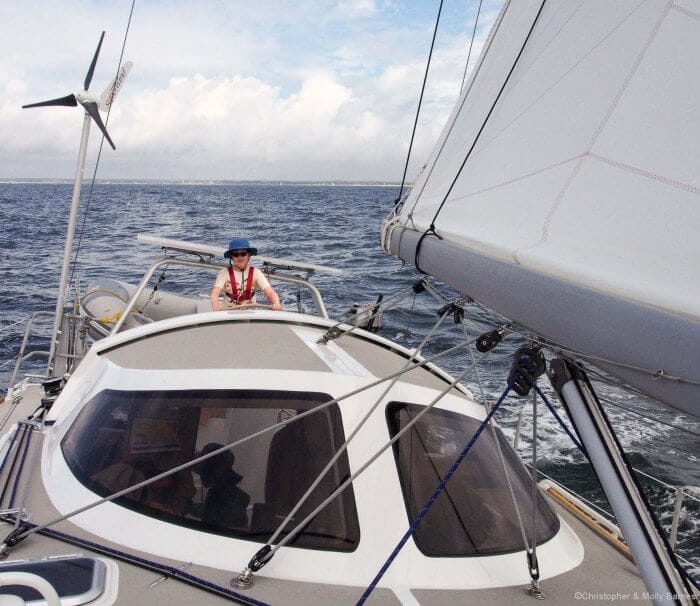 Include your child in the watch schedule on passage.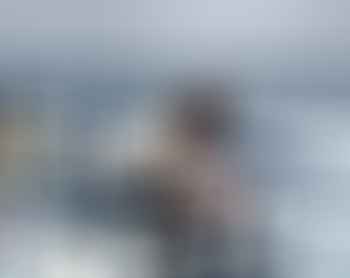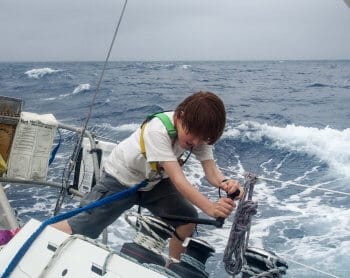 Part of the responsibility I like includes taking watch. Each passage I have taken more watch, starting at none, climbing up to five hours. At first I did an hour of watch with a parent right there coaching me. Now, in settled conditions I can do several two or three hour shifts with my parents down below, napping. Not only does it give me a good fun learning experience, but it gives our parents more time to sleep.
#8 Celebrations and Surprises
Passages can sometimes be long and boring, so I suggest having celebrations and surprises to break up the passage.
Our family has passage prizes. The person in charge of passage prizes chooses monumental or special times to hand out goodies and treats. Some examples include crossing the halfway mark, passing a particular latitude, or completing a certain number of miles.
When our odometer reached 30,000 miles, my brother and I surprised the crew with a cold bottle of Fanta Limón, a treat on Sila since we do not often have soda. Also, my Mom and I (the two who love music) play songs and have dance parties to mark events.
The parties and treats give us something to look forward to, and break up a long slow passage.
#9 Crew Meetings
You should have a time when everyone can express their feelings.
On passage it is hard to find a time when everyone is present and awake. During the time that everyone is present, which happens to be right after dinner for us, we all gather for what we call Crew Meeting. In Crew Meeting we all voice how our day went, what would be helpful to change, and logistics concerning the boat. This gives us time to vent our feelings and help each other make a system that works for all of us.
I suggest having a time for everyone to vent their feelings where everyone can hear them.
# 10 Go To Cool Places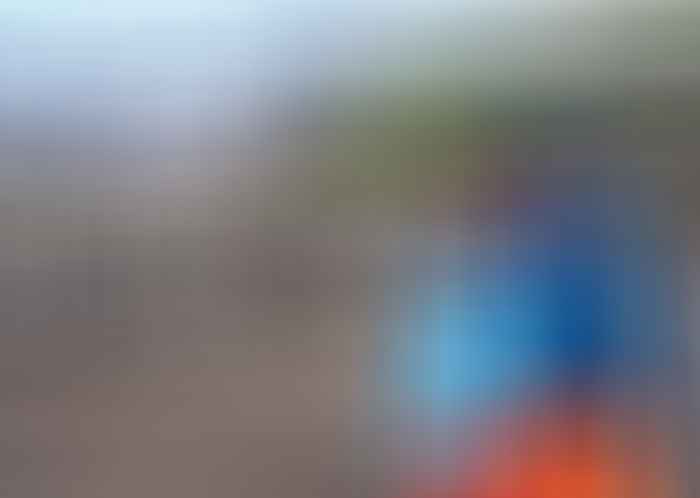 Maybe this goes without saying, but I think you should just go to cool places. It may seem obvious but it largely contributed to my family having the time of our lives. We toughed it out through the rough parts and ended up in amazing places (including South Georgia).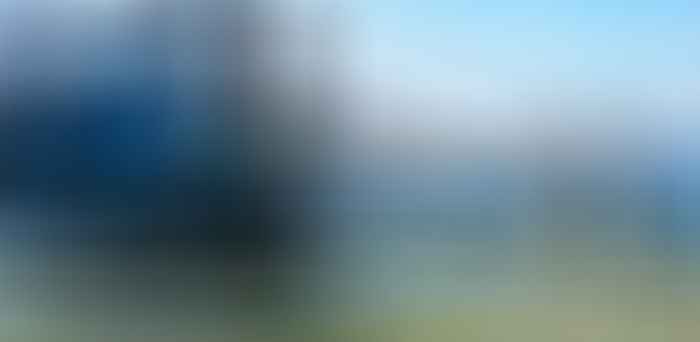 These ten tips all contributed to making me and my family happy. I hope they help you make life on a boat easier and filled with great experiences.
Further Reading
Comments
I'd love to hear from any other kids about how you make living on a boat easier and more fun. Please leave a comment.
[Note that AAC memberships include all family members living in the same house, so kids, log on as your parents, but use your own name and email address (if you have one) when you leave a comment , and have at it. You can also get your own Avatar by uploading a picture here.]