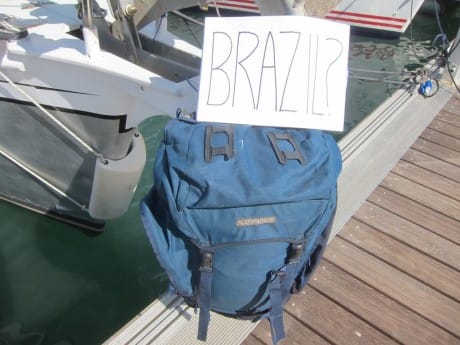 For the best part of twenty years I sailed with boats full of people (up to 22 at times), and like most commercial skippers discovered that crew management in such circumstances is of vital importance, in terms of safety and harmony aboard. Getting everyone to turn up on time in a remote place, with all of their kit and in the right frame of mind to head out doesn't happen by accident, and stress or error at this time can make or break a cruise—you have to put in the effort beforehand. But since largely giving up that life, I've immensely enjoyed the peace and freedom to sail with just Louise, or with friends and family when appropriate—what a different world.
After a long enforced lay-up due to work, repairs and injury, in just a few months time we'll embark on the next legs of our journey, far longer and to more exotic places than we have sailed before. And so the subject of crew has come up, and whether we want to sail two-handed or with experienced friends that we know and trust well. We've decided to go for the latter, and whilst on the face of it that should seem like a no-brainer, in practice it wasn't as easy a decision as might be imagined.
Becoming Settled in Our Ways
On the one hand we like to sail at our own pace, we know our boat and can sail her effectively – and we like the solitude. Logistically we know that there's far more management and work involved with crew, from liaising beforehand, to travel arrangements, extra food and fuel, better water management and a myriad other facets. There is also far more responsibility, too, a fact that is often overlooked when planning voyages offshore, where, like it or not, any sensible couple will have to devote time and attention to the well-being of their crew. On deliveries in the past, which tended to be 'pedal to the metal' affairs, I would actively resist taking extra bodies unless they (or their sponsor) could convince me that they would stick it out of things got tough, as I would often have more than enough on my plate already. By and large they did very well, but that didn't stop me worrying about them.
And it's one of the reasons why today we wouldn't take anyone we didn't know well from previous sailing experience. Compatibility in such a small space is essential, and if you can't be fairly sure of that, is it worth the risk? You hear some amazing stories of people taking total strangers on long passages in places like the Canaries, indeed we had quite a few who came by last autumn asking for a ride across the Atlantic, and I'm sure that at least some of them found takers. But we can't, for the life of us, imagine doing so ourselves, so it's fortunate that we have a good roster of capable people that we know and trust that we can call upon to join us for the long haul ahead.
But There Are Plenty of Positives
Knowing the people concerned has advantages beyond simply enjoying good, respectful relationships. They lighten the physical load and can bring fun and light when it's needed, as well as sharing the burden of watch keeping. They are used to you and the way that you run the ship, which makes for settling in and sailing the boat at her best a lot easier. And at the end of it, there's a shared experience that you should be able to look back on and enjoy together for many years down the road.
The people we have in mind are all well known to us and have sailed with us before, not just day sailing but passage-making too. We feel we know them well enough to trust them to do the right things when on watch, and to stick to the rules when one of us is not there. We enjoy their company and are confident that they will add to the experience, so the invitations will soon be going out.
Harmony Doesn't Happen by Accident
But what about them? What do they expect from the opportunity? Much the same as us, we hope, but we recognise that it's up to us to help them achieve that from the word go. So we're putting into practice what we've learned before, that preparation is key to keeping stress levels down and getting the most out of the adventure for all parties.
So over the next few weeks I'll be going over some of the practices that we've learned over the years for helping everyone to settle in and play their part, from the weeks in advance to the day of departure—and hopefully you'll join in with your thoughts and experiences, too.