In the last post, John's talked about a new motor yacht design that's quite different from just about anything you'll find coming off a production line. We've had a flurry of comments, some supportive and some skeptical. Now it's time to put our preconceptions aside for a moment and consider if, from a technical perspective, the boat is likely to work as expected.
Let's start with the conclusion: The concept is sound, the numbers are sound, and I think designer Dennis Harjamaa will be very happy with the boat. If I were in the market for something six times bigger than the boat I'm building, to serve a similar mission, this would be near the top of the list.
How light is light?
As drawn, weighing in at just 12 tonnes for a 17.8 m overall length, the Artnautica LRC58 is light indeed. Just how light is this thing? Let's compare it to a few other real and hypothetical boats we might be familiar with. The table below lists the traditional displacement/length ratio, or DLR ( in long tons / (0.01*ft)3), and the modern dimensionless version (LDR, also called the slenderness ratio).
| | | |
| --- | --- | --- |
| Vessel | DLR = D/(0.01L)3 | LDR = L/D3 |
| Morgan's Cloud | ~ 312 | ~ 4.51 |
| Adventure 40 | ~ 200 | ~ 5.23 |
| Doral 19 runabout | ~ 170 | ~ 5.52 |
| Dashew FPB64 | ~ 150 | ~ 5.75 |
| Artnautica LRC58 | ~ 65 | ~ 7.6 |
In other words, the LRC58 is – relative to its length – dramatically lighter than a Dashew motoryacht, and an absolute featherweight compared to a ballasted sailing yacht like the proposed Adventure 40. It's even lighter, in relative terms, than my parents' high-performance 19 foot runabout.
The structural engineering will be a real challenge here. This is a very light boat that will require careful attention to weight and structural details to achieve her mission.
We can see this if we think of her weight breakdown in terms of fuel fraction and payload fraction. The larger these fractions are, the more challenging it will be to engineer and build it. They also tell us a lot about the trade-offs between range, efficiency and payload capacity that went into a design.
A reasonable estimate of the LRC58's thirst in typical wave conditions would be a fuel burn of 7 to 8 litres per hour at an 8-knot cruise. Dennis' site mentions 3800 L of fuel for a six thousand mile range (5.7 L/h, probably calculated at 6–7 knots). In other words, fully 25% of the boat is fuel – an unusually large figure that implies a serious long-range cruiser.
He's planning to carry 2300 L of water and we would undoubtedly want at least 1500 kg for food, cargo and personal gear. That works out to a payload fraction of roughly 25%, leaving somewhere between 5.5 and 7 tons for the structure, interior and all mechanical systems. I think this is achievable but it will require discipline (can't have any unnecessary junk on board), skilful engineering, and reduced margins for error requiring very thorough QC during the build.
For comparison, a Boeing 737 has a fuel fraction of 27% and a payload fraction of 13%. Trawler yachts usually have a fuel fraction in the 12–15% range, with payload fractions also being in the low teens. A Dashew FPB 64's fuel fraction is roughly 29%, but those boats are 2.3 times heavier and a bit faster, relative to their length and accommodation volume, than Harjamaa's design; not surprisingly, they also carry (at 12,800 L of diesel) about 3.4 times as much fuel to get a similar range. Long-range motoryachts are not the same kind of animal as their short-hop coastal cousins; pushing the fuel capacity out to trans-oceanic levels means that we're approaching an airliner's sensitivity to weight and its distribution.
Hull Details
The flat aft buttock lines will help the LRC58 generate some lift in the stern at speeds above eight or ten knots. It won't quite plane with the specified 75 hp engine but it will lift a little, like a down-east lobsterboat, if pushed hard. Although I have not done detailed performance simulations on it, I would estimate that an efficient 8 to 9 knot cruise would be possible on about 40 horsepower; the 75 -horse diesel he's planning to fit will be just about perfect. A hull like this doesn't have a defined "hump speed" and so if you wanted to fit three or four hundred horses, she could probably reach the mid-teens without too much fuss. That would, however, rather defeat the intent of the boat.
An unusually fine bow, reminiscent of the wave-piercing patrol boats starting to show up in modern navies, leads into a gently rounded forebody. There's enough deadrise here to ensure a comfortable landing when coming off a big wave. Farther aft, the bottom transitions to a flatter, harder-chined profile that provides much-needed initial stability to the relatively slender hull. With a length/beam ratio of 4.83, the Artnautica is rather on the skinny side compared to many motoryachts of similar size—a plus for efficiency and speed. A long skeg starts sweeping downward just aft of midships and, in the final two or three metres of the hull, the bottom is nearly flat with a slight tunnel along the centreline. The basic shapes of this area have been seen before, in the larger Sea Brights and in some Downeast lobster boats, so while Harjamaa has tuned and tweaked things a bit, there's nothing radical or unpredictable here.
Harjamaa may have been inspired by the old Sea Bright skiffs and their rumrunner descendants in drawing the aft body, or this could be convergent evolution in action. In either case, the coupling of this running surface with the wave-piercing bow is an interesting combination of hull features, and one that would suggest relatively good sea-keeping for a boat of this weight—not to mention excellent surfing capability. The deep skeg, coupled with a large and efficient rudder, should be enough to counteract any tendency to bow steer. Without active stabilizers, she'll have to rely on the damping effect of the skeg and chines to keep her from rolling.
She does, however, have a rather large waterplane, and the centre of flotation appears to be somewhat aft of the centre of buoyancy. Her prismatic and waterplane coefficients appear to be considerably larger in the aft body than in the fore body. All of this suggests a boat that likes to keep moving, rather than riding out messy weather, and will prefer to take seas on the bow when the weather's too nasty to keep running at a good clip. When outrunning a following sea, she should be fine, but I suspect that when waves are overtaking her from astern, the seas will tend to lift the stern and stuff the bow. It looks like she has enough reserve buoyancy up front to handle this, but it'd make for a wet ride, and she'll need a big rudder and strong autopilot to avoid any tendency to broach or bow steer if there's a real nasty storm coming up from astern.
Part of the advantage of a long, slender hull is that the boat has enough speed potential to get out of the way of most bad weather. Twenty-four hours' advance notice is enough time for this boat to knock off two hundred miles in pretty much any direction; she won't outrun a hurricane, but she can most likely dodge one.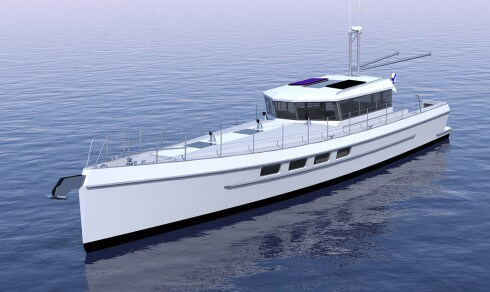 As for aesthetics, to each his own. The Steve Dashew influence is obvious. I do like this style and think it's a lot classier than the melted jelly beans (or, in the latest Italian designs, sharp-edged jelly beans) that fill the marina in front of City Hall.
Comparing Costs
Now for the economic problem that plagues long boats: You have to pay to dock them.
Let's keep our LRC58 in the relatively luxurious Confederation Basin, across the park from City Hall here in Kingston. This year's seasonal slip rates are $216 a metre, so we're paying $3850 a year to moor our motor yacht. If we chose, instead, to buy an 11 metre trawler with the same displacement and the same usable living volume, we'd be paying $2375 a year.
So the LRC58 costs an extra $1475 a year in dockage (luxury dockage, in the heart of downtown) compared to her short, fat counterpart. That's a fair bit to me, but it's peanuts in the context of half-million dollar boats.
More importantly, though, it's only about 1000 nautical miles worth of the difference in fuel costs between the LRC58 and the 11 metre trawler with the same livable volume at the same cruise speed. (Our example trawler, which shall remain nameless, burns about 14 litres per hour at 7 knots.)
The extra docking costs of the LRC58 are nullified by the fuel savings if I were to do only four runs a year from Kingston to Toronto or Niagara, a leisurely passage of about 250 miles round trip. If I were to take her out the St. Lawrence to the Maritimes, paying for dockage by the foot along the way, the Artnautica would be financially ahead of the trawler before we reached John's home base in Nova Scotia.
When we factor in a bit of repair work on the LRC58's small, simple and easily accessible diesel, relative to the same maintenance on the conventional trawler's larger and more complex motor, the cost picture is again skewed in favour of Harjamaa's design.
If, like most powerboat owners, you travel only a few hundred miles in a year and pay through the nose for slip rent, the case in favour of the Artnautica just doesn't add up. On the other hand, if you're serious about long-term coastal cruising under power and want the ability to do an ocean crossing if necessary, Harjamaa's design is likely to be faster, more comfortable, and cheaper to own than we have come to expect from 12-tonne motoryachts.
Membership
Please become a member. Not only will you be supporting in-depth technical series like this one, which are amazingly time consuming to write, you will also get access to our library of 24 online books (and growing) for just $19.99 for a year.


Comments
So, what do you think of the Artnautica 58. Please leave a comment.