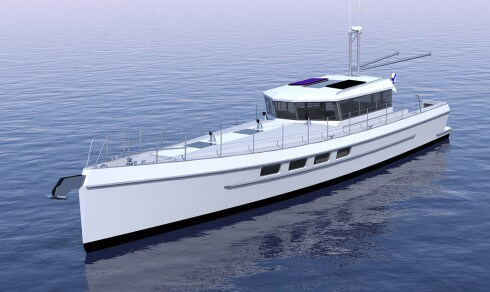 A couple of months ago I wrote a post on a fundamental problem for an aging voyaging sailor looking to transition to a motorboat:
For many of us, the sailboats we already have are better offshore motorboats than anything readily available out there on either the used or new boat market: safer, more comfortable at sea, dramatically more fuel efficient, and in many cases faster.
(If you did not read that article, you may wish to now, to give you some context while you read this one.)
What We Aging Sailors Need
What we aging sailors really need, or at least want, is a simple, high quality, live aboard, production motorboat that can cross oceans as well, or maybe even better, than our sailboats and that also is cheaper to own and easier to maintain.
The Need for Speed
But, at least for Phyllis and I, there is one other vital criteria that would govern the decision to transition to a motorboat:
We want to go at least as fast as we do now and preferably even faster, and we want to do that without increasing our current fuel burn or environmental footprint on a per mile basis.
And it is this last criteria that gives us a problem: Let's say we want a motorboat to replace our McCurdy and Rhodes 56 sailboat. And let's say we want a bit more room for our older age to give us even better equipment access and ease of moving around as our joints get stiffer.
We know that boats are sized by the weight, not length. So, since our present boat tips the scales fully loaded at about 52,000 pounds, let's aim at a motorboat with a displacement of around 50,000 pounds, which will give us way more usable room because we get rid of most of the ballast and the rig.
Looking around at that size, we could buy a boat like the venerable Nordhavn 46, but trawlers like this all have one big drawback. They are only even halfway fuel efficient at speed to length ratios up to 1.1, tops, which equals 6.8 knots at best. Add in a bit of drag from stabilizers and you are down to 150 miles a day.
And we just can't see transitioning to a motor boat with an economical passage speed that is a full 30 to 40 miles/day slower than our present sailboat, even when she is under power. In fact, if we're going to go to all the trouble and aggravation of changing boats, we want to at least have the option of going faster than we do now.
Sure, we could buy say a Nordhavn 50, and get day's runs comparable to our present sailboat,  but that's a huge boat that is way beyond our budget, both purchase or maintenance and, in addition, is a boat that burns about twice as much fuel per mile as we do now. And we don't even want to think about what she will burn at 10 knots.
Is there a solution? Well, not yet, but there could be. Before we go any further, we need to understand the factors that govern speed and fuel burn.
Hull Speed, Or Not
You've all heard of hull speed.  You know, the speed generally quoted as 1.34 x SQRT of waterline length that a displacement boat can't exceed—the longer the boat, the faster it can go. Well, turns out that things are really not that simple. In fact, hull speed is pretty fungible and not very useful.
What we really need to talk about is efficient speed to length ratios. And here's the thing—read slowly, this is important:
As boats get thinner (higher beam to length ratio) the speed to length ratio that they are efficient at goes up.
Now we have that clear, suppose you started with the same 50,000 pound target but made the boat 55 feet on the waterline instead of the Nordhavn 46's 38.25 feet. Well, obviously, as the boat gets longer, if she is not going to get heavier and therefore more expensive, we need to make her thinner and shallower.
There are a lot of variables here but we don't need to get too pedantic to make the fundamental point, so let's assume a beam of 14 feet and a draft of 4 feet. By the way, reducing the draft has beneficial effects on efficiency too.
This will result in the efficient speed to length ratio jumping to about 1.2, which yields a speed of 8.9 knots. See, we have a double win here:
The boat is longer on the water and the efficient speed to length ratio has gone up.
Knock that speed back to 8.5 knots once some kind of stabilization is taken into account, and we have 200 miles a day for the same, or perhaps just a little more, fuel than the Nordhavn needs to do 150 miles day.
So our miles per gallon actually get better than the Nordhavn 46 (and probably better than our sailboat too) even though we are going faster.
Wow, how cool is that!
And it gets better. Long thin boats like this can operate at speed to length ratios of as much as 1.4 without the fuel burn going off the chart, and that comes out at an incredible 10 knots or 240 miles a day. Bermuda in 60 hours, anyone?
Designs Yes, Boats No
Several designers have drawn boats that will fill this specification, but very few have been actually built and those that have tend to be one-off boats so heavily customized to the owner's requirements that they lose three-quarters of their value the day they are launched and still have trouble finding a buyer when the owner discovers, often in the first few years after launch, that their dream ship is actually a quirky hard to maintain monster that no one wants, least of all them, resulting in a perfect storm of wealth destruction at just the time in their lives when they can least afford it. (Have a look at Yachtworld to see what I mean: having a custom boat built is one of the biggest wealth destroyers known to humankind.)
So to add to our requirements, our theoretical boat needs to be built in a reasonably long production run so it can be properly debugged and develop a brand, which is absolutely the best way to assure good resale value—look at what Nordhavn have done in that regard.
To date, there is no such boat, at least that I know of. That is other than Steve and Linda Dashew's 64 motorboats in production in New Zealand, but those are just about twice the size (displacement) of the boat I sketched out, are quite complex, and cost a great deal of money—if you have to ask…
Artnautica 58
But a few months ago I came across a fascinating boat that is actually in-build in New Zealand by her designer, Dennis Harjamaa, with the goal of producing a prototype boat that can form the basis of a production boat that may satisfy many of the goals I have laid out. Dennis calls his boat the Artnautica 58.
The boat looks, at first glance, very like the Dashew boats, but in fact has a very different hull form—much shallower and flatter aft, and far lighter. In fact, at 35,000 pounds Dennis' boat is lighter than Morgan's Cloud, a third the weight of the smallest Dashew boats, and smaller than the boat I postulated above.
But by being smaller and lighter the price of a production version looks to be in the US$600,000 range. A point that puts her within reach of many retiring sailors, as long as they have a reasonable expectation of her holding her value well.
In fact, if a sailboat owner can sell his present boat for say $200,000 and buy a boat like the Artnuatica for say $600,000, own her for say 10 years, and sell her for say an inflation adjusted $300,000, there is a strong argument that this course of action is actually cheaper than keeping the sailboat since the annual cost of ownership on the motor boat could be as little as half that of the sailboat, depending on usage profile. (See my previous post for information that supports this rather startling assertion.)
Now having said all that, the Artnuatica has an as yet untried hull form and her interior is constrained by her very narrow beam, to the point that liveaboard owners will need to make some substantial sacrifices. However, Phyllis and I did some rough sketches showing that with a bit of thought, and by extending the salon aft one more station from the prototype, an interior could be designed that would have as much usable volume as our 56 foot sailboat.
Give The Guy Some Credit
Sure, it is easy to criticize a boat as radical as the Artnautica, but rather than throwing rocks, we give Dennis, her builder and designer, huge credit for trying something new and cool, and being willing to gamble everything—he sold his house to finance the build—to make the boat a reality. And there are already pretty concrete plans for a second hull.
You can follow along with Dennis on his Facebook page as he builds. And one thing you will learn there, as we did, is that Dennis is a detail freak after our own hearts.
Coming Soon
The next post in this series, that we will publish in a few days, will be an analysis of the Artnautica hull form by Matt Marsh, AAC technical correspondent. So please hold any thoughts you may have on that subject for that post.
Will We Buy?
Will we be buying an Artnautica? Well, we are pretty happy with Morgan's Cloud, at least until the bones get even creakier, so probably not anytime soon…but then again, if she fits the specification that we have been talking about in this post and the last, and a full production run gets going…hum.
Another Approach
By the way, there's another way to take advantage of more efficient speed to length ratios: two thin hulls. But that's a-whole-nother post in itself…