It's amazing how few cruising boats actually have a good deck layout that makes them easy and fun to sail. John uses the Outbound 46 as an example of sail handling features he likes, and a few he doesn't.
Roller furling headsails are ubiquitous, but they are not without their drawbacks. John looks at ways to deal with that and make roller furling work well at sea.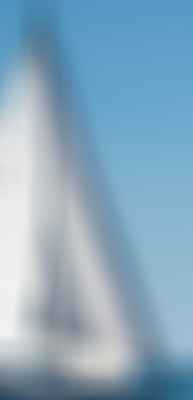 A headsail that is not protected from sun damage when furled, will only last a season or so. So what's the best way to protect the sail? John has some suggestions.
It's rare these days to see a cruising boat with hank-on headsails. But are such sails only for the traditionalists stuck in the stone age of offshore sailing? Maybe not. Here is a convincing case for hank-on sails, at least on smaller boats.

Colin shares the details on the Harken roller reefing system they installed on their OVNI 435.

Colin and Louise carry a dedicated hanked on storm jib ready to go when necessary. Colin tells us why and how.

A recent article in French sailing magazine Voiles et Voiliers looked at 7 different gennaker furlers, both for ease of use and ability to handle heavy loads. The results are surprising.
John doesn't understand the move to swept back spreaders in sailboat rig design. And he's not shy about saying so.
Which is better for the staysail stay? Roller furling and fixed or hanks and removable? John says it depends.
Rigid vangs were once only seen on racing sailboats, but cruisers can benefit, too. John explains why, how to choose between the two types (mechanical and hydraulic), as well as how to fit and use one safely.

A head injury is a terrible event wherever you are, but at sea far from medical help it's even worse. Rigging a proper preventer is one of the surest ways to reduce the risk to you and your crew. In part 1 of this two part series we look at the risk and what constitutes a proper preventer.
Part 2 of my article on preventers. In Part 1 I explained why a proper preventer is vital and in this part I share how to make rigging one easy and safe.
John has long advocated for preventers rigged from the boom well outboard to the bow as the only right way. We now have solid engineering, and a tragedy, to show how important this is.
In the last two chapters we covered preventers. But what about controlling the boom once the wind comes forward and also slowing things down when gybing? Colin has the answer.
Colin draws on his decades of experience racing and cruising to share some tips and tricks that will make reaching and downwind sailing faster and more comfortable. Chapter FREE to view for three days.