The apps to use on computers and smartphones to keep track of tasks on a cruising sail or motorboat.
A recommended kit that weighs less than sixty pounds and tool budgets for coastal and offshore cruising, as well as refits.
It's impossible to maintain an offshore voyaging boat without a good set of wrenches (spanners) and sockets. Here are the tools we chose and why.
John uses some 30 years of offshore voyaging experience to come up with a recommended kit of hand-held power tools.
Four tools that every cruiser should have, but probably does not.
When you have decades of experience running commercial research yachts where downtime is not an option, you learn how to make repairs while out there. Colin shares information that could save your cruise, and maybe even your boat.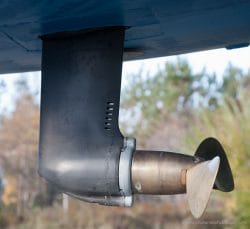 A relatively inexpensive testing rig that every boat owner should have and use regularly.
From time to time we get a question asking us to opine on whether a modification to the boat or rig will be strong enough. Let's look at that.
Boats are not square so it's often necessary to mount gear at an angle and/or on a curved surface.
Here's the easy way to do that.
John had been putting this project off for years, but it turned out to be easier than he ever would have believed possible. He shares how that happened and eight vital things he learned.
A hair-raising account of a boat-lift collapse and tips to reduce the chances of this happening to us.
Trucking a boat can be a viable, and in some cases less expensive option than sailing her, but what are the pitfalls?
Cruisers are adding the comforts of home to their boats more than ever before, but what are the consequences? John takes a look.