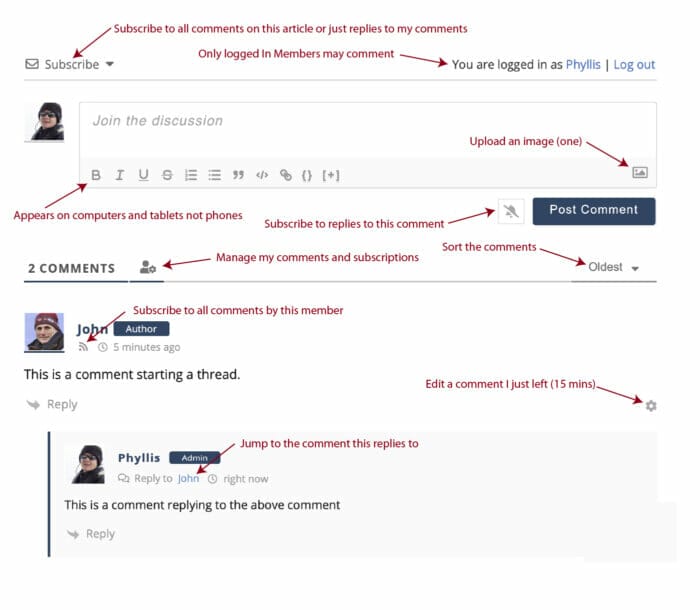 The problems we have had recently with the plugin that enabled subscription to comments inspired us to go looking for a better alternative.
And it looks like we found one that not only continues to provide the comment subscription and edit functions that we have long had, but also adds a whole bunch of other cool features including the long-requested ability to upload an image:
Image Upload
You can upload one image per comment with a maximum size of 1 MB. If you need to make an image smaller, this free online app will do the job, and here's another that will optimize it further.
For decent image quality aim for at least 1000 pixels on the long side. That said, there is no point in making it any bigger than 1400 pixels.
Your image will display as a thumbnail in the comment, but enlarge if someone clicks on it.
Make sure that you do not upload copyrighted images and that you have the right to upload an image made by another person. If you are in doubt, don't upload. Remember, an image is automatically copyrighted the moment it is made, even if there is no copyright text and it's not registered.
Please do not abuse this feature by uploading a bunch of images to a bunch of comments. This is not a photo sharing site. 
Other Features
The many other features are best seen by taking a look at the tips graphic at the top of this post.
Beta Test
So far this software seems very well written, so we have high hopes that it will stand the test of time. That said, I guarantee that there will be something we have not thought of, so if you find a problem, or even just something that does not make sense, please leave a comment to this post.