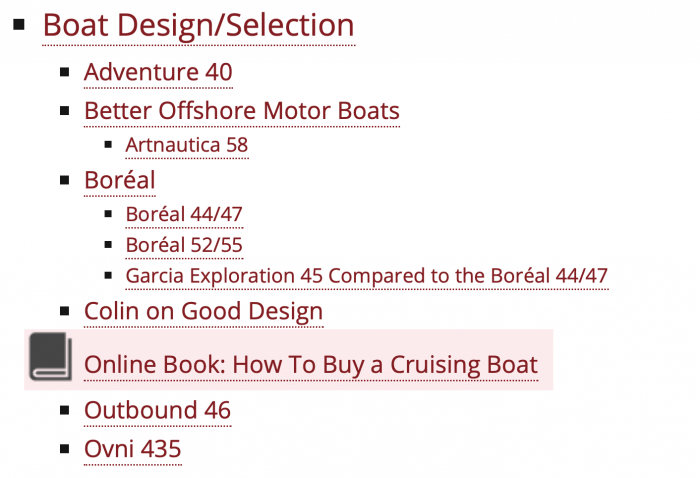 Back in February we rolled out (and I wrote about) the first phase of our 2020 improvements to this site, which focused on simplification, improved readability on phones, and speed.
We also rolled out a bunch of changes designed to make it easier to find what you are looking for in our over 1000 articles, including:
Breadcrumbs, so you always know where you are.
An hierarchical Topics page.
Series within Topics so it's easier to read through a linked group of articles that are not part of an Online Book.
That was all good, but it quickly became apparent that the next thing needed was a damned good housecleaning and re-categorization of our content. Here's what we did:
Trashed the Junk
We deleted over 100 old articles that were no longer relevant or just plain wrong based on stuff we have learned since writing them.
That said, we did not get too carried away, since many of our older articles have great comment threads that we don't want to lose.
Re-Categorized
The way in which we had articles categorized under topics had evolved over the years, and was a mess, so we sorted all that out by rationalizing the topics and refiling almost all the articles so that each only appears under one topic.
If you think that sounds like a lot of work, it was, but it will now be much easier to find what you want, or to simply browse.
We have also changed the site code so that articles that appear in a child topic are no longer in the parent. This sounds trivial, but in fact makes it easier to browse, since there is no longer any duplication.
Cleaned Up Online Books
The new Series within Topics feature allowed us to reduce the Online Books from 25 to 12, a long overdue simplification. So now Online Books are only for clearly threaded chapters that cover subjects like anchoring, docking, or storm tactics with solid how-to information.
That said, nothing was lost; rather, things like multi-article cruise accounts are now categorized as a Series under Topics.
There's still plenty to do to make the Online Books better, and we will keep pegging away at that.
Made It Easy
Finding stuff is much easier now with just three menu items to look under:
New: Our latest content, both articles and new Online Book chapters.
Books: Online Books with the chapters in logical threaded order.
Topics: All articles and Online Books in an hierarchical tree and in date order with most recent first, with the exception of Series, which are in logical order.


That said, there are some new and very cool features of the site that are not intuitively obvious, so we have added a Tips area (accessible with a button click) to both of the latter pages. Don't miss the Tips.
Also, don't forget that you can search the whole site by clicking on the magnify icon at the top of every page.
More Free Stuff

We have always understood that we need to be generous with free content if we want non-members to join. So while we were reorganizing, we opened up many older articles that we had originally published behind the paywall.
We are also publishing more new articles for free during this unsettling time. We hope these added free articles will be a pleasant distraction from epidemic news for non-members.
At the time of writing we have:
1077 articles and book chapters.
707 articles that are free.
370 Online Book chapters and in-depth reviews that require joining to read.
Thank You
That said, Phyllis and I are always deeply grateful to those who join, and particularly to those loyal members who renew year after year, but that goes double at the moment. Thank you. Without you there would be no AAC.
Comments
All that said, I'm sure there are more things we can improve, so if you have a suggestion, please leave a comment—worth your while since many of the above improvements were inspired by suggestions from members.
Recent Comments
Talking of suggestions. Several members were disappointed when we removed Recent Comments from the sidebar and put the link to the new Recent Comments page at the bottom of the screen.
We do understand that this is less convenient than a link at the top of the page would be. However, we plan to get rid of the collapsing "hamburger menu", that appears on tablets and phones, a change which is only possible with four menu items.
Also, there's a simple answer for those of you who like to regularly check the Recent Comments:
bookmark the link
.