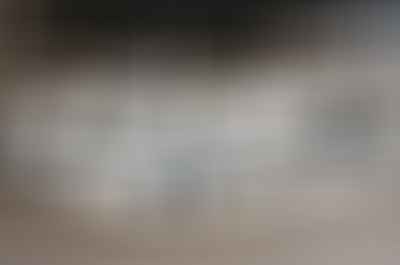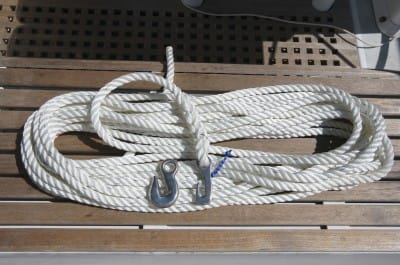 During our time in the Rias of Galicia we've enjoyed many comfortable nights at anchor. But as is the case in any area surrounded by hills we've had plenty of wind at times, rolling down off those same hills, or funnelling down the valleys. We had one memorable night where despite the fact that we had some shelter, the gusts were blasting ferociously around a small promontory to windward, obviously due to a curious land effect. And although we were well sheltered from any sea, some of the gusts were fierce enough to send Pelerin swinging around her anchor.
Not conducive to sound sleep, but made easier by the fact that we had a really long nylon snubber attached to the chain, soaking up the strain in the gusts, and stopping any shock loadings on the anchor.
Looking around some of the anchorages here, it's evident that not everyone shares that enthusiasm. If snubbers are attached at all, many of them are fastened to the cable just a couple of feet down, which will be just enough to take the load off the windlass. Not that that is a bad thing in itself, as it can avoid damage to the mainshaft of the windlass, but it's far from enough to allow the snubber to stretch sufficiently to absorb shock loadings from strong winds or swell. And as Alain Fraysse has shown in his extensive dissertation on anchor cables stopping shock loadings can be essential in difficult conditions if the anchor is to stay well set.
At all times we carry at least two snubber lines of 16mm 3 strand nylon. These are 20m (66ft) each and we've always used simple stainless agricultural chain hooks to attach the snubber to the chain, and these have never let us down. However, we have heard of the odd occasion when one has dropped off the chain, defeating the object of the snubber, so when we came to replace one of them this time we went for a Wichard hook which has an integral spring loaded pin that is designed to ensure that the hook cannot fall off. These aren't as hefty as the standard hooks, but should be more than adequate for the job, although I'd have to say that the locking pin looks a little small to my eyes.
In the gusts the other night we had around 40 ft of snubber out and allowed a good bight of slack in the chain. We then watched the snubbing line stretch out amazingly as the real blasts came through, taking up almost all of the slack in the chain, but at no time did the chain come up taut.
A second snubber would probably have been a good idea and I think that might be where the Wichard hook with its locking clip could prove useful. Sometimes it's difficult to keep the same tension on with two snubbers, and that might allow one fitted with a normal hook to fall off – we'll see, but if anyone has any experience of this or opinion on these new hooks it would be good to hear them.