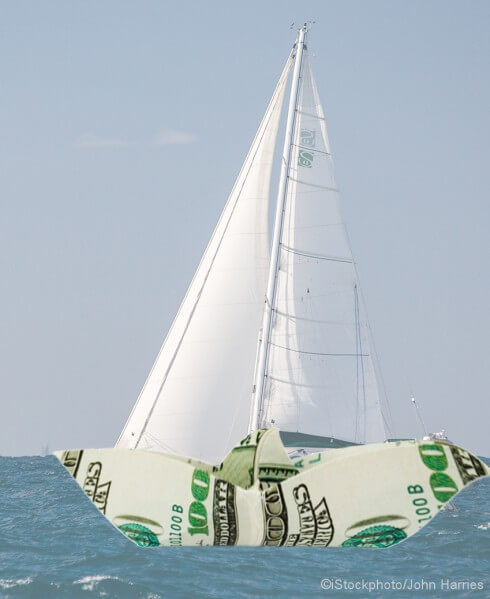 I think it's fair to say that everyone reading this site either owns a boat, crews on someone else's boat, or wishes they had a boat.
Today, we focus on that third group. How do you get from wanting a boat to having a boat?
It's easy to get discouraged
There's no way around it–boats are expensive. Even the Adventure 40, with its ambitious US$200k price tag target, is equal to an entire four years of income for a typical North American worker.
If you're in your late teens or twenties, and are lucky enough to not be in the 12% to 28% who are either unemployed or nearly so, the prospect of saving your entire minimum-wage income for ten years is laughably daunting–there is a good reason why the sailing demographic skews towards gray hair, and why former business owners are somewhat over-represented.
When you think about heading out sailing, then, and calculate that you need, say, $150,000 to buy a used boat and sail on it for a few years, the challenge can seem immense.
It is not, however, impossible.
A good job
It's the classic capitalist answer. Need more money? Get a better job! The trouble is that when job seekers outnumber posted jobs–by roughly eight to one in the North American industrial areas, last time I checked–the only way to move up is to have skills that are in serious shortage.
Figuring out what skills are in demand means:
Looking at demographic trends (an older population means a growing health care sector; increasing birth rates mean that education's about to become a hot topic).
Asking local business owners and corporate managers what they think they might need in the near future.
Figuring out roughly where your area's economy is going, and perhaps moving to an area with a more vibrant economy if what you see around you is dying off.
It's also useful to think about what skills might help you maintain some kind of income while you're cruising. Some fields–software, for example–are particularly conducive to keeping your own boat-based business once you're out there. Others are in high enough demand, in enough places, that you might be able to get temporary work permits in some countries as you cruise.
Getting into in-demand fields might mean a couple of college courses and lots of self-study in computer programming, or perhaps a two-year trade certificate, or a four-year engineering degree, or graduate work in the health sciences.
The skilled trades are a reasonably good place to be right now in North America; same for nursing, medicine, engineering, finance, software and construction.
On the other hand, work that doesn't require specialized skills, unique knowledge or a local presence is rapidly being automated or outsourced to low-wage jurisdictions elsewhere. (Labour statistics, such as this chart of average salaries in America, are required reading.)
25% or better
Expenses have a habit of expanding to fit available income. Keeping them accurately tracked and under control is, for many people, quite challenging. It is, however, the key to eventually being able to afford your dreams.
One rule of thumb is to put at least 25% of your salary straight into savings and investments, taking advantage of whatever tax shelters your government offers. (The old "Save 10%" thing might get you a mediocre retirement at age 70 with today's inflation and interest rates, but the 21st-century reality is that the younger generations will need to be a lot more aggressive about stashing away money.)
Another approach is to calculate a minimum baseline living cost for yourself, consisting of the cheapest living space you're comfortable with, enough food to stay healthy, basic transportation and communications, and other bare essentials. Any income beyond that baseline then goes straight into savings.
There are all sorts of ways to cut back on the cost of living ashore without cutting back on the quality of life. It basically boils down to tallying up what you're actually spending, then restructuring your lifestyle to cut back on cash burn.
Quite a lot of people spend $30,000 a year more than they need to for the lifestyle they want–there's plenty of money to be saved on cell and TV bills, car costs, dining out, clothing and gadgets if you take a few minutes to do some budget calculations rather than just whipping out the credit card.
An important part of this exercise is to know exactly where all your money is going. Online banking makes this fairly easy; you can drop your downloaded account and credit card statements directly into an accounting program (I'm a fan of GnuCash, but there are many others) and categorize each transaction. Cash leaks become pretty hard to ignore when they're staring at you from a bright red expenses-over-time graph.
A place to live
The big city is probably out. Katy and I have done this calculation many times, and we keep finding that a modest house in a mid-size town is the best place to be if you want to keep expenses low.
Higher incomes may be available in the bustling metropolises of Toronto, San Francisco, Vancouver, Munich or London, but the cost of living is also far higher.
The total ownership costs (mortgage payments, insurance, repairs, heating, property tax) on our small country home near Kingston would barely cover the rent on a one-bedroom apartment in an iffy district of Toronto.
For a wanna-be sailor, the key number is the net profit (after-tax income minus expenses) during your saving-up period. Moving for a higher-paid job only makes sense if your after-tax income would rise by more than your cost of living would rise–a calculation that you should do for yourself if you're considering such a move.
Buying a house may seem like an odd thing to do if you plan to go gallivanting around the world indefinitely after a few years. If, however:
you can afford the down payment,
you can afford to keep the amortization period short,
your town's real estate market is slowly growing (without signs of a bubble),
you can do most of the maintenance yourself,
and your employment prospects look favourable,
then buying now–and selling when it's time to buy the boat–could very well work out to be more profitable than paying rent. Just be careful where you buy; a modest house in a desirable area is much easier to sell than a huge, more expensive or more remote property.
The boat
Imagine going to a lender and saying "I'm going to have no regular income for the foreseeable future, and I'd like to borrow $200,000 to buy something that depreciates quickly and requires a lot of maintenance, so that I can go overseas for an indefinite period."
In other words, you'll most likely have to dump a bunch of investments and pay cash for your boat.
Whether you're looking at new or used boats, give careful thought to the total cost of ownership. You need to consider:
The purchase price.
The cost of a survey, insurance inspection, taxes and other closing costs. (Even on a new boat, you should always get a survey from an independent professional before signing the cheque.)
The cost of outfitting the boat (an ocean cruiser often carries tens of thousands of dollars of essential equipment, from saucepans to a series drogue, that's almost never included in the base price).
The cost of necessary repairs and upgrades before the boat is ocean-worthy. (This can be huge, particularly if you don't know *exactly* what you're doing.) In many cases, you'd come out ahead if you spend your time getting paid for things you're good at, and use the extra money to buy a boat that doesn't need so much work.
The cost of fuel, replacement sails, cordage, spare parts, etc.
The price you'll get for the boat when you sell it, and whether it'll need a premature refit before it can be sold. (Some wealthier folks own their boats through holding or charter companies, using various schemes to write off the boat's depreciation and repairs against their taxable income. Most of us are better off looking for sturdy, well-built, well-known boats that don't depreciate very much.)
The fees you'll pay to brokers, lawyers, etc. to sell the boat.
Home build?
How about doing it all yourself? Even though I design boats for self-built construction, I don't recommend this approach if cruising is your goal. Boatbuilding is for those who enjoy the process as much as the result, and have (or want to learn) the hundreds of specialized skills involved. If that doesn't describe you, then build-it-yourself will be an expensive, frustrating debacle.
Yes, it's possible
Few of us have the ability to drop everything, buy a boat and head out cruising right this moment. The necessary financial planning takes time and discipline.
I think it's quite possible, though, for most folks with a modest middle-class income to, over five or ten years, build up enough savings to buy a safe (if rather cozy) cruising boat and spend a few years out there.
Coming next
John will be exploring what it really costs to own an offshore boat in the next chapter of this Online Book.
Comments
Comments are now open. This should be fun.
A Note From The Editor
[John here. I'm hugely grateful to Matt for taking on this difficult subject. I have thought a few times about taking a crack at it but have always shied away because a baby-boomer lecturing those of you of Matt's generation about how to succeed financially in life is just not pretty, since we, with more plentiful well-paying jobs, ever increasing property values, a secular bull market in equities (until 2000) and bonds, and, for some (not me) a defined benefit pension plan, had it way easier.]