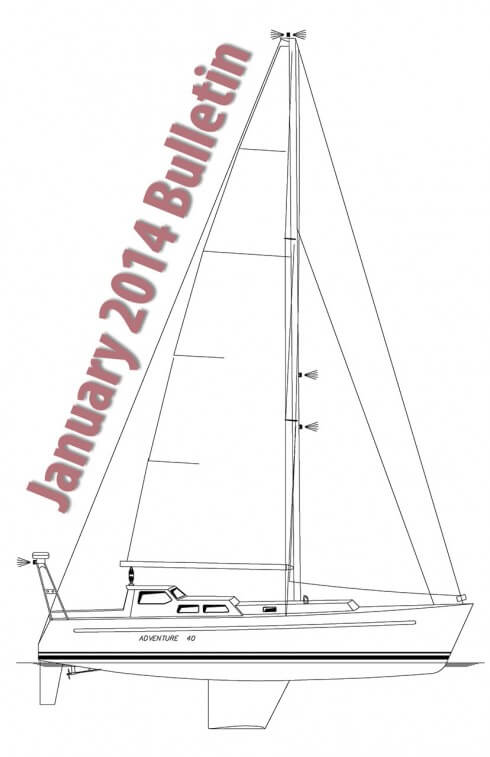 With the Adventure 40 well and truly on her way to becoming a real boat that you can buy, I thought it would be a good idea to keep everyone informed of what's going on with a series of bulletins. This is the first.
John Interviewed by 59 North
Andy Schell, over at 59 North interviewed me, in the form of a podcast, about how the Adventure 40 concept came to be and the goals for the boat.  Andy is a great interviewer and managed to draw the best he could out of me in a medium I have no experience with. You can subscribe to Andy's series of interviews, including the one we did, at iTunes.
By the way, the very fact that Andy has become a big booster of the Adventure 40 does him huge credit when you consider that I have been pretty negative about cruising rallies and he is the organizer of the Caribbean 1500. We had some offline discussion about that, and I have to admit that Andy had several things to say that got me thinking that maybe the issue is not as black and white as I would have you believe in this post.
Andy's point, in a nutshell, is that there is a huge demand for rallies. People are going to go to sea that way, whatever happens. So the best thing to do is make sure that rallies happen in the best and most seamanlike way possible–hard to argue with.
Design Process
Erik, designer and builder of the Adventure 40, and I had a long and fruitful Skype conference a few days ago. The design process is coming along well, and Erik hopes to have detailed drawings completed by the end of March. We will be sharing those and the associated specifications as Erik completes them.
Design Trade Offs
We also talked a lot about the different trade offs that must be made in any design. The bottom line is that you simply can't have it all, and if you try, you end up with a poor boat that doesn't sail worth a damn. In fact the things you leave out are more important to good design than the things you leave in. Rest assured that the trade offs that we make will be aimed at building the best boat for offshore sailing, not sitting in a marina or looking nice draped with cheese-cake at boat shows.
Testing
We also talked a lot about the prototype phase and Erik shared his plans for testing the first boat. Aside from sailing the boat aggressively, including several ocean crossings, he has some truly fiendish things in store for the prototype, to make sure the production boats will take most anything their owners can throw at them, including:
Hoisting the boat out of the water with a crane and then dropping her back from a height of five meters.
Running her aground on a rock at maximum speed (8 knots +)  with the lowest point of the keel making first contact.
Backing into a rock with the rudder making first contact.
Hauling the boat over until the mast touches the water and then measuring the true righting moment and making sure that no water is getting below.
Erik says that the only damage he will tolerate in these tests is a little easily repaired bruising of the keel and rudder at the point of impact…and broken glassware in the galley! Just another reason why the Adventure 40 will be a great boat: the chief designer has a boat torture fetish!
Seriously, the above list includes just a few of the tests that Erik has planned for the prototype; we will be publishing a full testing protocol, including minimum standards, at a later date.
Go Sailing With Erik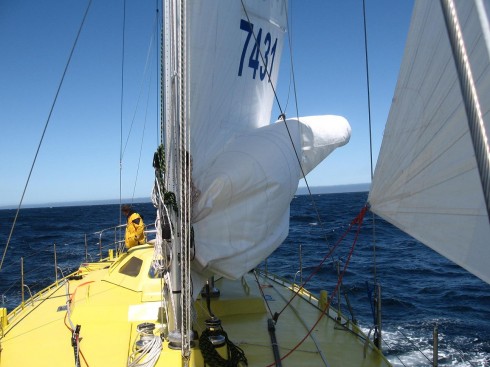 By the way, if you would like to go sailing with Erik, get some serious offshore experience, and have days and days to bend his ear about the Adventure 40, he has a few spaces left on his expedition to the Arctic on Bagheera this summer. Check out his website for more information.
Sign Up
As of today, we have 112 people signed up as interested in buying an Adventure 40. If you like what you are hearing, and are seriously interested in buying an Adventure 40 within 5 years, join them by filling in the form below, it's the single biggest thing you can do to make the Adventure 40 real. And if you want to learn more about the boat before committing, start reading here, or listening here.