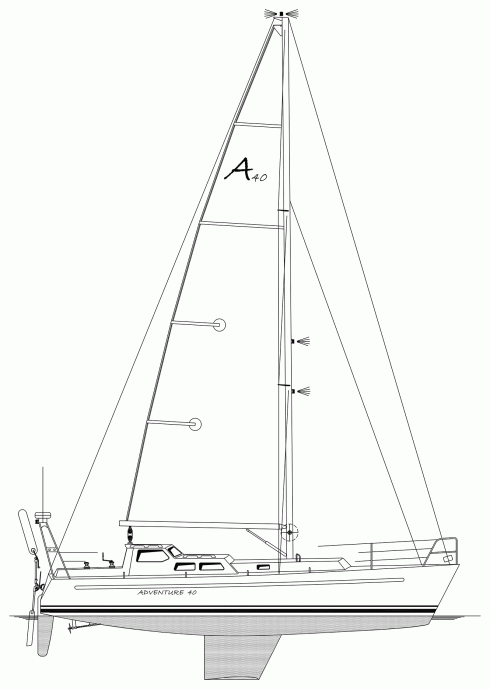 It's nearly two years since, while walking through a marina in Charleston, South Carolina, the germ of an idea formed in my mind: A simple, fast and safe sailboat at a price that would enable more people to experience the wonderful world of offshore voyaging without having to accumulate a fortune or spend years refitting an old boat.
Over that time I wrote 14 posts specifying the boat and you, our readers, contributed the experience gained in millions of miles of offshore sailing in the form of hundreds of comments.
And, most exciting of all, lots of people signed up to buy what came to be known as The Adventure 40.
But there was always something missing: How was this boat going to come into being? Who would raise the money and build the boat? I didn't know but I instinctively felt that at some point a person would just get it. Would understand the concept. Would be excited. Would see the business potential. And all without me having to sell them, because I knew that if this was going to work we needed one of those rare people that just makes things happen based wholly and solely on their own drive, vision and ability, without looking to others.
We now have that person. His name is Erik de Jong, and he is about as well qualified to build the Adventure 40 as it is possible to be. Let me tell you about Erik:
He grew up in a boat building family and built his first boat before his teens.
His offshore sailing resume reads like that of a person twice his age. He has crossed the Atlantic several times and voyaged to Greenland, Svalbard, Iceland and many other tough high latitude destinations.
He is engineering trained and is a fully qualified naval architect with many large commercial projects under his belt.
He worked for North Sails and is an expert in sail and rig design.
He designed and built his own 50-foot steel high latitude expedition sailboat Bagheera. You can learn more about his boat and the expedition charter business that he runs at his site.
He knows people throughout the boatbuilding business both in Europe (he's Dutch) and here in Eastern Canada where he now lives and works.
But all of these admittedly impressive qualifications wouldn't mean a thing if Erik did not have the other vital qualification to build the Adventure 40: the ability to get stuff done. It is just a few weeks since Erik emailed me—a few days after we spent a pleasant evening on Bagheera talking about the high northern latitudes we both love and I had casually mentioned the Adventure 40 project—to say that he was interested in building the boat. In that time Erik has:
Drawn a preliminary design that satisfies the Adventure 40 specification in every respect and improves upon it in several ways.
Made substantial progress on a detailed build specification that will eventually run to several hundred pages and encompass every single detail right down to the last nut and bolt. (Erik is used to operating in the commercial classed vessel world where the casual yacht building practice of "we will figure it out as we go along" just doesn't cut it.)
Come up with three alternative methods to finance the prototype phase and raise the required capital.
Interviewed several companies that are interested in bidding on building parts of the Adventure 40.
Secured volume discounts of as much as 50% on engines and rigs.
Done a preliminary costing that indicates that the boat can be delivered ready for offshore sailing, complete with sails, vane gear, and liferaft, at the target price of US$200,000, and still make a decent profit for the builder.
Another thing that impressed me about Erik is his pragmatic flexibility. During our early conversations the elephant in the room for me was, were we going to be able to sell an Erik de Jong branded boat, and how was I going to bring that up with this eminently qualified young designer who was putting so much into the project?
Was he going to storm off and have the sort of ego induced meltdown that many creative people are prone to when I broached the subject? I needn't have worried. In Erik's commercial world every design is checked and vetted by another naval architect when the design is done. He is happy to hire a name-brand yacht designer later in the project to perform that role. In fact he was already planning to do that, even before I brought it up.
Of course there is no way that I can guarantee that Erik will be successful. Or that his enthusiasm is not a flash in the pan that will melt away with time and the vicissitudes and frustrations of putting a project like this together. But I suspect that won't happen. Any man that can build his own bomb-proof 50-foot expedition sailboat with his own two hands, on a shoestring budget, over a period of years, is not a quitter.
So, from this point on, Erik will be in charge of all aspects of designing and building the Adventure 40. I will continue to advise him and will also handle the promotion and marketing by writing about the process of designing and building the boat as it unfolds. I can't wait.
If you want to comment on design aspects of the Adventure 40, or ask questions, Erik and I are all ears. But please make sure that you have at the very least read the summary post first. And if you want to ask questions or make suggestions for improvements in the details, make sure you have read the relevant specification post (listed here) and the comments thereto first. We don't want to waste time duplicating discussion and analysis that has already been done—we have a boat to build!
Above all, sign up for what promises to be the best value in an offshore sailing boat in a generation, maybe ever.