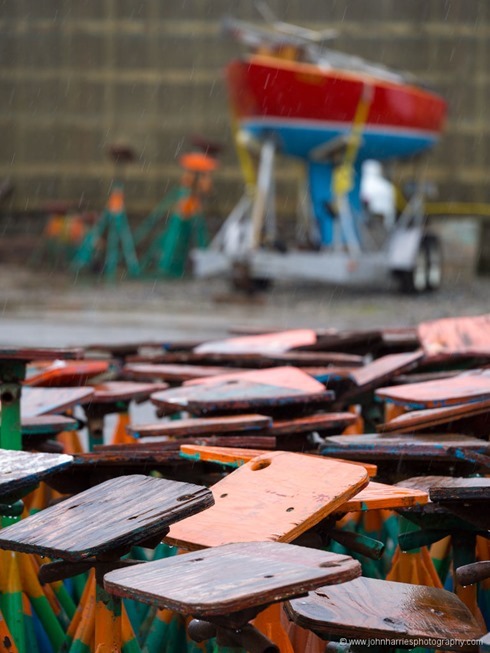 We're baaaack! AAC seems to have survived being hove-to for a week, I'm pleased to say. Here are some photographs to look at while we let-draw and trim the sheets.
The first part of the slideshow continues my fascination with commercial fishing and is photographs I made of two lobstermen having their boat hauled at Billings Diesel and Marine after getting the bad news that their boat's engine would need a complete rebuild right in the middle of the best part of the lobster season. You can see the resignation on their faces, but there was no ranting or raving. You can't be a cry-baby and a commercial fisherman. I will try and learn from them, the next time something breaks on my boat.
The second part of the slideshow that I made at St. Andrews-By-The-Sea shows the easy life lead by us holiday-makers (vacationers)—a pretty stark contrast.
Slideshow
The slideshow does NOT advance automatically.
Control the slideshow with the strip below images or the arrow keys after clicking on it.
Click on the first picture to enlarge the show.
Slideshow requires a reasonably up to date copy of the Adobe Flash plug-in or iPhone/iPad or Android and that java script be enabled.
Comments
I will have to live with them for a while to be sure, but it seems—to me anyway, which is all that matters—like I created two portfolio quality images last week, which is gratifying considering that I only had the camera in my hands for a total of two hours or so and I consider myself fortunate to get 10 to 20 images a year that so qualify. If you have nothing more pressing, see if you can guess which images they are and leave a comment.