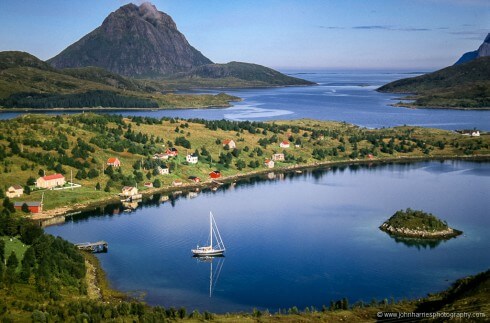 Three things that mean a lot to me are sailing, photography, and Arctic Norway, where Phyllis and I spent nearly three years on Morgan's Cloud. After much thought, and not a little planning, I would like to personally share this magic combination with you.
The Boat
Our dear friends Ivar and Emely, of Boreal Yachting, charter sailboats in Arctic Norway and we have arranged with them for two one week charters of a late model Delphia 47 with an experienced skipper.
The Plan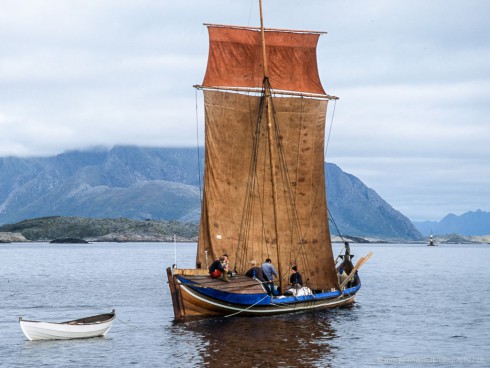 We will spend a full week above the Arctic Circle exploring and photographing the stunningly beautiful Lofoten Islands where Phyllis and I spent so many happy months a decade ago. We will sail, take walks, and photograph together. In the evenings we will gather round in the large salon and compare shots and talk about vision, technique, gear and, of course, boats.
Each week will be limited to just SIX participants so we can work together on an individual basis.
The Who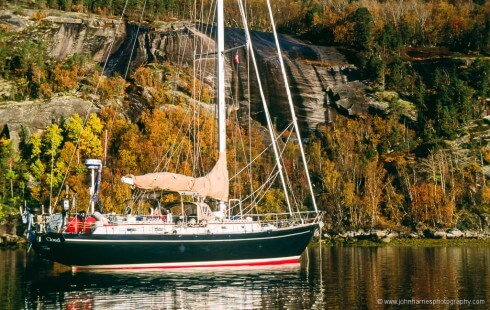 We will talk about gear and technical stuff, but this is primarily about making compelling photographs while cruising. It does not matter if you make your images with $10,000 worth of kit or a point and shoot. Heck, shoot with a camera phone on full automatic, if that's what turns your crank. The only qualifications are that you want to go sailing in an incredible place, improve your photographic vision, and tell a compelling story with your images.
We will also be talking about and working on the special challenges of practicing good photography on a voyaging boat where room and power are at a premium. How should you store your images? RAW or Jpeg? What about backup? What gear do you really need? Hint, not much. That kind of stuff.
I will share my process of telling the visual story of a cruise from shot list to final edit, that I learned while shooting for the sailing magazines. For those of you who want a goal to work toward over the week, we will look at how to produce a cruise record as paper or eBook, and I will work with you as you do the same for this cruise.
We are including an eBook copy of  A Voyage North in Morgan's Cloud, to inspire you and get you thinking about how you want to tell your story with your voice and your vision, that you can download for free as soon as you register.
You can come along if you are not a photographer, but get ready for a lot of boring (to you) talk about photography.
What We Won't Be Doing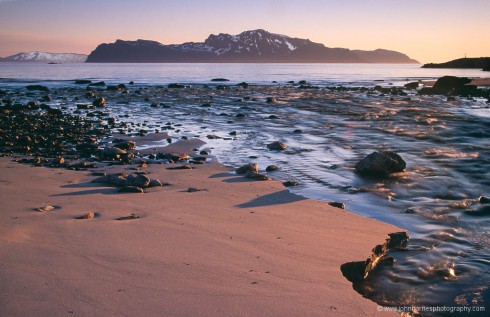 We will not be spending a lot of time in the technical depths of image processing or how to set the buttons on your camera. You can get that stuff at your local community college or out of a book. Or to put it another way, do you want to be below staring at a computer screen while I PowerPoint you into a catatonic state, when you could be out enjoying and photographing Arctic Norway? No, I thought not. Me neither.
Having said that, I will have a few short presentations prepared on the special technical challenges of, and recommended gear for, making great images while cruising.
It's About You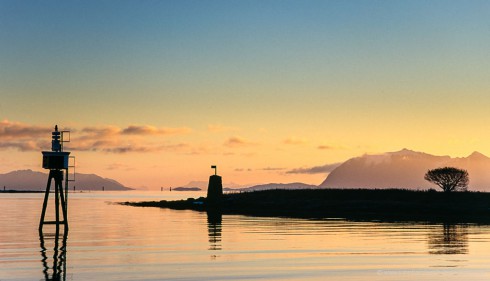 Within a single daysail of our base in Svolvær we will find island communities, some of the most picturesque towns in the world, great walks, and all of it in some of the most stunning scenery anywhere.
What we focus on and what we do will depend on what you want rather than on my pre-conceived notions or a hard and fast cruise itinerary. Of course the weather will influence the plan too—this is the Arctic.
The When
We have reserved two one week cruises this year:
Week 1: Saturday September 7 to Saturday September 14
Week 2: Saturday September 14 to Saturday September 21
This is absolutely the best time to photograph Arctic Norway:
the leaves are turning to their stunning fall colours;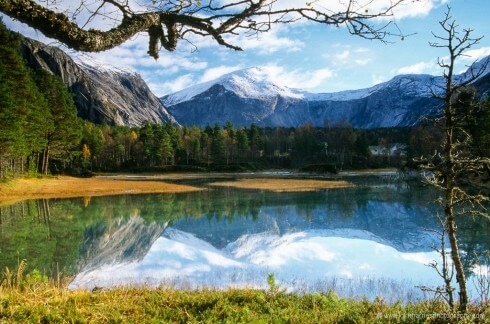 the first dust of snow is on the mountain tops;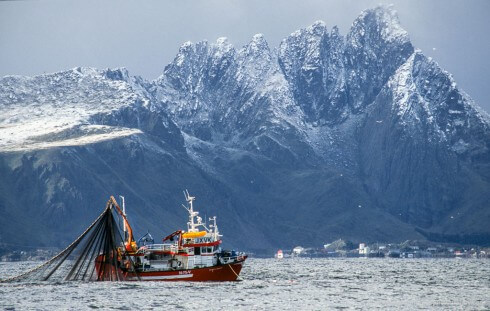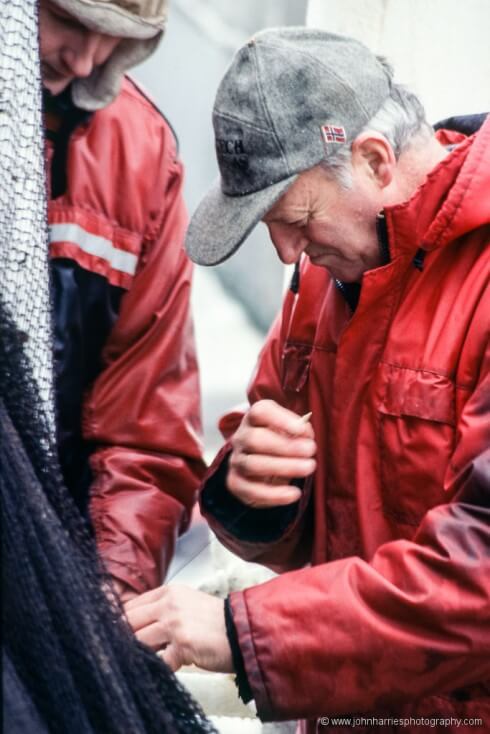 and the herring fishery is in full swing.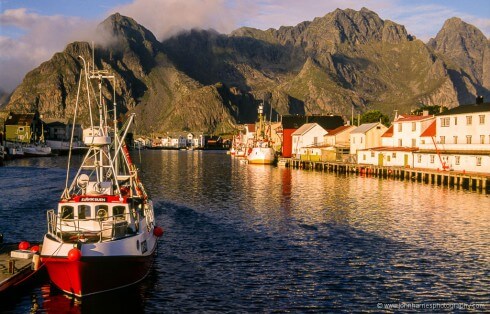 And best of all, although there are still plenty of daylight hours, you don't have to get up at 3:00 a.m. to get great light—the sun is low, and the light long and lovely just about all day.
Sailing on the Vestfjord is brisk in September, so do bring your long underwear and foul weather gear—after all, we are above the Arctic Circle. But don't forget that the Gulf Stream ends here, so it is unlikely to be any colder than a fall day on the water in Maine.
Yikes, Not Much Time
Sorry we are only giving you three months' notice. We have been thinking about this for some time but did not want to say anything until we could be sure that the rehabilitation from my accident was going well. I'm pleased to say it is and I have the cheerful OK from both my doctor and physiotherapist for this trip.
Having said that, I will probably still be a bit impaired in September. General walking should be fine, but if you want to make a major hike with a lot of vertical on broken ground, I may need to bail out early, or at least rest more often than I would normally.
What You Get and What You Pay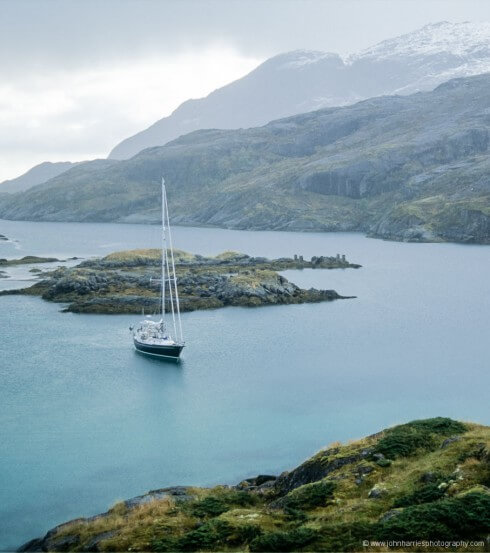 We have put together a package with Ivar that includes the boat with skipper, all your food and soft drinks (but not alcohol) while on the boat, three meals ashore, sheets and towels, and transfers to and from the airport.
You get my undivided focus for the full week to share what I know about photography, story telling in photos and text, sailing, boat selection and preparation, and the high latitudes. No subject is off limits—well, maybe that time when I…no, you don't want to know.
The price is Euro €4600 per person. The boat has two double berths and six singles, so we can put up to two couples together and still let singles have their own bunk. We can even do six singles, without anyone having to share a bunk. (Singles will need to share a cabin.)

Aside from a bit of pocket money, you won't spend much more over the week. However, you will need to factor in the cost of getting to Lofoten (Evenes, aka Harstad/Narvik, airport code EVE).
Note that some travel internet sites may not show a way to get to Evenes, so you may need to dig a bit, but it is a major airport with daily flights from Oslo and other cities in Europe. For those of you who don't live in western Europe, you may pay a great deal less by making your best deal to a major center like London, Paris or Oslo, and then booking with Norwegian directly.
Please do not make any irrevocable travel arrangements until you receive an email from us, on or before 15 July, confirming your participation in the cruise.
A Fun Way to Get There
If it were me, I would fly to Oslo, take the train to Bergen, and then take the coastal boat (the world famous Hurtigruten) to Svolvær. But that's just one idea to make the most out of your visit to Norway.
We All Pitch In
It is expected that everyone will pitch in with sailing the boat and doing general chores like washing up. And hey, if you have a cooking specialty, have at it. Working together will be part of the experience and part of the fun.
More About Cruising Norway
If you want to know more about the area of our cruise, you are in luck. The sample chapter that we provide as a teaser for our Norwegian Cruising Guide just happens to be about Lofoten, includes many photographs, and is available here for free.
And, as soon as you register, you will be able to download our Norwegian Cruising Guide, Volume 1, General Cruising Information, as an eBook for free–130 pages packed chock full of information on cruising in Norway from recommended clothing to Customs and Immigration requirements.
Sign Up
We have 12 places, six for each week, which will be allocated on a first come, first serve basis. To secure your place please click on the "Add To Cart" button below. You will be asked to:
Read and approve the terms. (You can preview them here.) Sorry, the terms are rather long, but that's what is required by our insurance company.
Fill out a form with your registration information.
Pay your initial registration deposit of €300. (Refundable if we cancel the cruise or it sells out before you register.)
Download your complimentary copies of the two eBooks.
Even if you will be coming as a couple, you need to do all of this for each person. Sorry, it's a limitation of the software we are using and beyond our control.


Don't Miss Out
We may do a cruise like this again, but then again, we may not, so don't let this one pass you by.
Questions
If you have any questions, please ask away in the comments to this post, or directly by contacting us.
If you would like to talk about the cruise and get more detail about what I have planned, to see if it's right for you, email us at the above link and we will reply with our phone number and skype address.