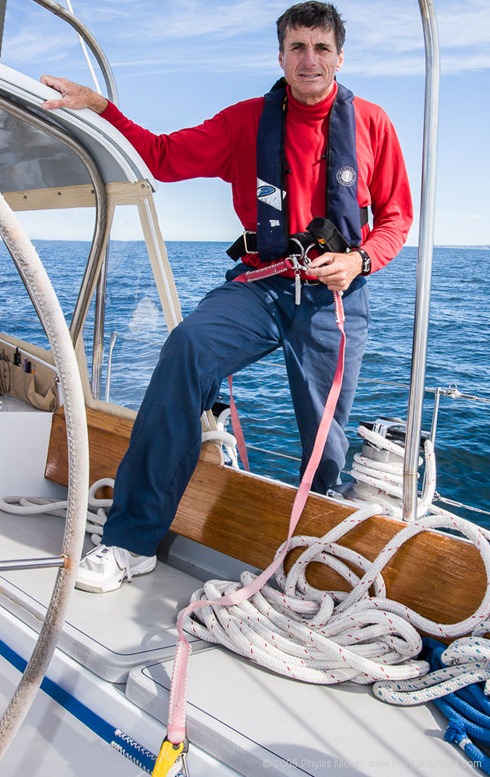 OK, enough of the theory and philosophy I blathered on about in the first two posts of this series.
In this post I will write about two requirements in our quest to stay aboard: reach and continuity of attachment, and the gear and procedures we use to satisfy them. Then I will finish off the post with our rules for harness and tether use.
Reach
We have installed a system of jacklines and pad eyes that allows us to clip on before leaving the cabin and remain so while still being able to reach every part of the deck and rig from bow to stern and right out to the boom end, with a strong point always within a tether length. Of course all these points are immensely strong and well capable of taking the load of a person hitting the water with the boat charging along. They include:
Jacklines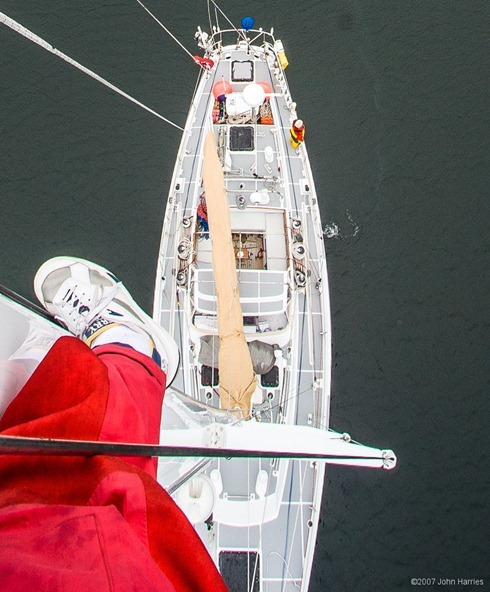 Webbing jacklines (dark blue in the photograph) running along both side decks to as far forward and aft as we can get them. Morgan's Cloud has a center cockpit, so this requires four jacklines, two running forward and two aft. We also have jacklines on the inside faces of the cockpit seats on both sides of the cockpit running the full length.
Strong Points
We have two pad eyes, one each side of the mast about a foot above the deck and a further eye on the boom, about half way along its length.
Continuity of Attachment
As the recent tragic loss of Ned Cabot off Newfoundland—who, as I now understand it, went over the side in gale conditions when the boat was hit by a large wave during a helmsman change, while he was momentarily un-clipped—graphically demonstrated, being un-tethered, even for a moment, can be fatal. And if you think about it, it becomes obvious that the action of moving your tether from one strong point or jackline to another is by definition dangerous because you have at least one hand engaged with that process at the very moment you are not attached to anything.
One solution is to have double tethers, often with one shorter than the other. But to my way of thinking this is way too much clutter to be dragging around with you as well as potentially confusing, particularly on a dark night with the spray flying and an urgent situation to be attended to.
We have found a better way, at least for us:
Clear Run on Jacklines
First off, we have carefully positioned the deck jacklines and the surrounding gear so that at least the weather side jacklines have a clear run from end to end without any lines crossing them that will require detaching and reattaching the tether as we move along it. This is easier to say than do, but is, I believe, fundamental to a good system. In fact we are so fanatical about this that we will forgo the added convenience of a rigging system if it impinges on this requirement.
Multiple Tethers
For the last 20 years we have used a system of multiple tethers with snap shackles on the harness end. On Morgan's Cloud we have nine of these tethers that generally remain attached to their respective strong points or jacklines positioned as follows:
Cockpit: three, one each side, on the jacklines, plus a spare. If we have guests, we add one more.
Deck: four, one to each jackline with the free ends draped into the cockpit close to hand.
Mast: two, one each side, the free ends of which are easily reached from the side decks.
In Action
Let's suppose for a moment that Phyllis has just called me from below to reef. Here is what I do:
Before exiting the companionway I grab the free tether (Phyllis is on the other one) and clip it to my harness.
Before exiting the cockpit, I clip the tether attached to the windward side jackline to my harness and then disconnect from the cockpit tether.
When I reach the mast, I clip on to the tether at the mast and then unclip from the deck jackline tether.
If, after reefing, I decide to tie in the points (unusual), which will necessitate getting on top of the hard dodger and bimini top, I detach the unused mast tether and attach it to the strong point half way along the boom and then the other end to my harness, before disconnecting from the remaining mast tether.
To return to the cockpit, I simply reverse the procedure.
Once in the cockpit, if I decide to put in a safety strop, which necessitates standing on the aft cabin top while working on the boom end, I take the spare cockpit tether and attach it to the boom gallows and then onto my harness before unclipping from the cockpit tether.
I have completed the entire sail change without being disconnected from a tether for even a second.
Easy to Use
All of this sounds complicated, but with a little practice it becomes second nature and takes far less time to do than to write about.
I have been using a harness and tether offshore for over 40 years. First with one tether, clipping and unclipping, briefly with two tethers on my harness (hated that) and for the last 20 years with multiple tethers as described above.
Having tried all three methods, I can state unequivocally that our multi-tether system is, at least for us, faster and easier to use than either of the other methods, once you get used to it. Also, having had many crew on the boat over the years I can state with confidence that the learning curve to be efficient with the multi-tether system is short, typically less than one watch.
Limitations
Of course this would not work on a racing boat with ten crew. The boat would need about 30 tethers—can you imagine the tangles! But we have found that it works just fine for the typical offshore cruising crew of two to four.
Our Rules For Harness Use
Our tether system is so easy to use and comfortable that we have never had any trouble conforming to our standing rule that harnesses and tethers will be used on Morgan's Cloud when one or more of the following conditions are present:
There is any swell present, which translates in almost every case to whenever we are outside sheltered waters.
It's dark.
If we are sailing and the wind is over 15 knots, even in sheltered waters.
Coming Up
In the next posts in this series I'm going to write about some interesting information that I have just learnt about jacklines; the details of our tethers, including the difficult issue of tether length; and making as sure as you can that your tether does not end up being, in Chris's words, "a towing warp". And after that, I will look at the whole issue of harnesses and life jackets and when wearing each is appropriate, or not.
Comments
I'm looking forward to hearing what you, our readers, can add to the above. Please leave a comment. But please hold your  comments on the issues that I will be covering in future posts. That way all of your great ideas will be organized by topic.
Also, please do not ask questions or comment on the lifejackets we are wearing in the photographs. These photographs were taken over a period of years during which our thinking and practice in this area has evolved. We will be addressing the harness and/or lifejacket issue in a separate post.