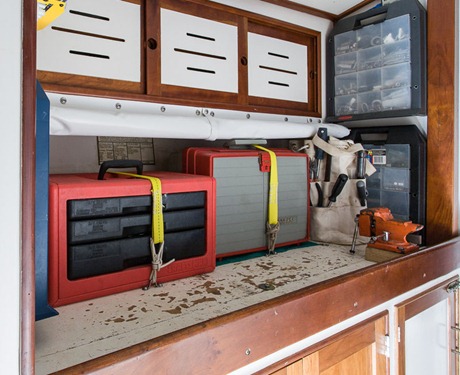 I have been thinking a lot about the unreliability of offshore voyaging boats. It seems like most every cruiser I talk to has a tale of woe about all the problems they have had with their boat and how much those problems have screwed up their plans. For crying out loud, if cars were as unreliable as voyaging sailboats, we would have all stuck with horses!
By now, most of you are probably saying "John, tell us something we didn't already know". So here is the reason for this post.
We have had a twisted mast, a defective engine, and half a hundred other things go wrong on Morgan's Cloud, but in the last 12 years, nothing has broken that has caused us to change our plans, or even delay us, in mid-voyage—touch wood. (In the last 20 years and some 120,000 miles we have only had one such incident: a broken intermediate shroud necessitating replacement of all standing rigging.)
I don't say this to boast. Undoubtedly there has been an element of luck in this record. But I also think that the boat maintenance rules that we have developed over many years of voyaging have helped too. Here they are:
Keep the mission critical systems simple.

Never forget the big five (see side bar).

Don't install anything new for 12 months before a long voyage.

Always do a

real

shake down. For example, before an Atlantic circle, sail to Bermuda and back.

Be religious about scheduled maintenance.

In the quest for reliability, time spent varnishing and polishing stainless is wasted.

Ditto for time spent messing with iPads, iPhones and the like.

Never ignore a strange noise.

Don't let inexperienced crew play with your gear without

close

supervision. Boat stuff is more fragile than you think and they will find ways to break it that you have never even dreamed of.

Stuff is the enemy of good access.

Good access is half the battle.

Assuming the same amount of stuff, bigger boats are more reliable and easier to maintain than smaller ones—more room to work, more robust gear.

Always work with really good light no matter how mundane the task. That way you see bad stuff that's about to happen.

You need a work bench, no matter how small, with a vice.

Need a tool once, borrow it.

Need a tool twice, buy it.

Have a written parts inventory with storage locations.

Have the shop and parts manuals for everything.

If one member of a group of items breaks, replace them all. Standing rigging is a good example.

If something breaks once, fix it.

If something breaks twice, replace it.

Replace anything for which parts are no longer made.

When in doubt, don't rebuild it, replace it.

If it's not broken, don't replace it just because there is something new and cool available.

Buy commercial gear whenever you can.

Do routine maintenance yourself. You will see problems developing before they get critical.

Delegate the grunt work—bottom painting comes to mind—so you can focus on the important stuff.

Delegate highly skilled tasks you don't do often.

Always supervise anyone working on your boat. Not only can you stop screw ups, you can learn a lot too.

The more time you spend planning a job before starting it, the less time it will take and the better the result will be.

Keep a written maintenance schedule and log.

Have a regular replacement schedule for vital things like standing rigging, and follow it.

You will never do it all. Prioritize your to-do list into: vital, nice to do, someday (never gonna happen).

For couples: Split up the skills that you need to be good at between you. Aspiring to both be equally good at everything (like the magazines tell you to) is BS, a waste of time, impossible, and sets you up for acrimony.

Don't be a gear pioneer.

Beware the time suck of complexity.

Perfect is the enemy of good.

Don't waste time making something, just because you can, that you can buy.

Two things that should never be connected to the battery are the sails and the crapper.

Um…err…um. (Forty sounds so much better than 39, don't you think?)
Comments
I have deliberately kept this cryptic. But if you would like one of our rules clarified, please ask in the comments.
Different people in different circumstances will have different rules that work for them. Please share your rules for a reliable boat with us by leaving a comment.
But let's keep this positive. Please don't waste a lot of your time and mine by telling us why our rules are wrong. They are our rules and they have worked for us over a lot of tough ocean. Equally, you are entitled to a completely different, and even conflicting, set of rules.