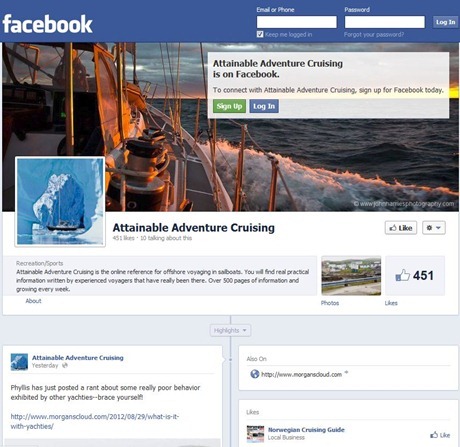 We have been puzzling for some time about how to share the cool little things that often crop up in this wonderful life of voyaging, but that are not a big enough deal to make a post of:
The photograph that captures an interesting moment, or boat, or person;
the odd thought (some have claimed that I have a surfeit of those);
the great anchorage or good restaurant;
a link to something we find useful or just amusing.
Facebook and Attainable Adventure Cruising
For the last year we have been using AAC's Facebook page, off and on, to post this kind of thing. And it seemed to work fairly well: easy to use and a quite attractive way to display my photographs. We even experimented with displaying our Facebook feed on the side bar of the main site so that the vast majority of our readers (over 90%) who don't seem to use Facebook, or at least don't visit the AAC Facebook page, would not be left out.
But about two months ago Mark Zuckerberg decided that if we want all of you who use Facebook to keep track of what is happening on our site to actually see our posts, we must pay him about US$5.00 a time.
Now I know Mark has some shareholders that are just a tad cranky about the 50% drubbing they took on the stock since it went public. And I understand that he needs to show some big time new revenue. I can even sympathize, since we have revenue issues of our own.
Yes, Mark, I'm talking to You
But, Mark, I really don't think this is good behaviour. See, the thing is, a bunch of people "Liked" our page with the expectation that this would allow them to keep up with our ramblings and rantings.
That was the deal they and us went in with. And you just moved the goal posts after the fact. And I will be damned if we're going to pay you $5.00 a time just so our readers can get to our content.  If you want us to advertise with you, fine, make a compelling value case and we will think about it. But we don't like being held to ransom. Nor are we going to continue to create content on your web site so you can get even richer. So there.
OK, enough yelling at Mark.
An Alternative to Facebook
Here is what we are doing about this: We paid the…uh, promotion fee for a post on Facebook linking to this post. But  we won't do that again, or at least not often.
We will continue to post a notice to Facebook, when we publish a new post, but it is unlikely that you will see it since we certainly can't afford five bucks a time.
So, If you want to be sure that you don't miss any posts here at Attainable Adventure Cruising, the best way is to subscribe to our email alerts—which come to you thanks to Sergei and Larry, who, whatever you may think of them, don't tend to move the goal posts. Don't worry, we won't use your email address to send you junk mail and we won't share it with anyone else.
This and That Stuff
Of course this leaves us with a problem. What about the this and that stuff, that I talked about in the beginning of this post, that is now homeless? We have two  options and we would really like to hear from you, our readers, on which you prefer:
We could make this stuff short posts, like this. But that might result in a post nearly every day—when we are feeling inspired—and we know that your time is valuable and you only have so much of it to devote to our site. We don't want to abuse your interest.
Or we could put a few short items together in one post and publish that once or twice a month, like this.
Please take the survey below, it will only take a few seconds.

If you have any problems with the survey (we are new to this), or have any thoughts to add, please leave a comment below the survey.
Thanks.