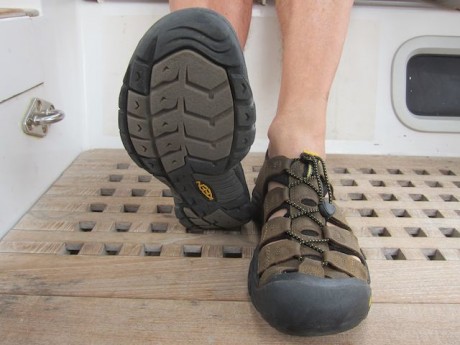 Grippy soled, well-protected sandals
One thing we have a ban on aboard Pèlerin is going around the decks with no shoes. Stubbed toes can easily be badly damaged, as I found out one night in a pitch-dark harbour when another yacht announced that they were coming alongside by the simple expedient of slamming straight into the side of us. Leaping from my bunk and dashing on deck in a totally befuddled state I stuck my toes straight into the jaws of a self-tailing winch, let out a huge shriek that scared the living daylights out of the offending crew (no bad thing) and then retired hurt below with two broken toes. And there are few things that are as painful as broken toes…
Back in 2009 Lou and I were looking for some warm weather deck shoes, and couldn't find anything we liked, until we were shown Keen Footwear's Newport H2 sandals. Comfortable, solidly made with grippy, well-rounded soles, waterproof, self-bailing and with an excellent solid toe protection guard, we have worn these everywhere since then, afloat and ashore, on islands and into the desert.
The soles are claimed to be non-marking, and certainly we don't find that they leave bad marks on our white deck (although a paler colour might be better). They're certainly grippy when it's wet as neither of us has ever lost our footing when moving around on deck, whatever the weather. We've lost count of the times when we've bashed the toe guards in ways that would undoubtedly have brought tears to the eyes without their protection – they're really effective. Both original pairs are still in daily use for boatyard duties, although the newness has worn off mine in particular, so that they have had to be stitched in places to keep them in one piece. But given their age and the amount of abuse they've been subjected to, we've certainly had our money's worth out of them.
Both of us have now bought spiffy new pairs, this time with leather straps that we think will last longer than the webbing of the old ones.
As was wisely pointed out in a couple of excellent comments on my recent post on staying upright on deck, sorting out the deck surface is only half of the cure – the other half is the shoes you're wearing. These sandals aren't the cheapest (around $100 a pair), but as far as we're concerned they're certainly the best we've tried, and we'd thoroughly recommend them.