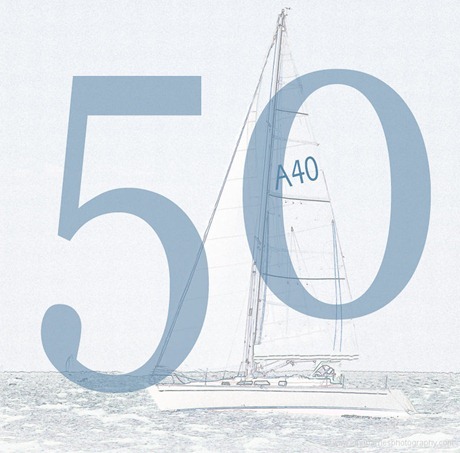 I have been thinking that it's about time I shared with you what is going on behind the scenes with the Adventure-40 .
The short version is that we have a tiger by the tail. Here are some details:
Real Naval Architects
Four professional naval architects with established and illustrious careers have expressed interest in the project and have been helping me behind the scenes:
The Jean-François(s)—there are two, Eeaman and Delvoye—at Boréal, designers and builders of go-anywhere aluminum offshore voyaging boats. The Jean-François are also both very experienced voyagers. Jean-François Eeaman has been a steady presence in the comments to the Adventure-40 posts and has shared a huge amount of wisdom, both that way and in direct emails.

Ed Joy

, who was for many years a designer at

Chuck Paine Yacht Designs

and is now out on his own. Ed has an impressive portfolio of successful as well as beautiful offshore boats. He has already contributed in the comments and will be helping in others ways to be revealed later.

Ian McCurdy, of McCurdy and Rhodes Naval Architects, who worked with his father, Jim, to design some of the most

beautiful and successful offshore boats ever launched

. (I'm not biased…really, I promise.) Boats that can, 43 years after they were built, let's see if I can put this delicately…

kick ass and take names on the race course

. Ian has volunteered to answer my dumb questions about hull forms and make sure I don't make a complete ass of myself on the subject—hope he knows what he is getting himself into!
Smart Readers that Contribute
You, our readers, have made a huge contribution to the project in the comments to the posts. We value everyone's input, but I need to single out two people for special mention:
Matt Marsh, who I have already

written about

, has done a huge amount of work behind the scenes including coming up with a sample design complete with engineering and cost analysis. Matt has just posted a really good

overview of the Adventure-40 concept

.

Richard (RDE) Elder, came up with the first Adventure-40 specification, and has since contributed a huge amount using his years of boat building project management experience, both in the comments and directly to me in the form of emails and a long phone call.
The Buzz is Building
Ian, as well as running McCurdy and Rhodes, teaches at SUNY Maritime College at Fort Schuyler, New York. He is going to set the Adventure-40 as a design project for his students.
Ian has also asked me to speak to his class, which is the second invitation I have had to talk about the Adventure-40. We are going to try and fit such engagements in this coming winter, so if you have an organization that you think would be interested and that can make a meaningful contribution to the project, let us know soon.
In addition I got a wonderful enthusiastic email out of the blue from Alex Agnew, publisher over at Ocean Navigator Magazine, offering to do anything in his power to make the Adventure-40 happen. That email led to a great and wide ranging hour long telephone conversation.
It's About Better Boats
What all of these people share is a concern about the path that modern "offshore boats" have gone down in recent years and a conviction that it can be done better. Sure, some of them are in the business and might eventually benefit financially from the Adventure-40, but that really does not seem to be their primary motivation. And when your primary motivation is to create something insanely great, rather than just making money, you often build a breakthrough machine and make money. (Hard to have the former without the latter.)
We Got Customers
I have saved the best news for last: As of today we have 50 people who have signed up as being interested in buying an Adventure-40. And even better news: At least 27 of those sign ups have indicated in the comments to the sign up form that they are seriously interested in buying an Adventure-40 within three years.
Yes, I know, it isn't a sale until the cheque clears. But hey, this is a great start and way better than I had hoped to have at this point or than most builders have when they start on a new boat.
Playing The Long Game
We still have lots more to do:
I'm working on a Mk II specification for the Adventure-40 incorporating many of your suggestions and a lot of cogitation. Look for it to start rolling out in the form of multiple posts in the late summer or fall when we get back from cruising Newfoundland.

We still need to crack several business problems, including sales and marketing; owner support; and the big one, finance. I have ideas to solve all three, which will be the subject of future posts.

We need to build as much buzz as we can. Please do whatever you can to promote the Adventure-40: Facebook, blogs, forums, or face to face; it all helps.
I'm thinking that all of this will take most of next winter. Like I said, the long game. Let's do it right, not fast. Also, I would like to have a life outside of the Adventure-40.
Builder
Finally, many of you will notice that we are missing a key player. A builder needs to find us. The way I phrased that last sentence was no accident. Many people have suggested that I need to approach this or that established boat builder about the Adventure-40. But I won't be wasting my time like that. Here is why.
One thing I learned in some 30 years in the high tech industry is that legacy companies very rarely, if ever, build new and innovative products or "get" new business models. And I have better things to do with my time than try to convince established boat builders that the way they have done business for the past umpteen years won't work for the Adventure-40.
The person(s)—I hope it will be one or two entrepreneurs—who eventually build the Adventure-40 will be people that come to us because they just simply get it, without convincing from me. And we have a pretty big bunch of carrots to help that person find us—a very profitable defined business model, a pool of ready-to-buy customers, and the chance to do something great.
If you have any questions, or suggestions, please leave a comment. Note that my answers may be delayed by the lack of internet access on the south coast of Newfoundland.
Further Reading