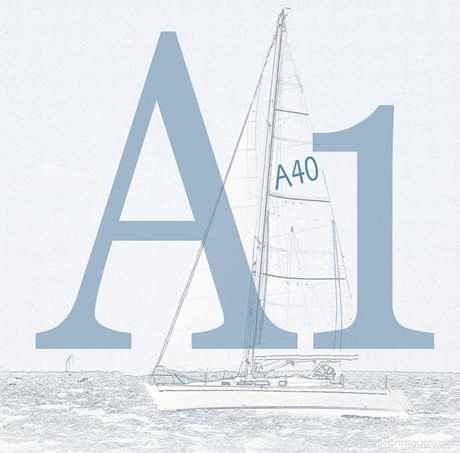 There is a saying that "cruising is the process of working on your boat in exotic places" and it's distressingly true. Even buying a brand new boat does not fix the problem, let alone fixing up an old one. But I don't believe it must be that way. Let's look at how the Adventure 40 could be better than that.
The Goal
Here is my reliability goal for the Adventure 40:
You will be able to buy one for around US$200,000 (we are working on nailing that down).
The boat will come to you on a truck fully offshore-equipped, with a complete, professionally written and illustrated, assembly and commissioning manual.
Any competent sailor with basic tool skills will be able to commission the boat in seven working days or less.
You will only need to add a hand held GPS, linens, and dishes.
After tuning (documented in the manual) and sailing the boat for a week, you will be able to sail the boat 30,000 miles around the world with only routine maintenance.
Impossible? I don't think so. We just need to change some things about how the boat gets designed and built:
Designed For Task
Most sailboats built in the last 20 years were not designed to go offshore. Hell, a lot of them were not even designed to go sailing. No, they were designed to look good in a boat show with an interior to wow the dreamers who have never been outside protected waters.
How will we fix that? A Cabinet of about four experienced offshore sailors (minimum requirement for membership is 50,000 offshore miles, 20 years of offshore boat ownership, and at least one painful refit) will supervise the design process right down to equipment selection and will have final say in all decisions.
Understand that the Cabinet will not design the boat, a naval architect and one or more engineers will do that, but the Cabinet will make sure that the Adventure 40 is designed first, last, and all the time, to sail offshore.
Why a cabinet and not a committee? A committee makes decisions by consensus, and votes when it can't reach one. A cabinet tries to reach consensus, but when it fails to do that, the decision is made by the chairman and is final. Committees come up with camels, cabinets come up with horses.
No Options
There will be no options; none, zero, zip, nada. It is hard enough to build an offshore sailboat right if every one is the same. It becomes totally impossible if every owner is allowed to tamper with a proven and tested boat.
Simple
The boat as it comes from the factory will have what you need to sail around the world in comfort and safety, and nothing more. All the sails will be there, the lines, the self steering, the winches, the windlass and anchor, good sea bunks, reliable engine and great sea-galley.
But no electronics (remember the hand held GPS you need to buy?). No air conditioning, but great ventilation. No heat, but great insulation. You get the idea.
But Customizable
I'm not crazy or delusional. I do realize that almost no one will take off around the world with the base boat, even though they might have more fun if they did. So the boat will be designed to be easily customized by the owner or someone he or she hires:
An arch to take antennas, solar panels, wind generators, etc, with a great big wiring conduit leading to the equipment area. There will even be messenger lines in the conduit.
A huge equipment area next to the engine with mounting space for watermaker, big chargers, heater and all the other stuff that owners may wish to add.
Plenty of spare breakers on the electrical panel.
Spare spigots on the sea-chest.
Reinforced hard pads in the hull ready to take extra through-hulls and sea cocks.
When deciding what will be included in the standard boat, the design team will give priority to items like the arch or hard dodger, which are relatively easy and cheap for a builder to do in volume but hard and expensive for an owner to do, or have done.
Quality
There is a pervasive assumption about boats, reinforced by the current state of the industry, that less expensive boats like the Adventure 40 must be poorly built and equipped with junk gear.
That does not have to be so. By eschewing foo-foo features and going simple—for example, tiller steering instead of the twin wheels supplied on some boats of comparable price—huge amounts of money can be saved that, on the Adventure 40, will be invested in great construction and making sure that the gear that is included is the best.
In specifying the boat, the Cabinet will be guided by the basic principle of the lowest possible total ten year cost of ownership, not a sticker price. I still think that we can get the boat in under US$200,000, but if she ends up at say US$207,000 because she has a really good engine and robust drive train that will go ten years and 10,000 hours with nothing but oil changes, so be it. Replacing a Saildrive that craps out in Bora Bora is going to cost a bunch more than that difference.
Prototyping
It really is no wonder that many new boats are a nightmare of poor design and worse construction. Think about it. Often, a builder, who has hardly ever been to sea, gets together with a designer, who has not been to sea much, and the two of them listen with rapt attention to the marketing/sales guys. This triumvirate designs a boat, often without benefit of an engineer.
They then find some suckers to buy the first boats. Generally the first ten boats are crap. After which, the builder changes everything (if they have not gone bankrupt) based on the anguished screams and warranty claims of the first owners…and the whole cycle starts again.
There is a better way:
A prototype Adventure 40 will be built by a high quality custom yard. (Probably not the same yard that builds the production boat. The skills are, I think, different.)
The Cabinet and other experienced sailors test the boat hard. And I'm talking really hard. Think the Bermuda One-Two or a sail from the UK to the Azores and back.
At least one or two families of four test the boat on coastal cruises including overnight sails. (Yes, Paul and Hazel, I'm looking at you!)
The boat returns to the yard to have problems and omissions fixed.
Gear that has failed to perform is replaced with different gear.
Repeat as necessary for at least a year.
One final test sail to say Bermuda and back to the US East Coast to make sure we have her right.
The specification, right down to the last screw, is documented and frozen.
The first production boat is built to that specification.
The first production boat is tested by the Cabinet to make sure nothing went awry.
Production commences.
Quality Control
Every Adventure 40 will be built under the watchful eye of a quality control inspector who makes absolutely sure that the boat conforms to the detailed and public specification derived from the prototype.
And here is the most important point: The QC inspector, although paid from the purchase price of the boat, contractually works for and has fiduciary responsibility to the buyer, and is hired or fired by the Cabinet.
Sure, this will add some cost to the boat, but not as much as you might think. Remember, the boat is standard and built to a detailed spec. Also, this is a mass production boat, so there will be economies of scale in the QC process too. I'm guessing no more than US$5000 per boat for QC. Less than the cost of fixing a single builder screw up.
What About the Builder?
I can hear the more business oriented among you now: "What about the builder? Why on earth would he or she subject themselves to, let alone fund, this draconian plan?"
The answer is simple: Because there is a lot of money to be made according to the initial budgets I have done. I can tell you after a career in small business that the single biggest destroyer of profit, after lack of customers (I think we have that one cracked), is ambiguity. And what have we done with this plan? Removed most (you never get rid of all) of the ambiguity that bankrupts boat builders.
Examples
Warranty claim: Does the boat conform to the published and public specification? Yes: claim denied.
Missing piece of gear from delivered boat: Did the QC inspector sign off on the packing list when the boat was shipped? Yes: claim denied, call the insurance company that covered the boat in shipping.
No options and changes, the biggest killer of boat builders.
Comments
Do you have any suggestions to make this process even better? Please leave a comment, I'm all ears. If you want to comment on the boat itself, that's fine too, but please read the comments to the previous posts first to make sure you're not duplicating stuff that has already been asked and answered.
Further Reading