We just had a gear failure that should not have happened. Here is the story of how being lazy, not once, but three times, added up to a lot of work:
Laziness #1
Our present mainsail, bought in 2006, is just a tad longer on the foot than the old one. The result is that the sail cover is just a tiny bit too short and so leaves just an inch or so of the clew ring peeking out. We knew we should get the cover extended, but somehow we never got around to it.
Laziness #2
As an ex-sailmaker I know that the single biggest thing that you can do to make your sails last is to reduce the amount of sunlight they are exposed to. Consequently, we are absolutely diligent about putting the sail cover on as soon as we get into port. And normally, if we are not going to be sailing for a while, we remove all the sails and stow them, since at least some ultra-violet light (the agent of destruction) gets through even the best sail cover.
But last fall when we got to Charleston after our marathon summer, although we did remove the headsails, we somehow never got around to taking the main off. We were both dog tired and, after all, we were only going to be laid up for four months. And stowing and then re-bending the main, with its full battens, reef pennants and over 150-pounds of dry weight, is not a trivial task.
Laziness #3
We left Cape Lookout Harbor on a lovely morning motor sailing into a light wind out to the buoy off Cape Lookout Shoals where we squared off on a broad reach on a course for Cape Hatteras. At first we reached along having a lovely sail, but then, as so often happens when near shore, we hit a light patch. The breeze was supposed to fill in, so I started the engine but left the main up, which worked well and damped the roll.
Sure there were one or two resounding whacks as the sail inverted and then refilled as the boat rolled on a particularly awkward wave. But I reasoned that in just a few minutes we would be clear of the wave reflection area from the shoals and things would settle down. And dropping and hoisting Morgan's Cloud's mainsail is a good workout…a really good workout. So I left it up.
I know better. Normally I'm a holy terror for getting the sails down and furled the moment they flap. But it was such a lovely morning and the sea was going to get smoother in just a few minutes.
Full Batten Downside
Now a quick aside: I have had fully battened mainsails for the last 30 years and would not have a mainsail built any other way. The advantages are many including:
Better sail shape.
A longer life of better sail shape.
Near automated flaking in lazy jacks.
Easier reefing.
However, like almost every good thing on boats, there is a down side: The substantial weight of the battens added to that of the the sail, translates into more momentum, a lot more, when the sail slats. Add radial cut sails made from modern fabrics to low stretch sheets and halyards, and the impact loads can be really scary—much more than the same sail with three reefs in it will sustain in a gale—since there is almost no give in the system.
Punishment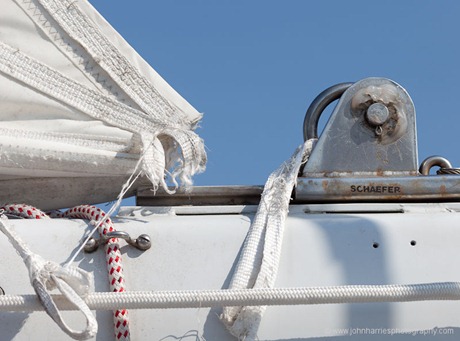 On the third flap of the main, the stitching attaching the webbing through the clew ring let go. The same stitching that had got a bit more sun because we had not lengthened the sail cover. The same stitching that had got four more months of sun because we did not take the main off in Charleston. As so often happens on a boat, the failure was not because of one mistake, but rather the combined effect of several.
The failure was not a big problem. We just dropped the main and sailed with one reef when the wind did come up. But suppose we had been halfway across the Atlantic and the sail had torn right across when the foot slides came under load—quite possible and a very nasty repair at sea.
Penance
It seems somehow fitting that I had to spend at least 12 hours of very hard work hand stitching the clew ring back onto the sail through umpteen layers of very hard sail cloth—a lot more work than doing the above three things right in the first place. Yes, laziness does not pay, at least not at sea.
Comments
Do you have a story of neglecting a few seemingly small things that added up to a larger failure? Please leave a comment.