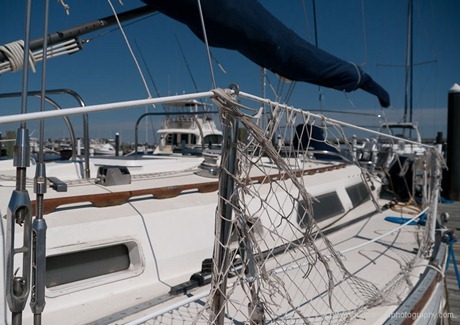 It seems like a logical way to own a good offshore sailboat. Buy an older and a bit rundown but fundamentally decent boat and refit it. But does it really work? To explore that important question, I have a true story to tell you.
Some 30 years ago, my friend, who I will call Bob (not his real name), a fairly experienced offshore sailor and long term small boat owner in his thirties with some 10,000 blue water miles under his belt as crew, decided that he wanted his own offshore voyaging boat.
A Great Boat for Bob
Over a couple of years Bob spent a lot of time looking at second-hand boats and finally settled on a 15 year old Fastnet 45, a racer cruiser from the reputable Dutch builder LeCompte, that was in her day perceived to be right up there with Hinckley and Nautor's-Swan on the quality scale.
The boat was a bit beaten up by her years of offshore cruising and racing but everyone he asked assured Bob that he was getting a great buy at just US$65,000. And that included a huge amount of gear, from electronics to some 15 bags of sails. As one of his friends said, Gee Bob, what a great deal. You are paying for the gear and getting the boat for free".
The boat did need rewiring, but on the other hand the engine had just been rebuilt and the mast and rigging was replaced just five years before, after a dismasting.
The interior was not really set up for cruising that well, but Bob is a handy kind of guy who figured he could convert the stripped forward cabin to a really nice owner's cabin with double berth.
Of course Bob had the boat surveyed, and she passed, with only the issues noted above highlighted.
Refit, Part One
Bob took delivery and over the next three years ploughed every dollar he could afford and most of his weekends into the boat. Bob painted and varnished, cleaned, replaced and repaired. As Bob laboured on his boat he learned some hard truths:
The rebuilt engine never did run reliably and finally had to be replaced, but only after it had gobbled up half the price of the new engine in repairs.
Building a complete forward cabin was a much bigger task than Bob had realised. Finally Bob gave up and hired a professional who did a beautiful job.
The five year old standing rigging had been done with swages top and bottom. Several of the lower swages developed hairline cracks, and so Bob replaced all the standing rigging.
The 15 bags of sails were not really very usable for cruising and it was really not worth converting them, so Bob bought all new sails.
The roller reefing boom was a monster to use, so Bob bought a new boom and installed proper slab reefing. He also installed roller furling on the forestay.
All in all, Bob spent another US$50,000, not including annual maintenance costs, over that three years. But even so, he was happy. After all he now had a great 24,000-pound, 45-foot cruising boat for just US$115,000.
OK, there was the small matter of the hundred or so weekends and the three annual vacations that he had put into the project. But that was behind him. Bob was ready to take his own boat to sea.
The First Voyage
Bob decided to enter the Marion to Bermuda race. The trip would start off with the passage up to Marion, which would be a great shake down—you see, Bob is from Bermuda.
Bob gathered together a strong crew of friends and set off. The first night out they sailed into a cold front. Bob was not worried. He and his friends had ocean raced for years and dealt with the forecast 25 to 30 knot winds on the nose many times before on other boats.
Oh, Dear
But soon, despite Bob's meticulous preparations, things on his boat started to get unpleasant and a bit scary too:
Over the years the boat had done maybe 20,000 miles, not really that much, but enough that the hull had softened, and it started to work. On port tack the doors to the aft and forward cabins could not be closed.
Ominous creaking came from the bulkheads.
Every port and and hatch on the boat leaked water as the working of the hull spewed out the fifteen year old sealants.
The rig started to loosen ominously.
But Bob and his crew were young and strong. They punched on to Marion and raced back to Bermuda sleeping as best they could in wet bunks and wondering just how serious the creaks, cracks and groans coming from the hull and bulkheads were.
Refit Part Two
When they got back to Bermuda, Bob decided to fix his boat right. Over the next three years he ploughed almost every weekend and most of his vacations into:
Removing most of the interior and redoing the tabbing of the bulkheads into the hull, which had failed in many places due to the secondary bonding problems that many fiberglass boats experience, even those from reputable builders. The surveyor had missed this problem. But then again, how many surveys include removing half the interior to access all the bulkhead to hull joints?
Reinforcing the two main bulkheads with laminated ring frames.
Rebuilding the mast step that was slowly compressing. (That was why the rig got looser.)  The surveyor had missed this too, but in his defense, it was impossible to see the problem without un-stepping the mast and removing a water tank.
Removing every single fitting, port and hatch and re-bedding them in new sealant.
After all that, the by then 20 year old gel coat looked tired, so Bob had the boat completely repainted from stem to stern.
And most of that great gear he got when he bought the boat was now obsolete and/or broken. So Bob re-equipped the boat with the best: all new electronics, windlass (she had never had one), anchors, batteries, up to date charging system, and on and on the list went.
All in all, even though he did all the work, except the painting, himself, he spent another US$50,000. He now had some US$165,000 in the boat, not to speak of some 5000 hours of his own time. (An average of ten hours every weekend for six years and at least four two week vacations.)
"Oh well", said Bob, "it was a life experience, and now at last I have a great offshore cruising boat".
The

Realization of a Dream

By now Bob had turned forty, and to celebrate, he and his wife decided to take six months off and go cruising.

They sailed from Bermuda to Nova Scotia and it was great. The boat no longer worked. The gear did work. And best of all, she did not leak a drop through deck or hull.
Clouds Gather
But then the dark clouds returned to Bob's horizon. As he and his wife lived on the boat they realized that she really was not a very good cruising boat. The interior, designed for a big crew, was awkward for just two. Ditto the deck layout and cockpit. They met other cruisers in more modern purpose built cruising boats and envied them.
Still More To Do
And deep in his heart of hearts Bob knew that there was still more that needed doing to his boat, much more:
The rudder had never been off the boat in over 20 years. Ominous drips of rusty water from the rudder blade, when the boat was hauled, told a tale of deterioration of the stainless steel web that would require a new rudder to fix right.
The external lead keel was attached with bronze keel bolts. What condition were they in? The only way to find out was to drop the keel. Not fun because the bolt heads were under the water tanks and engine. And if the bolts were corroded, replacement would be a nightmare.
The stainless steel chain plates were inaccessible behind cabinetry and encapsulated in fiberglass. Bob knew that water had leaked into that area for years. No question, they should come out and be replaced.
A Course Change
At the end of the six month cruise, Bob sold the boat for $85,000, taking a $80,000 loss, and bought a four year old purpose built cruising boat. (Bob had also worked his ass off building a business, even though much distracted by the refit, and could now just afford a newer boat.)
What About You?
So, if you are thinking of buying an old boat and refitting it, think of Bob.
Now of course, I'm sure you are a lot smarter than poor Bob. And have a lot better surveyor than he did. Let's assume that you get a boat for half what he did, which would be about US$68,000 in today's dollars.
And let's say you do your refit for say 70% of the cost that poor stupid Bob did, or US$70,000. That would be about US$140,000 in today's dollars.
And let's say you have less structural problems and are a better handyman than Bob and so do the work in half the time he did, call it 2500 hours. And let's price your time at US$20 per hour or US$50,000.
And let's assume that you decide to just risk it on the keel bolts, rudder, and chain plates. Even though failure of any one of them far from land could result in loss of the boat, or even kill you and your family.
At the end of the project you will have about US$208,000 in the boat without your time and over US$250,000 with it. Oh yes, and six years of the all too short span of time you will spend on this planet.
Are refits worth it? There are a lot of variables, so there is no definitive answer. But how sure are you that you can do a much better job than Bob did? How sure are you that the boat you are thinking of refitting is a much better boat than Bob's? Only you can decide.
The Real Bob
One more thing. As I'm sure you have already figured out, Bob's real life name is John.
Comments
Don't get me wrong, Bob's experience may not be definitive. I'm sure there are some refits that are worth it. Please leave a comment with your refit story, good or bad.
Two things though:
Don't fudge the numbers about what you really spent in time and money just because the truth is too painful to contemplate.
Be honest with yourself and us about the tasks that should still be done to your boat to make her seaworthy.
Further Reading
Colin's well reasoned analysis of the new versus second hand boat decision.
Bob would have really liked and could have afforded one of these if they existed at the time.
Or maybe he should have waited, focused on his business, and saved for the equivalent of one of these.