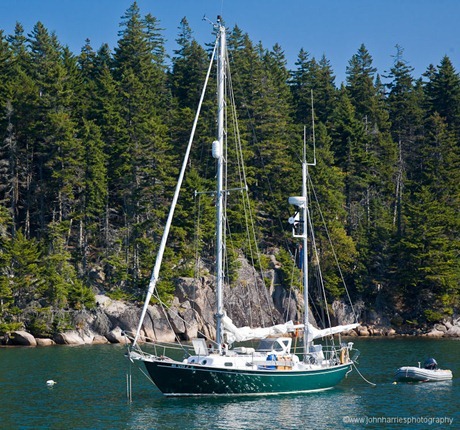 Over the life of the Adventure 40 several commenters have lamented that the boat, as envisioned, does not bring back the halcyon days of the 1970s when more people could afford an offshore boat…or at least that's how the argument goes.
But in fact, the Adventure 40 would be very competitive when priced against boats built in 1975 since even US$200,000 in today's dollars would be equivalent to just $50,000 back then.
By way of comparison, in 1975 an Allied Seawind Ketch, pictured above, cost US$75,000 (just over US$300,000 in 2010 dollars) for a substantially smaller and dramatically slower boat. And if the Adventure 40 is built the way I'm thinking, it will be both stronger and cheaper to maintain than the Seawind.
Of course the Adventure 40 won't fix the erosion of real wealth in the boat's target market (the middle class) caused by 40 years of government mismanagement, excessive debt, crazed consumption and unregulated greed, but she might make a nice way to take a break from that reality.
Sign-up if you are seriously interested in buying an Adventure 40.