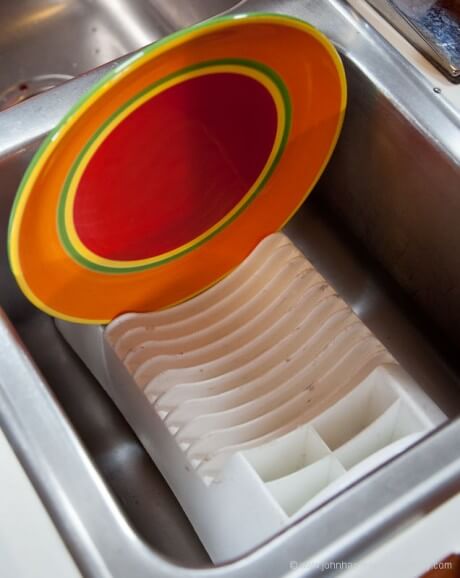 My spotty memory has struck again! The two products I describe below work great and I want to replace them (or order more) but the details have escaped me.
Dish Drainer
Now, this sounds like a trivial thing but you don't know the trouble I've seen because of it! Our galley sink is old and very small (and no longer made—another huge pain to come!), so finding a drainer that will fit is almost impossible. And, when I have found one to fit, it's either so small it'll crash around at sea, or it's totally impractical. Our old one is the perfect size and extremely well designed to hold just the right amount of the right kind of stuff. Unfortunately, it's falling apart and I can't remember where I bought it or who the manufacturer is.
Bunk Mildew Control Product
A number of years ago, at the London Boatshow, John and I found this great dry bunk product. It came in a big piece, which we cut to fit our bunk, and it has kept our mattress dry for 12 years. Added to that, it is still in great shape after all this time.
I'd love to put this product under our other bunks too but this is where I get to the problem: I can't remember the name it came under or the manufacturer. And, despite a lot of time spent trolling the internet, I haven't been able to track it down. (Hypervent is close but it only has fabric on one side.)
Thank You!
If anyone has any information on either of these items, I would greatly appreciate hearing from you. Please put me out of my misery and leave a comment.