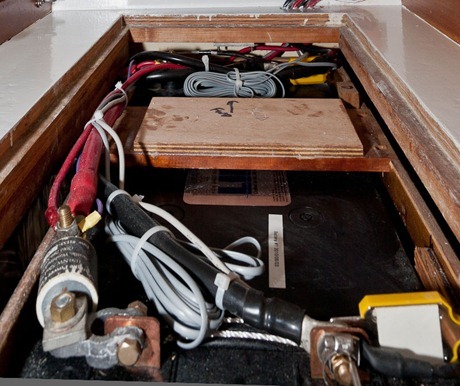 A year and a half ago we installed a new house-bank on Morgan's Cloud, and embarked on a field test of AGM batteries and the care regime that Justin Godber at LifeLine Batteries helped us develop. We now have some solid results.
Our Usage
First off, let's put the results in perspective by talking about our usage. Since installing the batteries we have spent a total of six months in a marina with shore power available and the other 12 months out cruising.
When we are in the marina, we cycle the batteries to about 20% discharge once a day (mainly powering our diesel heater) because we turn off our shore power when we go to bed—the hum of the isolation transformer and the whirr of the charger fans is very irritating. A comparatively light use.
Once we get out cruising our batteries get a real work out with at least one 50% discharge every day and sometimes two.
So our batteries have seen some 180 20% discharges and about 400 50% discharges. They have also been abused by three 100% discharges for testing purposes (not recommended).
Results
We just ran a discharge test and are pleased to report that both batteries show just about 90% of their original capacity left, which is a huge improvement on the life we got from the last two sets that both died after about 400 50% discharge cycles.
While there is no knowing for sure, I would guess that, based on this test, we are going to get at least 1000 50% cycles and possibly as much as double that, before replacement—pretty impressive.
What's Changed?
With the previous two sets of house batteries that failed prematurely, we had done all the usual things that conventional wisdom dictates, including installing a three stage alternator regulator and battery charger, and never discharging below 50%.
This time we took a much more active approach including reprogramming our alternator regulator from the factory defaults, equalizing our batteries once a month where possible, and manually managing our shore-power and alternator charging.
Conclusions
This has been an interesting and rewarding process that we have drawn the following conclusions from:
The standard wisdom about battery care is flawed and, on a sailboat that spends most of her time far from shorepower, will result in premature failure.
Most charging equipment, including the fancy three-stage stuff, that claims to automatically take care of your batteries, won't.
There is a huge amount of absolute rubbish published and rumoured about battery care, and the "professionals" are often the worst offenders in this regard.
Most staff in boat yards are almost totally ignorant about proper battery care, but that does not stop them having opinions.
(There are shining exceptions to the last two points, but distressingly few.)
You don't need a lot of highly expensive or complex gear to take care of your batteries properly.
If you follow our relatively simple "Eleven Steps to Better Battery Life" you will do fine.
The single most important of the eleven steps is monthly equalization.

Batteries that can't be equalized have no place on a cruising sailboat far from shore-power.
The testing seems to indicate that good AGM batteries that can be equalized can last just as long as liquid-filled, although the latter can probably take more abuse since fluid that has been lost can be replaced.
Comments
If you have any questions or suggestions, please leave a comment. But before you do, please read the articles in the links below. To be blunt, we have done our homework, please make sure you do too, particularly if you are going to challenge our conclusions.
Thank You
A big thank you to Justin Godber at LifeLine Batteries for providing the batteries and advising us as we tested them.