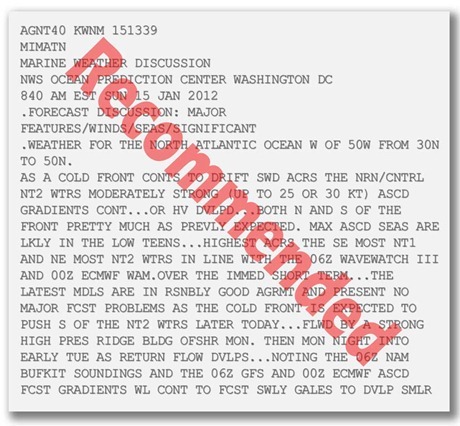 In the last post I explained how to receive text forecasts while offshore. Now I want to share one of my favourite forecasts, that I suspect very few people bother to get:
The forecast discussion in which the duty forecaster explains in very frank and informal terms how he or she arrived at the forecast, and most important of all, their level of confidence in said forecast and their thoughts on what other scenarios might develop.
Particularly if there is a strong storm or a hurricane brewing, I always get the forecast discussion to help me evaluate the likelihood that the storm will behave differently than the current forecast is predicting.
A Real World Example
For example, the forecast discussion warned us three days ahead of time that the fast forming Halloween Storm of 2011 was a very difficult one to accurately forecast and that it might come closer to Block Island, where we were anchored, and be more intense than the forecast and GRIBs at the time were predicting. Of course that is exactly what happened, but thanks to the discussion we knew that that was at least a possibility well ahead of time.
(The excellent US weather office always provides a discussion, I'm not sure about other offices. Anyone know of others? Please leave a comment.)
Further Reading