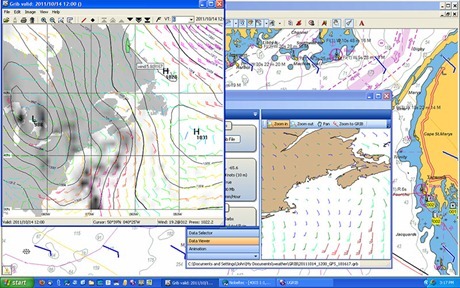 I have written several posts lately on weather and each has mentioned GRIBs. In this post I'm going to get into the nuts and bolts of the software we use to view GRIB data.
What You Need Is Free
It seems like hardly a month goes by without yet another premium (that means you pay) weather site being announced. But as far as I can see, all of these sites, despite their claims of adding value, are doing nothing but repackaging government generated content that you can get for free. (Actually, particularly if you are an American, you have already paid for it in your taxes, so I think that companies that try to make you pay again are being more than a little cheeky!)
If you think I'm wrong about this, wash your mouth out with soap. Just kidding, please leave a comment with the web address and details of the value added over and above the underlying government provided data and I will take a look.
Viewers We Use
So let's look at the GRIB viewer included with our electronic navigation system and the two free viewers that we use:
Nobeltec Admiral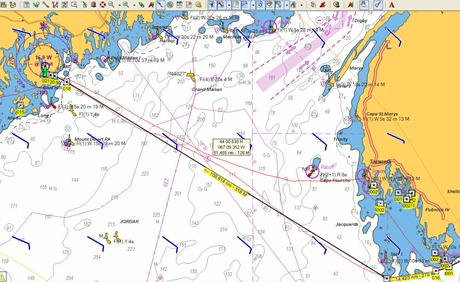 Nobeltec Admiral, our electronic navigation software, has an integrated GRIB viewer as well as GRIB email request feature.
Strengths
Overlays the wind and waves on the chart so that we can see the upcoming weather in relation to our course.
Adjusts the forecasts to local time from GMT, which saves us doing it in our heads.
Weaknesses
The email GRIB request feature is clunky and hard to use.
There is no way to request 500 mb data.
We find the display poor and difficult to read when we add pressure and precipitation.
Our Use
We request and download the data using other tools, and display wind only as it relates to our immediate surroundings and projected course.
UGRIB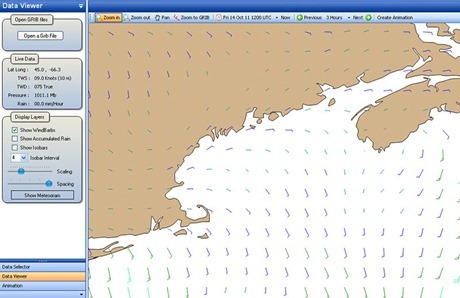 UGRIB is a viewer offered for free by GRIB US.
Strengths
As long as you have internet access, it is very easy to select the area you are interested in and download a GRIB that covers it.
Weaknesses
Does not generate an email request to a GRIB server so that you can receive GRIBs as email attachments, which is a much more efficient method if you are using a satellite phone like an Iridium, as we are, and the only option if you are using SailMail over HF radio.
Has no way to download or display 500 mb forecasts. See this post for why that's a real drawback.
Only downloads seven days of data, but we find that looking out as much as 10 days, particularly at the 500 mb forecast, can be useful.
Does not annotate the surface pressure to indicate what the central pressure of a system is or even whether it is a low or a high. Yes, I know you can mouse over the system to see this information, but I don't find that very elegant.
Our Use
When we have internet access, we use UGRIB for a quick and easy download of the winds for the immediate area around us.
ViewFax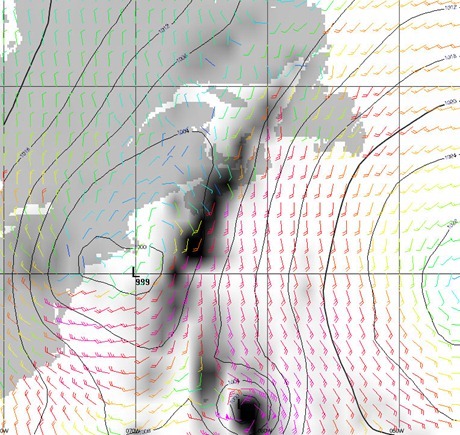 ViewFax was written by Jim Corenman of Sailmail fame and is available from the associated Saildocs web site for free.
Strengths
Displays all the data available in GRIB files (wind, waves, surface pressure, precipitation, surface temperature, and 500 mb) .
By far the most intuitive to read of the three viewers, particularly when multiple data types are being displayed at once.
Annotates the surface pressure systems with L or H and central pressure.
Highlights the 564 line in bold on the 500 mb forecast display. (The 564 contour is the so called "storm line" that depressions (lows) tend to track just north of. It is also generally the southern limit of gale force winds.)
You can enter your boat's position, course and speed, and the software will advance your position as you step through the forecasts and display the forecast wind speed and direction at each step for your projected location.
Includes an elegant utility to request GRIBs and other information from the SailDocs server as long as you are connected to the internet.
Weaknesses
Does not have an integrated email GRIB request feature, I think because Jim, quite justifiably, assumes that you are using Sailmail, which does. So if you, like us, are not using SailMail, you will need to learn how to formulate a raw request to the SailDocs server, as we have.
The most feature rich version 5.0.56 is still in beta test and does have a couple of bugs including the tendency to crash occasionally (gracefully, without hanging your computer) and the boat advance feature seems too fast, at least in the high latitudes.
Our Use
As I'm sure you have guessed by now, ViewFax is our preferred viewer, particularly for looking way out into the future and getting the big picture.