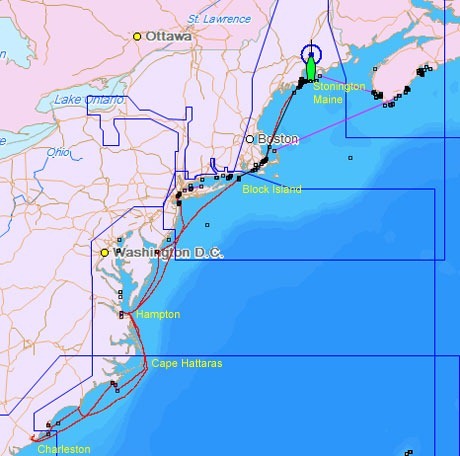 We left our winter berth at Charleston, South Carolina on 1st April—probably an appropriate day, given where we are bound this summer—and headed north using our accustomed way of transiting the east coast of this continent: A series of one or two night offshore passages interspersed with  a few days off to enjoy the stops.
Given that we had a schedule to make, there has not been a lot of time for photography, but here is the first for 2011 of our ongoing series of photo short slide shows.
By the way, we are going to try and be more consistent with these travelogue slide shows, availability of internet permitting, as we head north, bound for Greenland, this summer. So please tell us whether you liked this one, and make any suggestions you may have for improvement, by leaving a comment.
If you want to make sure you don't miss one of these travelogues, there are several ways in which you can subscribe at the bottom of this post.
For best viewing, click on the slide show for full screen mode.
This SlideShowPro photo gallery requires the Flash Player plugin and a web browser with JavaScript enabled.
Slideshow requires a reasonably up to date copy of the Adobe Flash plug-in or iPhone/iPad or Android and that java script be enabled.