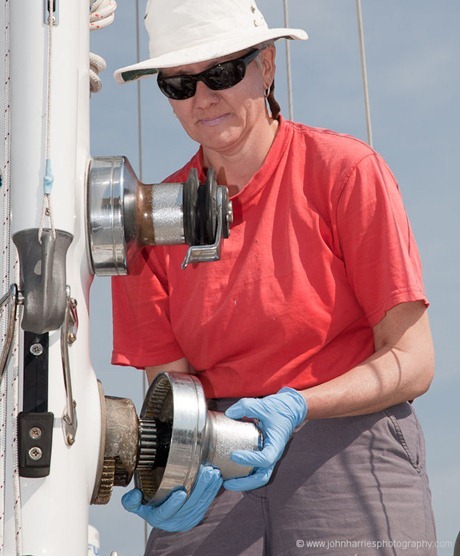 In Part 1 I asked the question: "who contributed more to a safe and seamanlike voyage over three days recently, Phyllis who rebuilt the mast winches and went through our medical kit, or me who installed a new AIS transponder and nearly lost his mind doing it?".
The Winner Is
Well, to me anyway, it's an open and shut case: Phyllis by a nautical mile. We have sailed over 100,000 miles without an AIS transponder and without getting run down. Heck, we didn't even have a chart plotter until two years ago.  On the other hand, I would not want to go for a day sail with a malfunctioning winch or an inadequate medical kit.
But I think there is a lot more here to think about than just this particular incident:
The List
You know how it goes. Throughout our last voyage, as usual, we kept a punch list in the log book of everything that we should fix or improve before the next cruise. We also keep a huge multi-tab spreadsheet of all the maintenance tasks that need doing regularly from mast truck to main engine. By the start of this winter's maintenance period the resulting to-do list was truly formidable, as it always is.
To prevent ourselves from dissolving into tears each time we looked at it, we broke the list into two: must-do and nice-to-do. And then we prioritized each list.
The Reality
In all the years we have been doing this we have never, not even once, completed our to-do list before setting out on a voyage. Now maybe we are just lazy, or inept, or both, but I suspect that most voyagers are in the same boat (ouch) and that it is even worse for those of you who are trying to pack your voyages into an all too short vacation (holiday).
For us the reality goes like this:
We set a date to go.
We work feverishly to get everything on the list done.
We start moving things from the must-do to the nice-to-do list and then we stop looking at the latter.
Finally, the day comes, and we go. (I suspect that those who actually wait until their list is completed are the ones you see in harbours all over the world that never quite actually go.)
A Good Voyage or a Bad One
So I guess that, given that we never finish all the tasks on the list, what determines to a great extent whether our voyage will be a good one on a safe and well found boat, or not, is  how well we prioritize the list.
My Bad
So here's the point. The AIS transponder should have been on the nice-to-do list, not the must-do, and I simply should not have been messing with it when there were still more important things to do…and there were.
Seductive Electronics
The thing about electronics is that they are just so damned seductive. They just appeal to the geek in many of us, me included. They're cool. They're fun to play with. They make us feel like Captain Kirk of the Starship Enterprise.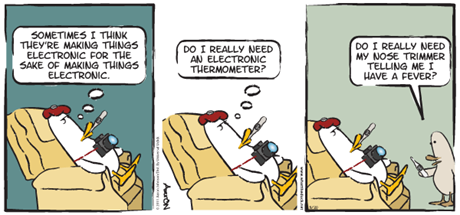 But electronics are also a huge time sink that can distract us from things that are much more important like:
Making sure we have a really efficient reefing system.
Keeping our main engine maintenance up to date.
Going up the mast to check everything over.
Checking the steering system carefully.
I could go on for at least another 20 items.
The other danger of electronics is how they suck us into a task: I figured that installing the AIS transponder would take me a day at the most. But as so often happens with electronics, particularly the new computerized devices that interconnect with a lot of other computerized devices, there were all kinds of complications.
About day two, when it had all gone pear shaped, I should have just boxed up the unit and put it on next winter's list. But I didn't. "Oh, I will just try this and it will work right…well, this should fix it" and on it went. I now have five days invested in the installation.
And that was a very stupid use of precious time and energy. Hopefully, because I have a great partner who was doing more important things while I messed with the AIS, my misuse of time won't cause us problems.
Further Reading