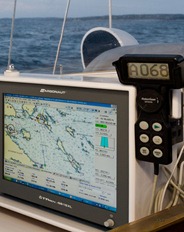 On Morgan's Cloud we don't hand steer much: approaching and leaving a wharf, anchoring and hauling the anchor, transiting an intricate channel, or in the presence of a lot of other boat traffic; that's about it. We find that by using our autopilot we are left with more time and focus to navigate, keep a good lookout, and sail the boat. We also find that having a plotter has the same benefits.
But we don't have the two electronic wonders interfaced to allow the plotter to instruct the autopilot on what course it should steer; we do that manually. Here's why:
Changing Course Keeps Us Thinking
The manual step of changing course at each waypoint reminds us to make sure that the next leg of our route is well clear of any obstructions as well as making us think about and look for any dangers that did not exist when we laid out the route originally. For example, a change in wind direction and strength that puts the next leg closer than is prudent to a lee shore.
Manually Adjusting Our Course Keeps Us Aware
Once on the new course, the requirement to monitor the cross track error makes us immediately aware if a current is setting us to either side of the desired course, always good for our general situation awareness. Keeps us awake too.
Following Cross Track Error Is Often Slow
Further, the presence of a current does not mean we slavishly adjust to minimize cross track error, as an autopilot being driven by a plotter would, since there are many situations where this will result in a slower (sometimes much slower) passage.
For example, when crossing the Gulf of Maine from Nova Scotia to Maine, we set a course directly for our desired landfall and let the current take us off course, first one way and then back the other, as the tide changes. This is much faster than fighting the current, first one way and then the other, to stay on the rhumb line.
A Potential Accident
One lovely moonlit night a couple of weeks ago we were sailing offshore on a broad reach in company with another boat to leeward. Phyllis, who was on watch, was amazed to see the other boat suddenly luff up violently, tack, continue the circle to jibe all standing, and then go on behaving erratically for a minute or so before settling down to her original course.
Later, we learned from the other boat's crew that they had been changing some settings on their plotter when they inadvertently chose the wrong option from the plethora of menus that these machines display. The plotter that was driving the autopilot at the time produced the violent changes of course as the crew struggled to get back to the page on the plotter that would let them disable what was by then an electronic rogue.
I suspect that the crew could have quickly taken over and hand steered by just hitting the standby button on the Autopilot, just as you would do if the plotter and autopilot were not interfaced and the autopilot went nuts. But the fact is, they did not do that. This is the second time in just a couple of weeks where we have seen overreliance on plotters cause problems because the crew were distracted by them.
Thinking about the menu of potential disasters while the boat was out of control and the crew distracted is sobering:  hitting us, damage from a crash jibe, a crew injured or knocked overboard in the melee, to name just a few possibilities.
Summary
So while many sailors that we respect have their plotters and autopilots interfaced, as detailed in this comment that inspired this post, we will not go that route on Morgan's Cloud.
What do you think, interfaced, or not? Please leave a comment.
Further Reading