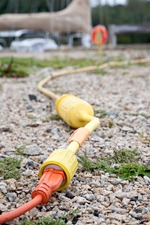 As we have discussed in previous posts in this series, fully charging your batteries after each discharge on a live-aboard cruising sailboat is simply not practical. Instead, most of us will cycle our batteries between 50 and 80% of their capacity. The bad news is that this will, as we on Morgan's Cloud have found to our cost, ruin your batteries in a distressingly short time.
Why Equalize
But there is an answer to this problem: regular equalization. Justin, our full-time in-house battery engineering consultant here at AAC World Headquarters (just kidding, he works for LifeLine Batteries), reckons that, in the case of an average cruising crew that cycle their batteries once a day, equalizing once a month will double to triple their expected battery life.
Big Savings
On Morgan's Cloud we are projecting that regular equalization, together with the other changes we have made to our charging regime discussed in earlier posts in this series, will make our house bank of two 8D AGM batteries last three years or better of daily discharges. This would give us a cost per day of about US$1.70 instead of the $5.00 per day that the early death of our batteries has been costing us—well worth it. Of course, your mileage may vary.
Caution
If you equalize batteries that are not designed for such treatment or don't follow the manufacturer's recommendations for batteries that are, you are exposing yourself to risks that start at ruining your batteries and go on up to fire and explosion. Take this seriously, we kid you not!
How?
The voltages and times that we are quoting in this series are from the LifeLine battery manual and apply to their AGM batteries only. Make sure you use the right voltages and times for your batteries.
For our batteries, equalization consists of first charging our batteries to 100% at their optimal acceptance voltage of 14.4 volts—they are fully charged when the current (amperage) that each battery is accepting drops to 1% of total capacity or 2.5 amps—and then continuing to charge each battery at 15.5 volts for eight hours.
Gassing
In normal use, our LifeLine AGM batteries don't release any gas that we have been able to detect, even when being charged at nearly 100 amps each. However, when being equalized, especially when badly sulfated, they do gas off to the point that on two occasions our propane alarm in the bilge, well below the level of the batteries, has gone off. So when equalizing, we open up the locker that the batteries are stowed in and open all the hatches and ports. If the weather is too crummy for the latter, we run a hose from one of our engine room blowers, that is configured to suck air out of the boat, to the battery locker, as shown in the photo below.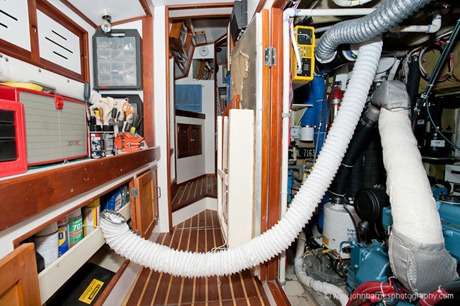 Make sure you do something similar when equalizing, since the gasses being released are primarily oxygen and hydrogen, a combination that when exposed to an ignition source, go boom in a really big way—could ruin your whole day!
It Takes a While
Assuming that we start this process with the batteries half discharged, it takes about five hours to bring them to full charge before we start equalization, which takes a further 8 hours for a total of 13. But wait, it gets worse. (You were waiting for me to write that yet again, so I could not disappoint.)
We still want to be able to get on with our lives while all this is going on and since our chargers, like many, won't stay in equalization mode if they are required to supply more than a few amps, we have to equalize one battery at a time while we use the other for house loads. So now we are up to 21 hours. And we sure don't want to be doing this while we sleep, so the entire process takes the best part of two days.
Shore Power is Required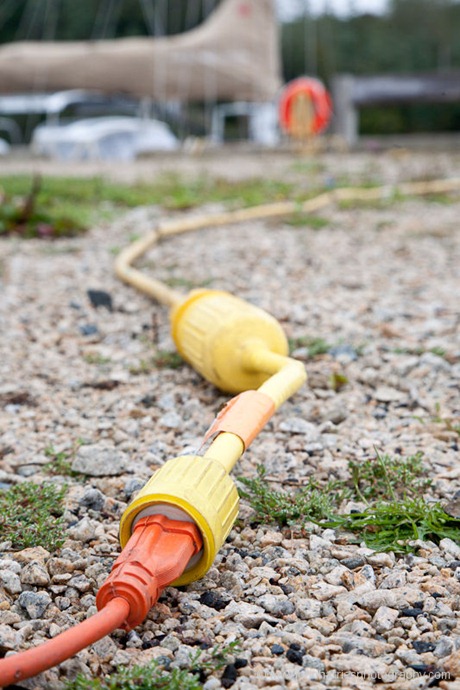 We are certainly not going to run our generator for 21 hours. Not only would the fuel use be ruinous and environmentally irresponsible, running for that long at light load would be really bad for the generator itself.
Theoretically, we could use our main engine while on a windless passage since our Balmar regulator can be put into equalization mode. However, this would mean subjecting all of the electrical equipment on the boat that we require during a passage to a higher voltage than they were designed to take. While many modern devices have variable voltage power supplies that don't care, some of the older stuff is going to have its life shortened by such treatment.
Given the above, it seems that we are condemned to cough up for at least one and probably two nights on shore power once a month or so. As they say in Newfoundland, we hates the face off that.
Monitoring
Given the inherent dangers, we take the following precautions while equalizing our batteries:
Don't sleep while equalizing.
Don't leave the boat unattended for more than a few moments.
Monitor the voltage at the battery being equalized to make sure that the charger does not malfunction and raise it above the recommended 15.5 volt level.
Monitor the temperature of the batteries to make sure that they are not getting hot, the first step to thermal run away.
Make sure that the batteries are properly ventilated (see above).
Equipment Recommendations
To make this work, at least the way we do it, you need:
Batteries that can be equalized—Duh.
The manufacturer's specifications for equalization.
Battery chargers that have an equalization mode compatible with your batteries. In the case of our Xantrex Smart Chargers, we have to fool them by changing the selection switch to liquid filled before they will go into equalization mode. According to the Xantrex manual they will then put out 16 volts—half a volt too much for our LifeLine AGMs. But since our chargers only in fact put out 15.5-15.7 volts in equalization mode this is not a problem. (Actually, Justin tells us that his Lifeline AGM batteries are robust enough to take up to 16 volts when being equalized, although in that case the time should be dropped to six hours from the normal eight.)
A house battery bank split into two with a selection switch so that you can use one while equalizing the other.
Two battery chargers, each wired directly to each half of the bank, so that one can be equalising while the other is keeping the in-use battery fully charged, so that it won't have to be recharged prior to equalization, which would add even more time to the whole performance.
Battery chargers that have sensors to monitor battery temperature while charging and equalizing. The reason being that the voltages we have quoted are nominal, in fact the correct voltages vary with battery temperature—lower when the batteries are hotter and higher when they are cooler.
A way to properly ventilate the battery space even when the weather is too nasty to keep the hatches open. At least if you are as nuts as us and spend time in places where the weather is frequently too nasty to keep the hatches open.
See, wasn't that easy? Well, no not really. How do you get your batteries equalized, or do you? Leave a comment.
The Results
I'm please to report that the results of the two equalizations we have done to date have been nothing short of miraculous: The at-rest voltage on the batteries jumped nearly half a volt and their capacity returned to near as-new.
Further Reading