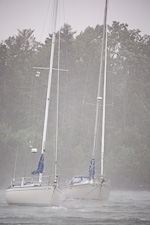 While Earl was a pretty minor storm by hurricane standards by the time it reached us, we still saw steady winds of over 50 knots with gusts well into the 60s—a lot of wind by any standard.
Everything held up fine on Morgan's Cloud, including a new and better way to attach the boat to our storm mooring, which we will be posting about later.
In the mean time, here are some pictures that I took from the boat during the worst of it.
This SlideShowPro photo gallery requires the Flash Player plugin and a web browser with JavaScript enabled.
Slideshow requires a reasonably up to date copy of the Adobe Flash plug-in or iPhone/iPad or Android and that java script be enabled.