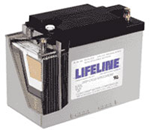 About eight years ago, we switched to Absorbed Glass Mat (AGM) batteries on Morgan's Cloud, to get the following benefits over traditional liquid filled lead acid batteries:
Shorter recharge times since AGM batteries accept a faster charge rate.
No risk of the batteries freezing when we lay-up the boat unattended since AGM batteries have a very low self-discharge rate. (A fully charged battery won't freeze, but a flat one will).
About 10% more capacity in the same size battery.
However, our experience with AGM batteries has not been good: We have been through four sets of house batteries from two different manufacturers since the switch to AGM. When you consider that AGM batteries are as much as double the price of liquid filled batteries, that stings.
We should state at this point that we are tough on batteries, particularly at anchor when we are usually writing and working on photographs, using as much as 250 amp hours per day for lighting and computers.
However, we never discharge our batteries more than 50%, we have installed chargers and a regulator that have temperature sensors and purport to be designed to properly charge AGM batteries and we always recharge to at least 85%.
When the last set died after less than a year we had pretty much decided to go back to liquid filled batteries. However, before we did that we wrote to the manufacturer stating our concerns. What a pleasant surprise to get a helpful and concerned email from Justin Godber of Lifeline Batteries. A big contrast to the usual blow off, or worse yet, dead silence, that we are used to getting when we complain about gear that has not met our needs.
As we conducted a technical and detailed email exchange with Justin to try and figure out what had killed our batteries so early and how to avoid it happening again, it soon became apparent that we live-aboard voyagers are pretty much set up to fail as caretakers of AGM batteries :
The yachting press and most battery experts, including Justin's largest competitor, have told us that you should not equalise AGM batteries—wrong.
Many, perhaps most, chargers and voltage regulators are programmed incorrectly for AGM batteries. This includes the ones that have a special AGM setting.
Many chargers simply don't behave the way they say they do in their own brochures and manuals.
More about all of the above in future posts.
Worse still, the accepted "wisdom" about AGM batteries is that all you need to do to enjoy a long life from them is to fully charge them after every discharge. Now, it takes two hours of generator or main engine time on Morgan's Cloud to bring our house bank from a 50% discharge state to a 85% charge, but five more hours of charging to get from 85% to 100%. Fine if you are in a marina and can plug in, but totally impractical on a voyaging sailboat that may not see shore power for months at a time and that discharges the batteries by 50% on most days at anchor or at sea.
Yes, wind and/or solar power might help. That is if we were willing to use almost no power for the six to ten hours it would probably take those methods to top the batteries up to 100%, and that assumes a two hour generator run first.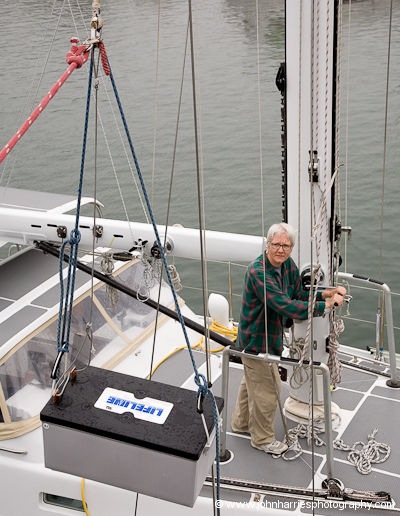 So, we cut a deal with Justin: He provided us with a new set of AGM batteries for free and committed to advising us on their care and feeding. Our part is to write about the experience from time to time over the next year and thereby come up with a real-world set of recommendations, a manual if you will, on the use and care of AGM batteries (or any batteries for that matter) on a voyaging boat.
If you have any thoughts on the use of AGM, or any batteries for that matter, please leave a comment.
Disclosure
Justin bought one of my prints for his office wall and he, as stated above, provided two 8D AGM batteries at no cost to us. That is the only benefits we have received from Lifeline batteries.
Rest assured that if Justin's recommendations are impractical on a voyaging boat or don't result in adequate service from the new batteries, we will write about that too.