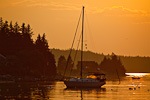 This may be a little off topic, but then again many voyaging sailors are, like me, also avid photographers, so here goes.
I just got back from an intensive one week travel photography workshop taught by Bob Krist, who is one of the best and most prolific travel photographers around.
But more than that, Bob has a pragmatic approach that works well in the real world of boat-borne travel photography where we need to be able to get good shots with gear that we can carry comfortably on our boats, not to speak of on our aging backs, and while still having a life. He is also great fun to learn from: smart, funny, and articulate.
But don't get the idea that this is an easy course. Bob set the tone the first morning by saying "not a lot of pressure here, but keep in mind the sign on the wall in National Geographic's office: we print photographs, not excuses."
On the evening of day three when I had driven for an hour and a half to get a shot only to have the cloud roll in, I remembered the quote. I had nothing and knew that Bob and my fellow students would be waiting to see photographs, not excuses, in the morning. Oh well, you can sleep when you're dead, and I was up at dawn to get something, anything.
In fact that was the big take-away for me from the course: Good travel photography is not about taking a few pictures when the light is great and you feel inspired. It's about coming back with good images no matter what. It's about operating outside your comfort zone, sometimes way outside. It's about oscillating 20 times a day between "wow what a great shot I took" and "I suck!".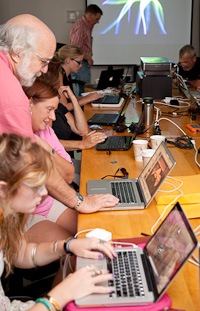 I still have much to learn. I will always have much to learn. But a week with Bob, and 12 wonderful, supportive and talented classmates, has given me a big boost in my craft and confidence.
If you want to improve your travel photography or, heaven help you, try to make a living at it, a course or workshop with Bob Krist will be a great help. Some of his gigs are very high end (think private jets and luxury cruise ships) but the course in Maine was both reasonably affordable, particularly if you sponge off friends for accommodations as I did, and good value.
On each of four days we had to present Bob with 20-30 images made on the course that he would critique and edit down to five for a daily class slide show. (I thought of fudging from my large stock of images of Maine but I suspect that Bob is way too smart to accept an image with fall colours in June). Below are my shots that made the cut. Keep in mind that I was trying to shoot outside my normal comfort zone, so the show is very different from what regular readers are used to seeing from me.

This SlideShowPro photo gallery requires the Flash Player plugin and a web browser with JavaScript enabled.
Slideshow requires a reasonably up to date copy of the Adobe Flash plug-in or iPhone/iPad or Android and that java script be enabled.
If you would like to see more photography related posts, or not, please leave a comment.