Question: I'm refining the deck layout on the 41′ voyaging boat I'm fitting out from bare hull. She will be sailed as a sloop, but fitted with an inner forestay for heavy weather. I am currently weighing the benefits of keeping that sail on a furling unit versus hanking it on to a removable stay. As she will be sailed shorthanded and pointed away from the equator, I like the safety and flexibility of having the sail ready to go on a furler, but worry about the problems of tacking the genoa through the 5′ slot between headstay and inner stay when sailing in normal to light conditions. I am wondering what your experience is with this, and how you balanced the equation.
Answer: The key to this decision is the shape and size of the forward headsail. If the boat is a true cutter, like our own Morgan's Cloud (see photo), with a relatively large foretriangle and a high cut 100% (no overlap) jib topsail (yankee jib), then I think that a roller furler that can't be removed is the way to go. The advantages, some of which we wrote about in this post, outweigh the slower tacking.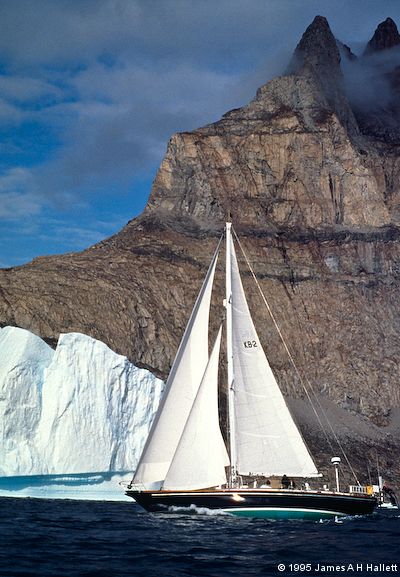 (Our technique when tacking short handed, which is most of the time, is to simply leave the staysail cleated and let it back on the new tack until we have ground in the jib topsail. Handled this way, the jib topsail slides across the staysail and between the two stays relatively easily. Once we have the larger sail all set, we then tack the staysail at our leisure. The backed staysail does slow the boat a bit, but then everything on a boat is a compromise.)
On the other hand, if the boat is really a sloop with a staysail used only for heavy weather, and particularly if she is fitted with an overlapping headsail (genoa), then I think the problems of getting a genoa through the foretriangle outweigh the benefits of roller furling and a staysail hanked on to a removable stay is the way to go.
Generally, all other things being equal, our recommendation is that a boat to be sailed by a relatively fit couple should be a sloop with a removable staysail stay if her displacement is under about 28,000 pounds (12,700 kg), and a cutter if over. (Morgan's Cloud displaces 52,000 pounds/23,600 kg.)
As an answer to the problem of individual sails that are too large for a short-handed crew, we prefer cutters over two masted rigs like ketches; but each to their own.